Travel Cups and a Rollable Bib for Toddlers On the Go
An Honest Review of Nuby's Flip-It Cups and the 3D Silicone Bib

Although traveling with a toddler can be challenging at times, I find it to be so much fun! I love taking E on adventures, whether it be a short park visit, a day trip to somewhere new, or a week-long vacation. As anyone with a baby or toddler knows, there's always a lot to pack for any kind of adventure outside of the house! Now that E is a toddler, I have loved having travel cups for his water, and I am always sure to keep a bib in the diaper bag for any meals outside of the house. I was happy to be given the opportunity to complete a review of the Nuby Flip-It cups and the 3D roll-up silicone bib.
This post contains affiliate links. I received these Nuby products in exchange for an honest review. All opinions are my own and are 100% honest. See full disclosure here.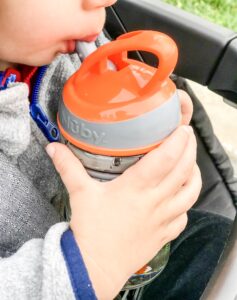 The Thirsty Kids Flip-It Freestyle is a super durable cup perfect for any toddlers on the go! The straw on this cup is a hard plastic that folds down when not in use so there are no leaks in the diaper bag. My little one has been using this cup for a few months now, and he has no trouble holding the cup because it has a silicone band for easy gripping. He sometimes has trouble popping the straw out into the "open" position by himself, so I usually pop the straw out for him and then he has no trouble drinking from it.
I like how the cup doesn't leak at all when the straw is folded in. The straw has Vari-Flo valve to protect against spills and leaks, but I have found that it sometimes leaks with a change of temperature or altitude. A few examples include when you first take it out of the fridge, or if you're traveling at different altitudes in the car, or if you take it on a plane. The Freestyle cup is recommended for 18+ months, it's dishwasher safe (top rack), and it's BPA free. Overall, it is a great cup and it is my first choice for E's on the go cup! You can find the Thirsty Kids Flip-It Freestyle on Buy Buy Baby and Bed Bath and Beyond.
---
---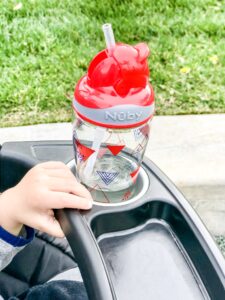 The Thirsty Kids Flip-It Boost is another on the go cup from Nuby. This cup has a convenient flip-top lid that covers the soft silicone straw to keep it clean when it's closed. I like how the Boost cup has a soft straw so I don't have to worry about E bumping his teeth accidentally (especially while in the car). The only downfall is the water sometimes rises up through the straw and pours out. I usually twist the lid open then closed after I pop the straw up. This seems to stop the water from leaking. Both the Freestyle and the Boost hold 12 ounces, but the Boost is taller and skinnier. This travel cup is recommended for 18+ months, and it's BPA free. It's made from durable plastic, and the cup is dishwasher safe (top rack). The Nuby Thirsty Kids Flip-It Boost is available at Walmart.

Try Zen Swaddle with 60-Day Return Option
---
---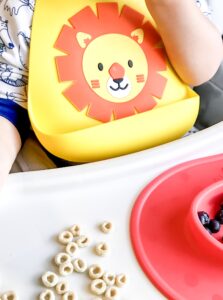 The 3D silicone bib is the perfect bib for on the go eating! This bib is made from a soft and durable silicone that is so easy to wipe clean. Because it's so soft, it rolls up great for storage in the diaper bag. Whenever E and I leave the house, I always make sure to have this bib packed in the diaper bag in case we go out to eat or if E has a messy snack. He loves the cute lion design! The scoop catches any crumbs or food that drops. The silicone bib is BPA free and easily washes or wipes clean. I highly recommend this bib for babies and toddlers! The lion and other cute character bibs are available on Nuby.
---
---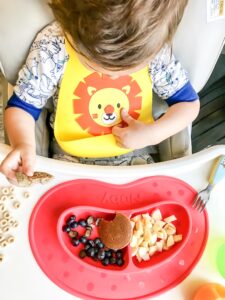 I hope these reviews of Nuby's flip-it cups and silicone bib have been helpful! Does your toddler have a favorite travel cup or bib? Drop a comment below..I'd love to hear from you!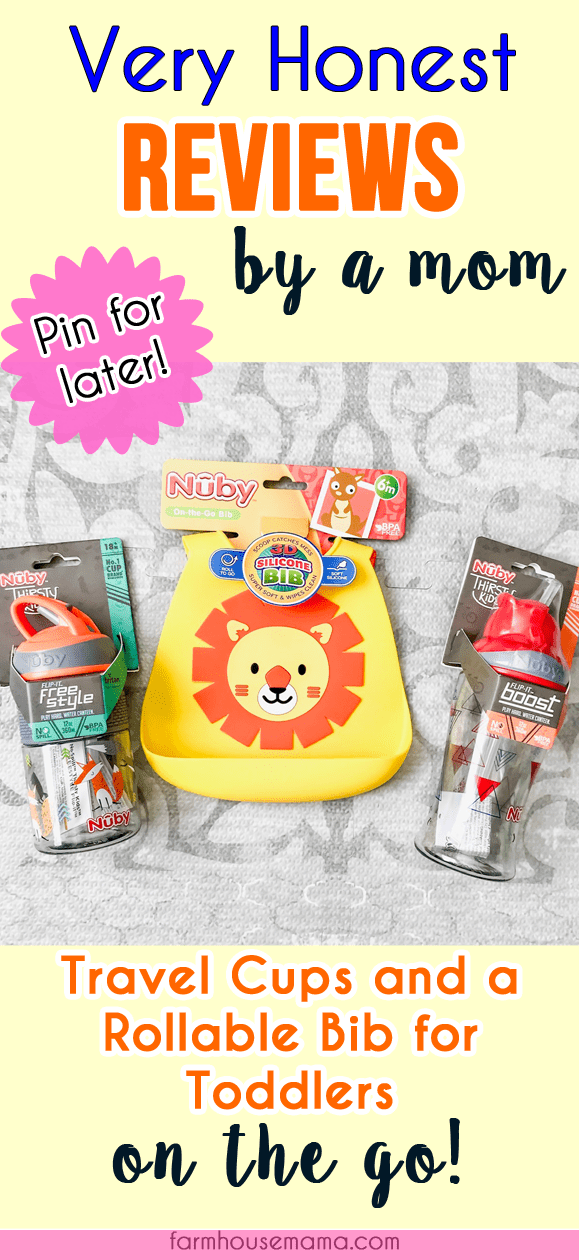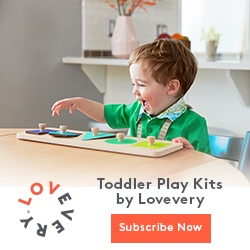 You can find Nuby on social media at Facebook / Twitter / Instagram / Pinterest