A Montessori-Inspired Gift Guide for Littles
This gift guide includes Montessori-inspired must-haves for newborns to 6 year olds! A lot of these toys are open-ended and will last for many years as they grow with your child. All of these toys are battery-free, non-electronic, and so much fun! Some of these may not fall into the strict Montessori title, but I can assure you this gift guide is full of toys that are Montessori-inspired, Waldorf, nontoxic, sustainable, battery-free, and imaginative. There's just something about these toys that make them so inviting (for kids and parents!). Toys that are natural and nontoxic are so important! These gift ideas are either products we have and love, products that my son personally has on his wishlist this year, or products from brands that we absolutely love for the quality and sustainability! I also share what will be under our Christmas tree this year. 🙂
How about venturing outside the box and finding something uniquely special for the little ones on your list this year? These toys are sure to become household favorites!
This post contains affiliate links. A few of the products from Lovevery and The Natural Baby Company were gifted to me from prior separate collaborations. Products kindly gifted from The Natural Baby Company for this post include the play road, CandyLab cars, and street signs. The Grimm's natural rainbow shown in the road setup was previously gifted for a prior collab. All opinions are 100% my own and not influenced in any way. See full disclosure here.
Click on any pink links or images to shop. This post has been updated in fall of 2022. Happy shopping!
The Block Set: I'm kicking off this gift guide with the ultimate block set that will last YEARS! My son is 4 years old, and he LOVES this block set! There are so many fun parts to this set, including pieces to make a pull-car and a shape-sorter. It comes with 70 heirloom quality pieces that work with each other in more than 20 stage-based activities! This block set will definitely provide years of learning through play! My son loves to build and to have "demo days" where he knocks buildings over. Because of that, I can tell you how nicely these are made because we have had ZERO chipping! These blocks are in the best shape even after many, many demo days! This colorful, practical system of solid wood blocks are for building spatial, language, and problem-solving skills. It's a must-have that will last for years of play!! Click the image to see the product and all the ways you can play!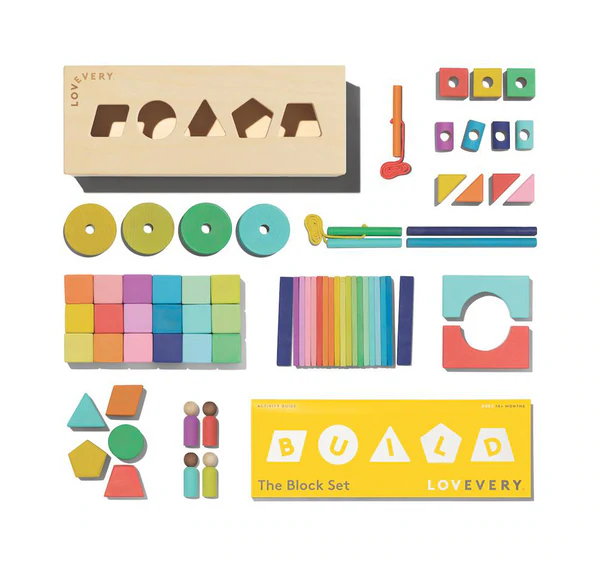 Wooden Beehive Sorting, Sort and Count Cups, Natural Wooden Beehive: All of these sorting sets are so fun and great for learning! The colorful bee sorting game comes with 6 colorful hives, 6 super cute bumble bees, and a pair of pincer tongs. The sorting cup set is great for color sorting and counting. Both colorful sets are nontoxic and sustainably made!
The natural wooden beehive and honey pot set is our favorite!! My 5 year old LOVES this set. It's so open-ended and it's beautifully made. I have it sitting on our homeschool shelf so he can play with it when he wants (and it looks pretty on the shelf!). All components (except the felt honeybees) come in durable solid hardwood – richly grained, sanded smooth, and naturally finished without any harmful chemicals.


Pretend Play Sets: These pretend play sets are perfect for using the imagination to make and serve pretend meals.

Rattle and Teether: This award winning Color Burst Skwish is a one of a kind wood rattle and teether toy. It "Skwishes" and returns to its original shape, with beads that slide and rattle. The Skwish Color Burst is made from renewable rubberwood and is recommended for 0+.

Art Cards for Baby: Right from the start, these black and white art cards begin developing a baby's visual perception. Adorable animals are included in each set. They're printed on sturdy board and each card is beautifully finished with matte lamination and child-friendly rounded corners. This stroller set of cards makes a fun toy for on-the-go.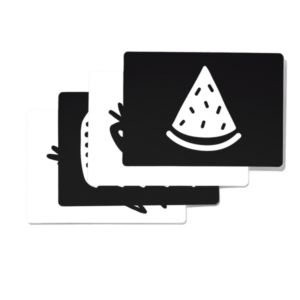 Fun Toys for Babies: These toys are so fun and cute! These toys help build visual and fine motor skills. The bear is a great teether option. These are sustainably crafted from chemical free rubberwood trees, formaldehyde-free glues, organic pigments, water based dyes, and safety tested.
---
---
Kaleidoscopic Blocks: How pretty are these kaleidoscopic blocks! Add a bit of flavor to your child's next block creation with this beautiful set of kaleidoscopic blocks! These blocks are made in Germany from solid beech wood and sturdy plastic. This is just what every builder needs to make their structures new and exciting! Set includes 13 pieces. Recommended for 1+.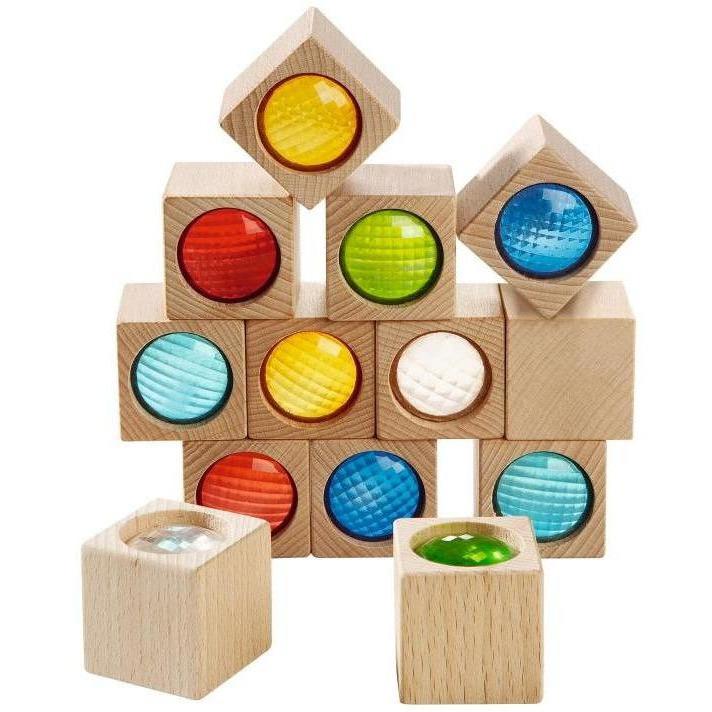 Montessori Placemat and Utensils: Click the image below to view it! Help your little one learn how to set the table while encouraging independence!  My son loves setting the table, and I can't wait for him to get this as one of his presents for Christmas! Little ones will know where everything goes thanks to this cute set with Montessori-inspired details: a colorful guide on the placemat and special stitching to practice folding on the 100% organic cotton napkins. Child-size stainless steel utensils (just like the grown ups') strengthen their fine motor skills. The placemat is made to be easy to clean and the safe utensils are just the right size for little hands. This set is designed for kids 18 months and older.
2022 Update: We have had this placemat set for almost a year now, and we use it for every single meal! We loved it so much, we now have two sets. My son is 5 now and loves this placemat and silverware set! These utensils are his absolute favorite because he feels like such a big boy with his "shiny silver fork."
Click the image below to view the feeding set: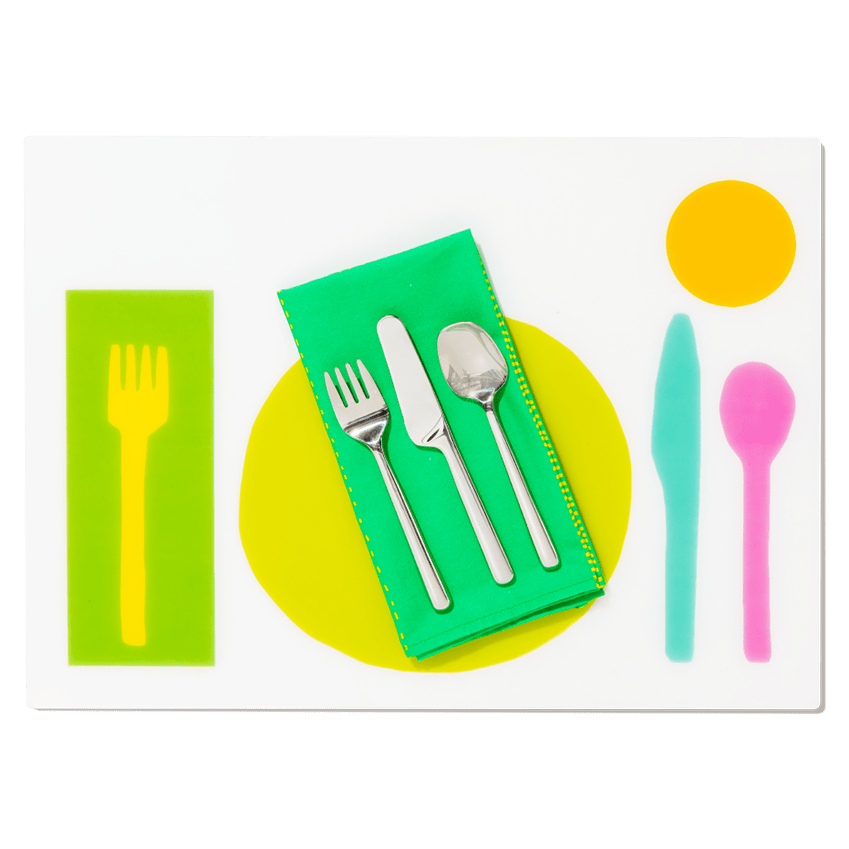 HABA Farm Animals Puzzle: How adorable is this simple puzzle? The knobs make grasping for littles easy! Recommended for 12 months and up.


Scooter that Grows with your Little: This is the perfect gift for kids! This scooter grows with your kiddo from ages 2 through 5. It is also virtually indestructible and is the highest-rated scooter of its kind!! The 3-wheeled Mini Deluxe LED scooter, with a lean-to-steer design, offers a stable ride that supports toddlers and small children as they master balance and coordination. Features two front LED motion-activated light-up wheels. (No batteries required!). It's incredibly strong (holds up to 110lbs) yet extremely lightweight, perfect for young children; plus an adjustable T-bar (handlebar) grows with children from age 2 up to age 5.
Click the photo to see the color options available.

The Most Adorable Stuffed Animals: My son has the owl, elephant, pineapple, and a few others, and he loves them so much! These are my favorite stuffed animals for him. He's had most of them since he was a baby. They're so cuddly and cute (and sooo soft..really!)! They now make all different sizes of Jellycats from small to huge, and they even have books. Amazon has a HUGE selection of Jellycats….Like pages and pages of options (they even have non-animal ones like a cute cactus and pinecone, which I know the smiles make it make-believe but they were too cute not to share).


Little Climber: If you're looking for that big Christmas morning gift, this is it! Recommended for ages 6 months to 5 years old, this climber and rock wall bundle comes with a reversible rock wall and slide accessory and will be used for YEARS. This fun indoor climber enhances your little's creativity, self-confidence, motor skill development, balance control, and muscle growth. The USA-made Little Climber folds flat for storage (every parent's dream!), and it features natural and nontoxic materials.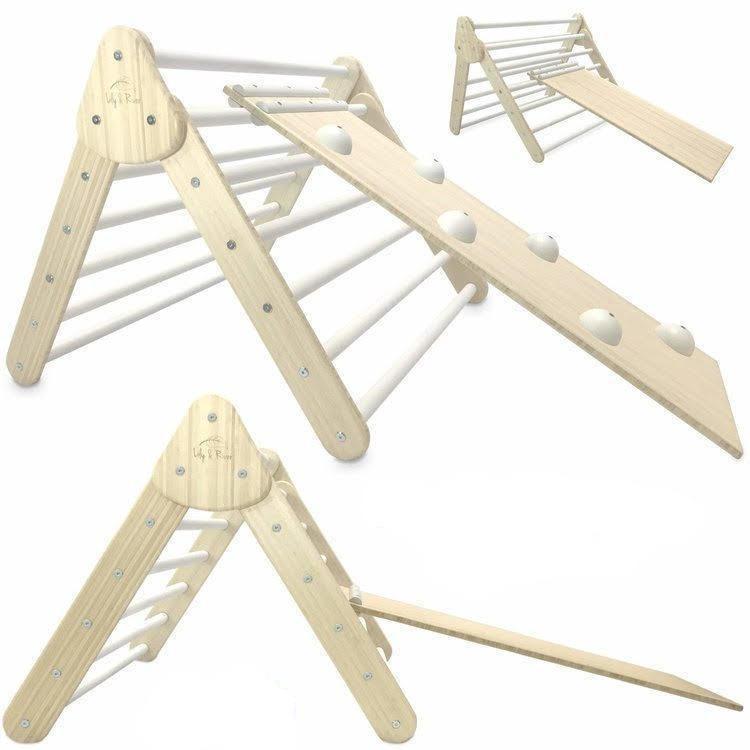 ---
---
Waldorf Rocker: Another "big gift" idea is the Waldorf-inspired Wooden Vikings Rocker. Both the climber (linked above) and these rockers are great open-ended toys that lead to so much imaginative play!

Trucks and Vehicles: How fun are these nontoxic wooden trucks?

Organic Cotton Play Tunnel: This play tunnel is made of organic cotton, and it stores easily into the included storage case. There are so many fun options for play with this tunnel! Recommended for 12 months and up.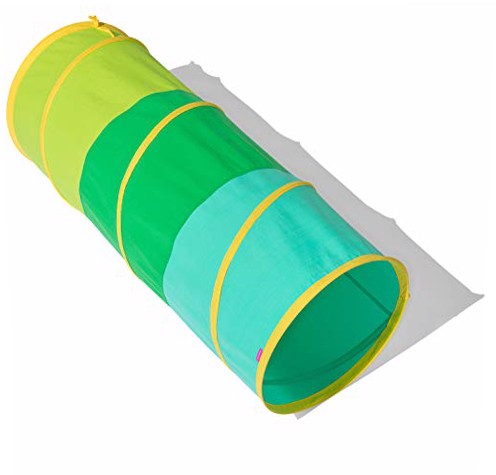 Pretend Play Careers: Plan Toys has the best pretend play wooden toys! These sets are sustainably crafted from chemical free rubberwood trees, formaldehyde-free glues, organic pigments, water based dyes, and safety tested. Click any photo to see that set:

Lovevery Play Kits: These play kits can be purchased by the box or better yet, you can subscribe to receive them every 2-3 months for endless learning! They are stage-based play essentials that are made for your child's development and are tailored to your child's exact stage. All of Lovevery's toys are toys are built to last and made with sustainably harvested wood, organic cotton, nontoxic paint, and baby-safe plastics. We have some of these play kits and I personally cannot recommend them enough. The kits we do own have provided so many learning opportunities from learning about the different shades of colors, basic fractions, measuring, transferring 2D pictures into 3D objects, and so much more. I'll share a couple play kit highlights below (kits we personally have and love..have I mentioned how much I love these?!). Be sure to check out all of their kit options for ages NEWBORN-3 years old.
---
---
The Analyst: This play kit has everything for your little analyst! My little guy is a big thinker and he LOVES this play kit! This kit includes the first sewing kit (with a safe needle), a sensory box puzzle, measuring cups to learn fractions and use for recipes, recipe cards that littles can understand, a 3D boat puzzle (with several puzzle cards), a book about fractions, and the most unique color wheel puzzle to learn about the shades of colors. We have had so much fun with each of these pieces, and they are regularly played with by my 4 year old (this is a 3 year old kit but my 4 year old loves it all so I think it can really go beyond the 3's). Head over to my Instagram post here to see this kit in action. I have another video of this kit being played with on my Pinterest here.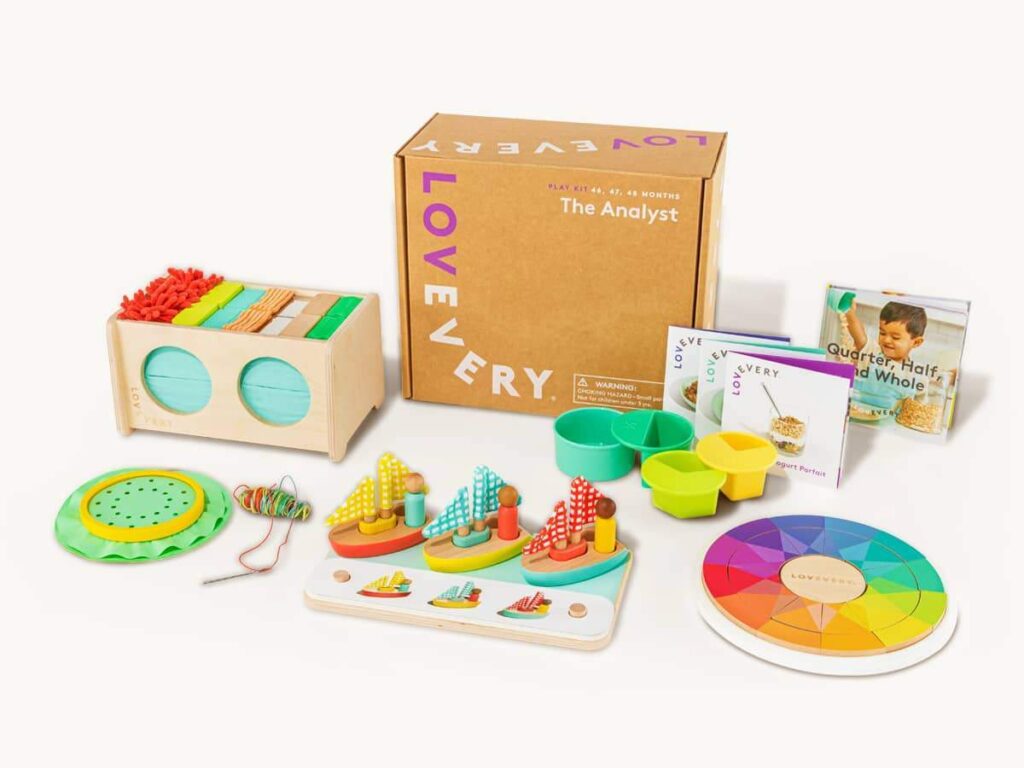 The Observer: It's hard for me to pick a favorite from this kit because we use these toys daily! As a mom, I love the weather board, and we use it every morning to go over the weather and day of the week. It has really helped my son understand the terms "yesterday," "today," and "tomorrow" because of the spinning wheel on the board. It's visually appealing and I love having it displayed in the playroom or on my son's craft table. My son loves the modular playhouse that has so many different parts, including a working lock and keys (he loves using the keys to unlock the door!). The emotions dolls have been so useful in naming our big emotions (yup, we're still learning our feelings at age 4!). I love how each doll has a different wooden pattern to run his little fingers along. These really help with naming our feelings and calming down. I cannot recommend this kit enough especially with the daily use the weather board and emotion dolls get.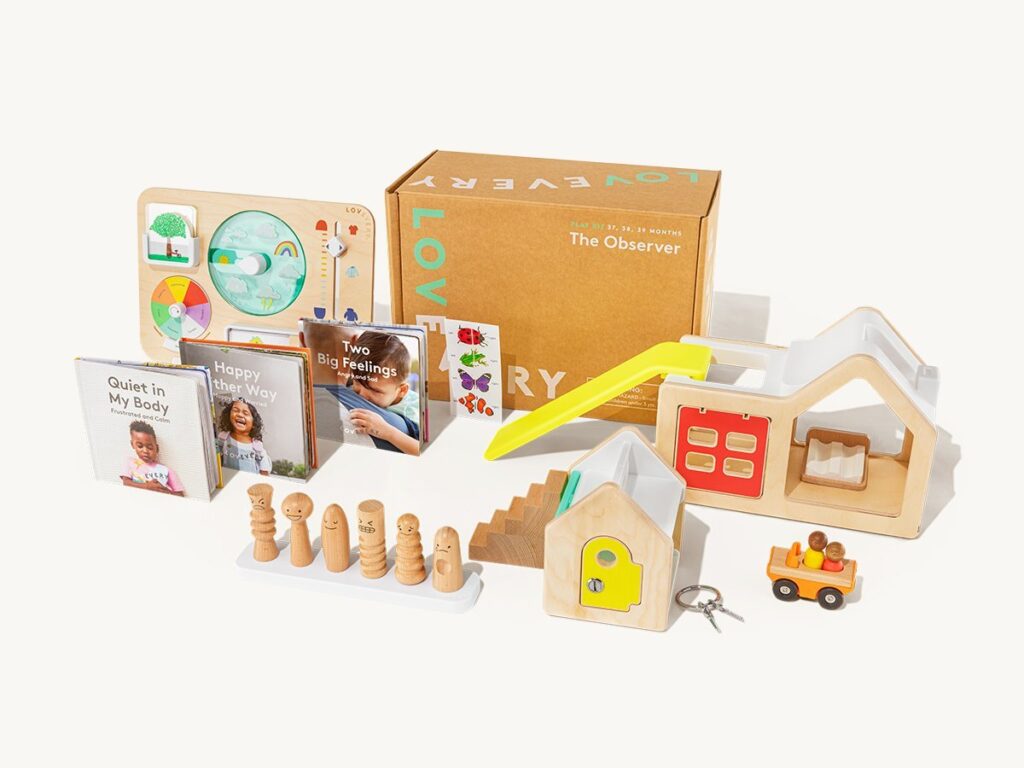 They have play kits for ages 0-48 months so definitely check the kits out! The kits can be purchases individually or delivered every 2-3 months. One of the kits for 0-12 months would make the perfect first Christmas present! Trust me, you will not be disappointed in the quality of these learning toys, and your baby will love them! Here's an example of a play kit for age 7-8 months (click the image to view the details to see other kits):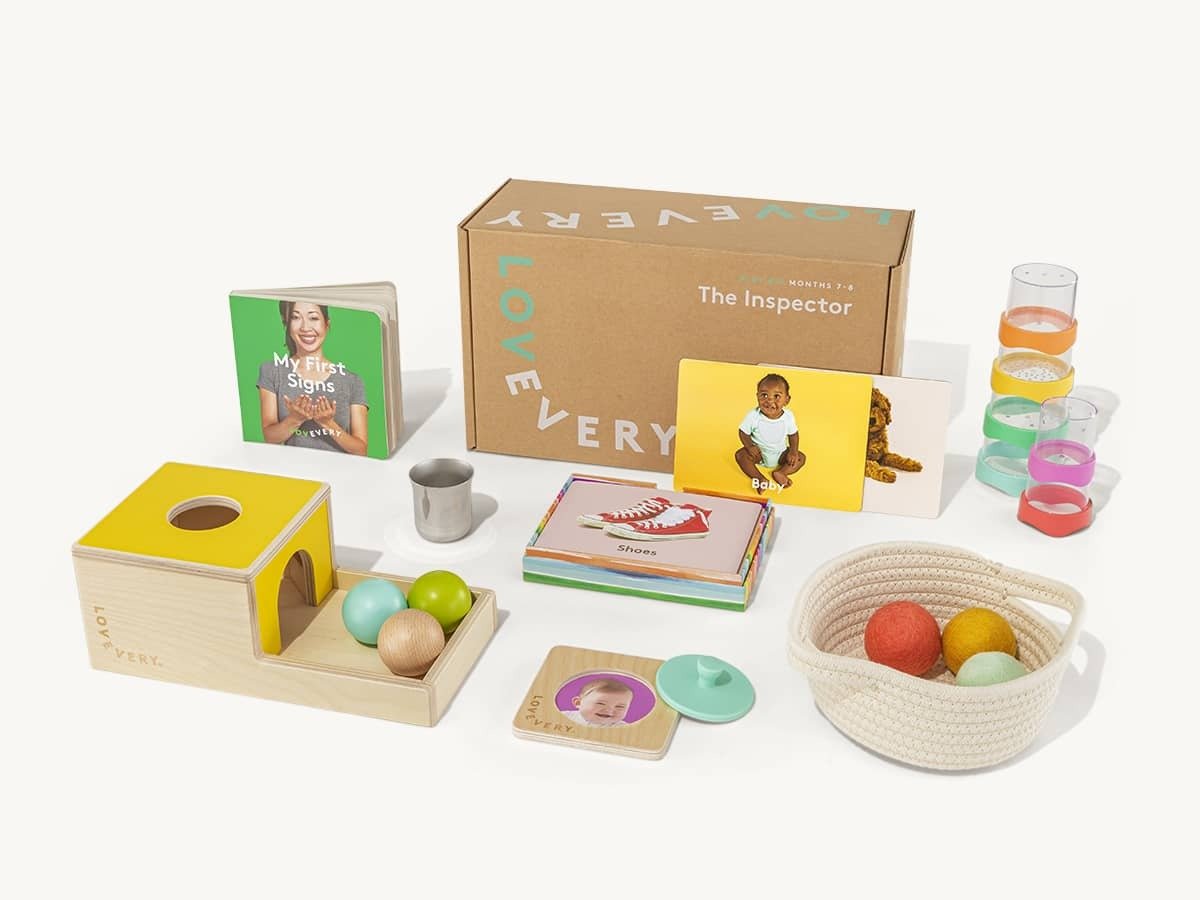 The Free Spirit kit is going to be under our Christmas tree this year. 🙂 I already know my little guy is going to love the camper with the lock and key! It's so fun! Click the photo to see close-ups of the items it comes with.
2023 Update: My son is now 5 and he still loves this set, especially the camper and tent!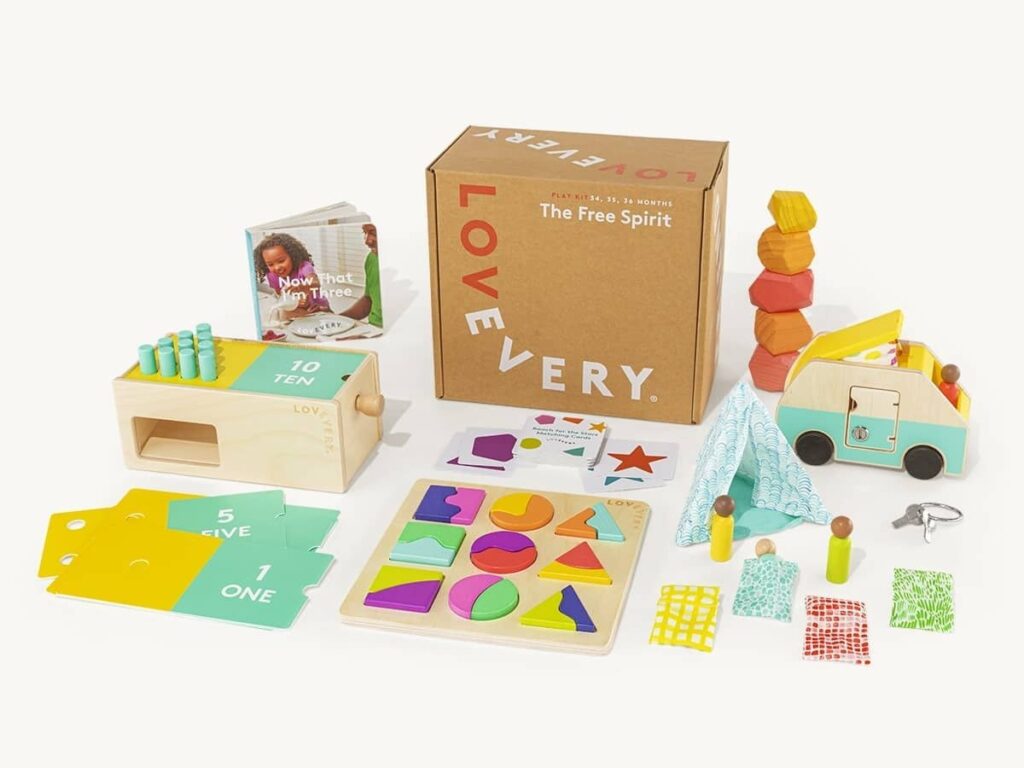 HABA Snug-up First Baby Dolls: These cuddly dolls are so cute! I love that they're free from toxins including BPA, phthalates, PVC, flame retardants, and water repellent chemicals! Click the images to see these dolls, along with seveeral other adorable doll designs.
Cleaning Pretend Play Set: My son has always loved to help clean the house (woohoo!), and even if it takes a bit longer to get through a chore, I let him help so he can learn these important life skills! This colorful, kid-sized set looks just like the real thing and includes a wooden pretend play broom, mop, duster, brush, and organizing stand. The set is great for ages 3-6 years old.


Wooden Car Ramp Race: This fun track comes with 4 cars to race down the track, and it's made from high quality wood and non-toxic paint. If you were looking at the Lovevery kits (scroll back up if you missed them! They're our favs!), The Pioneer Play Kit comes with a similar track (love the colors!)!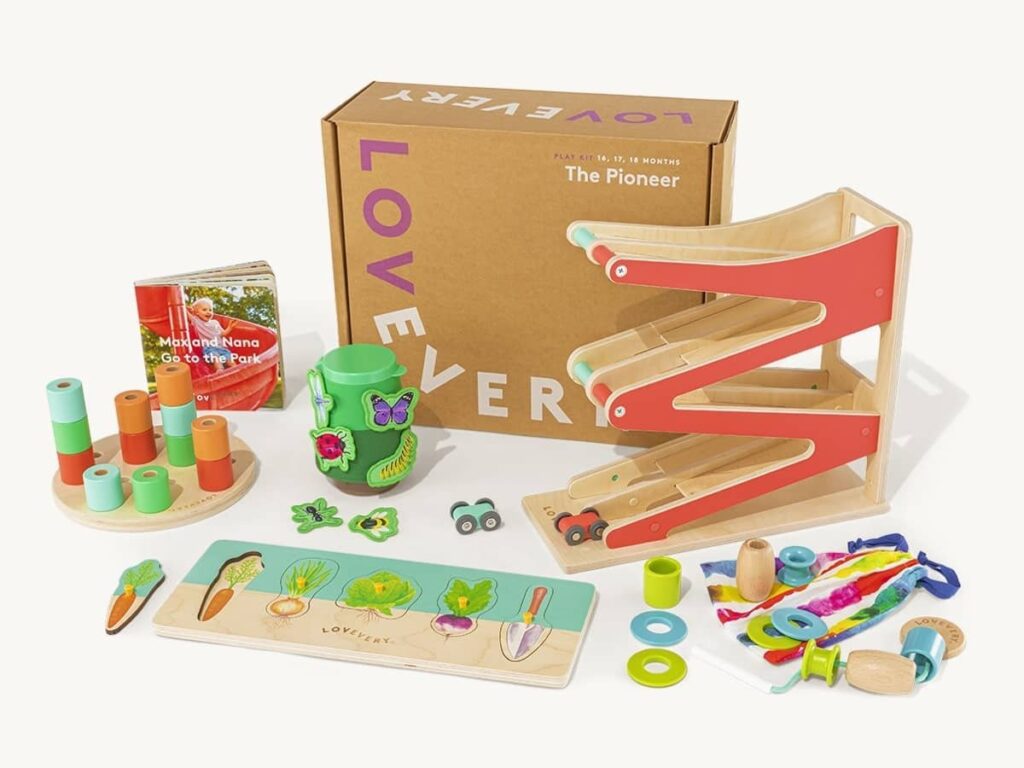 ---
---
Wobble Board: This wooden balance board is fun for so many ages!  Other than a balance board, it can also be a seat, a bridge, a house, a step, a slide, a fort, and whatever their imaginations make it! These wooden boards use eco-friendly stains, water-based lacquers, and timber that are also FSC-certified.

The Play Gym: For ages 0+, this play gym will give you a whole year of play! This play gym is not your normal play gym. The Parents' Choice award-winning play gym includes everything your child needs in an activity gym and play mat-from batting to teething to learning to focus-for playtime and tummy time with purpose. Designed by child development experts and crafted with safe, healthy, and durable materials for babies. The materials of Lovevery products always impress me! The Play Gym is manufactured without flame retardants or PVC, and mouthable accessories are made from 100% organic cotton and silicone.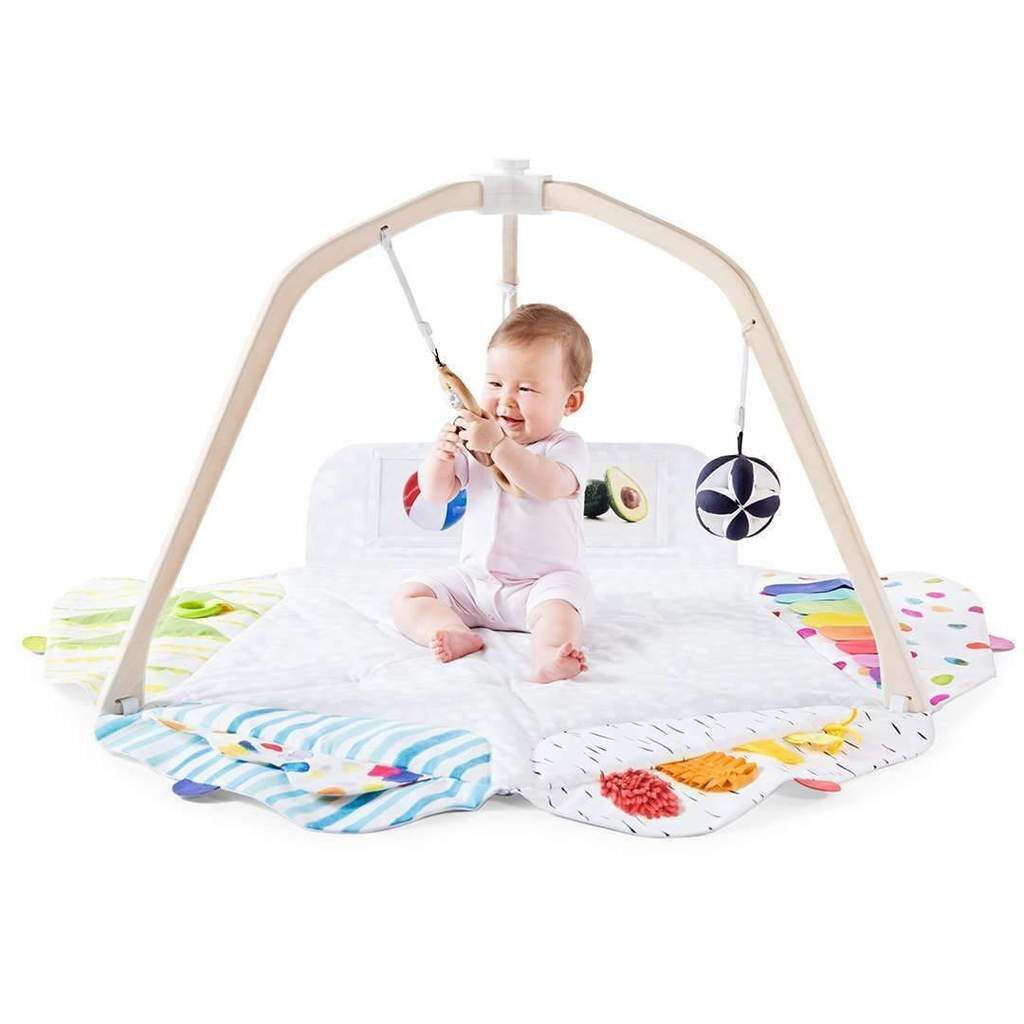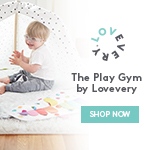 Games: These games are great for so many ages! These are sustainably crafted from chemical free rubberwood trees, formaldehyde-free glues, organic pigments, water based dyes, and safety tested.
---
---
Roads and Cars: If you can keep a big secret, Santa will be delivering this fun setup to our house this Christmas. 🙂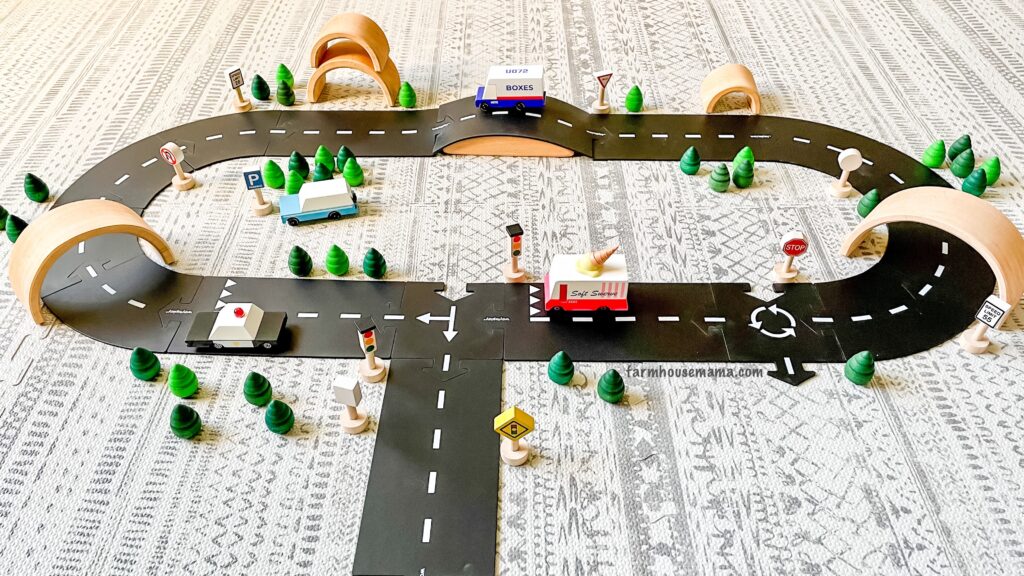 With The Natural Baby Company, not only do you get a collection of high-quality products that last past next year's holiday season, but you also get products that aren't bad for the environment. Knowing you're buying sustainably is just an added bonus to these toys! These flexible and durable road pieces let your child make their own roads and maps for their favorite cars! They can be used inside or outside, and they're free from BPA, Cadmium, PAH, and Phthalate. They're weatherproof and indestructible!! They even have a Grand Prix set for the racing fans. More cute ideas for the car-lover: wooden signs and Candylab cars as seen in my photos below (they're the new thing and they have so many fun ones)! They have all kinds of cars, the most adorable food trucks, motorhomes, and rescue vehicles. Also pictured below in my small world setup are the Grapat trees and the natural rainbow.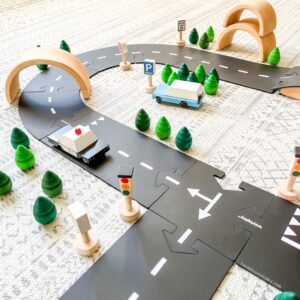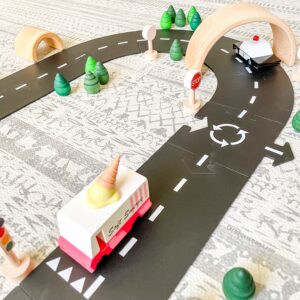 I cannot wait to see the JOY on my son's face on Christmas morning when he sees a small world set up with a road, cars, and street signs set up!! I set up the above photos for practice during his nap and quickly hid the toys away before he woke up from his nap. 🙂 The roads go together so easily and they have so many road sets linked here. They're such a fun material that is flexible but sturdy, and I love how easily they pack away. The wooden cars are so adorable and fun, and they fit perfectly on the road! My son is going to love the police car, ice cream truck, the mail truck, and the mule (see all the car options here). The signs are such a fun addition to the town! I know my son is going to love it all!


Hand Knit Dolls: I find these to be the most adorable little dolls! There are so many cute animals and designs to choose from. These dolls are safe, non-toxic, and hand kit from premium cotton. Each doll provides 10 meals to children in North America and around the world!!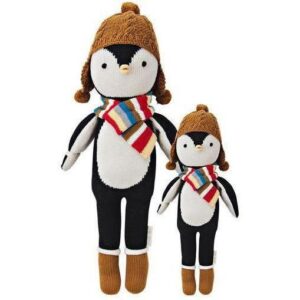 Sumblox: At first glance these may just look like oddly-shaped numbers. Each block's size is reflective of its numerical value. Seeing the mathematical problems take physical shape helps the child in understanding new concepts! This Starter Set includes 38 solid wood educational counting blocks and 36 activity cards. The second photo is the Mini Set that includes the same number of blocks and cards.
Musical Eggs, Tambourine, Ukulele: These fun instruments will be enjoyed for years! My son has always been blessed to have quite the instrument collection, and I can tell you he has played with all of his instruments since he was tiny! We love having shakers, our Hape ukulele, a Hape tambourine (the exact ones shown below), and drums.
Animal Sets: These sets will open up the fun world of imaginative play! I love this brand because the animals look so realistic, and the products are lead-free and phthalate-free. Recommended for ages 3 years and up. If you need small world and sensory tray play ideas to go along with these mini animals, be sure to visit my Instagram! Click any image to view these animal sets on Amazon.

---
---
Sensory Kit: Have you tried sensory kits yet? I started sensory play when my son was a toddler, and he still LOVES sensory at 4 years old (update: and at 5 years old now!). There are so many benefits to sensory play! Sensory play is not just for toddlers! I share play activities and a lot of sensory activities on my Instagram feed (come follow me so you don't miss an activity!). If you don't feel up to putting together your own sensory bin or tray, no worries! This kit makes it easy to put together a sensory activity!

And for dough:


Swing: This beautiful swing is for babies and is for indoor and temporary outdoor use (store away when not in use). I love the neutral colors of this swing! This swing is made of natural beech wood and marine-grade rope.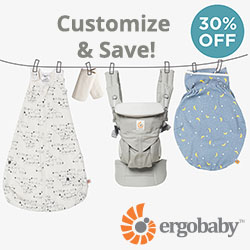 Open-ended Toys: These wooden toys could be used for counting, making patterns, building, or use them in small world setups. An added bonus is they look pretty on the playroom shelf!


Sarah's Silks: This looks like something my little one would like! Sarah's silks are on our wishlist because they're so open-ended! They're perfect for movement, play setups, forts, and so much more!

Educational Puzzles: These beautiful wooden puzzles are perfect for so many kinds of play! Solving these sturdy tray puzzles is just the beginning. Teach shapes and animals, or use the animal pieces in pretend play.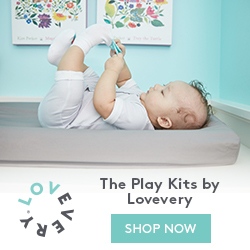 Wooden Nativity: This beautiful wooden nativity set is both a decoration and a toy for littles 3 and older. Little ones can familiarize themselves with the Christmas story and reenact it in their own way. The colors have been deliberately toned down to give the figures a contemporary yet timeless appearance. My son loves playing with nativity sets. This one is on my wishlist!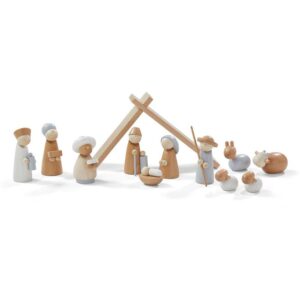 The Montessori Playshelf: This is the ultimate playshelf and it is definitely one on our wishlist! This shelf allows for deeper, more open-ended play and keeps the playspace calm with integrated storage for out-of-rotation play essentials. In other words, it hides the mess and clutter of extra toys so your child can have more focused play with the toys that are on the shelf! It includes trays and bins for storage and shelves to make organization easy. Click the shelf photos below to learn more about this amazing shelf!

I hope you find this gift guide useful when shopping for Montessori-inspired gifts! There are so many great options for every child and budget!