Easter Sensory Bin for Toddlers
This Easter Sensory Bin for toddlers is so fun, and it's easy to put together! It is perfect for both toddlers and preschoolers, and it's a fun way to help them develop their fine motor skills (among other skills!). My 2.5 year old loves sensory bins, especially because he gets to use his tongs and scoopers. This Easter Sensory Bin was a hit!
This post contains affiliate links. Adult supervision is required for this activity. Please use your own discretion in whether this is an age-appropriate activity for your child. See full disclosure here.

---
---
The Easter Sensory Bin was simple and inexpensive to put together. I had some of the materials beforehand, and I purchased some of the other Easter items back in February. This could be fun to put together with whatever Easter supplies you have on hand.

Materials Needed:
These are the materials I used, but you can use whatever items you have handy! Here is what our bin had in it:
Please note some of these materials are choking hazards, so please be smart about what items you choose for your child, and please always supervise them during activities.
Keep reading below to see how I set up the Easter Sensory Bin!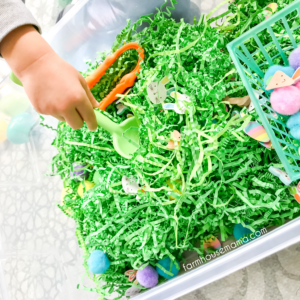 ---
---
There is a lot to discover in the bin! I first added the green shredded paper (Easter Basket Grass
) into the bin as the base. Next, I added a few Easter eggs (from last year!), Easter erasers, large Easter paper confetti (they came with the Easter grass I found at a party store back in February), pom poms, a strawberry basket, and tools.
---
---

Add Tools!
Once you have everything in the bin, you can add some fine motor tools, scoops, or cups (or even silicone cupcake liners if you have those in your kitchen!). We have these fine motor tools
(you can see some of them in the photo below) and my son loves them! He loves to use the tweezers and scoopers to pick up the items. We normally keep these tools and scoops in his pom pom bin.



My 2.5 year old has played with the Easter Sensory Bin a few times now. Right away, my toddler explored all the textures, sounds, and the movement of the items in the "grass." He opened all the Easter eggs (I hid confetti, pom poms, and erasers in them). After emptying all the eggs, he filled them back up with different items. We explored the different sounds the eggs made when we shook them with different items inside. We even pretended to make "soup" with the items. He also loves playing with scoops, tongs, and other tools with the sensory bin items.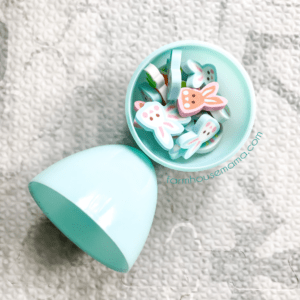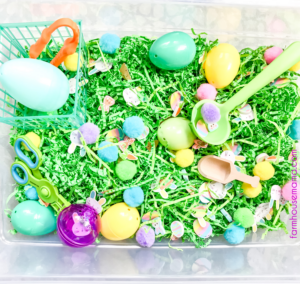 ---
---
The Easter Sensory Bin is a fun learning activity! Sensory bins allow kids to work on their fine motor skills, use their imagination, tap into their different senses, and let their creativity flow. They even help develop their math and pre-writing skills! It has all of these benefits (and even more!), AND it kept my little guy happy and engaged!
The Easter Sensory Bin was a blast! I'm excited my bin has a lid so I can store it away and bring it out a few more times!:) Have you tried a sensory bin yet? Let me know below in the comments!
Pin the image below to save this activity!