St. Patrick's Day Craft for Toddlers:
Easy to Set Up & Lots of Fun!
This St. Patrick's Day craft for toddlers encourages creativity, and it's such a fun "Invitation to Create" activity. The St. Patrick's Day craft is engaging for toddlers and preschoolers, and it's a great way to help them develop their fine motor skills (cutting and gluing!). My 2.5 year old loves arts and crafts so much, especially when he gets to use his safety scissors and glue! The St. Patrick's Day craft for toddlers is also very easy to setup for the parents.
This post contains affiliate links. Adult supervision is required for this activity. Please use your own discretion in whether this is an age-appropriate activity for your child. See full disclosure here.

The St. Patrick's Day craft for toddlers was simple and inexpensive to put together. You can find most of the materials from the Dollar Tree (or similar dollar store/craft store). I went into my arts and crafts bins and was able to dig up all of these supplies. I pulled out green pipe cleaners and green pom poms, among other items I could find that fit the holiday. Basically, gather all your green items you don't mind being forever glued! Look around your house and you may be surprised at what you have to use for this craft!
---
---
Materials Needed:
These are the materials I used, but you can use whatever items you have handy!
Cardboard (Recycled)
Green Construction Paper
Green Foam Sheet
Green Pipe Cleaners (Dollar Tree)
Green Pom Poms (or buttons, etc.)
Green Crayons
Green Ribbon (Dollar Tree)
Glue Stick
Elmer's Glue
Toddler Safety Scissors
Black Marker (for the parents)
Craft Tray (for organization; I found mine at Dollar Tree)
Please note some of these materials are choking hazards, so please be smart about what items you choose for your kiddo, and please always supervise them during activities like this.
---
---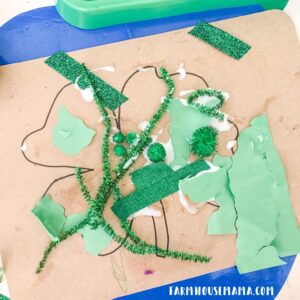 Keep reading below to see how I set this up for my toddler!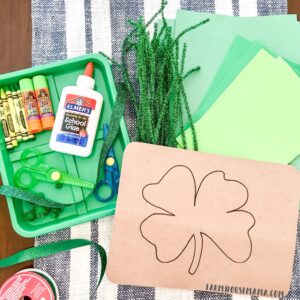 For the main base, I used a piece of cardboard I had saved for a future project. You can cut a piece of cardboard from a cereal box or other box you have, or you can use a piece of construction paper for your base. Just remember your toddler will be gluing items onto the base so try to use cardboard or a heavy duty paper, if possible. I used a black permanent marker to draw a four leaf clover.
---
---
Once I prepped the piece of cardboard, I setup the craft supplies in a tray so my son could see everything he had to work with. It's fun to set it up with a lot of options because your toddler could pick and choose what they want to do!
---
---
My toddler loved cutting up pieces of the construction paper, then he glued them onto the clover with both types of glue. If he wanted to glue a pom pom or a pipe cleaner, I encouraged him to use the liquid glue so it would stick better. I also helped cut up the ribbon with grown-up scissors (toddler safety scissors
only work on paper). Otherwise, I let him create however he wanted! He didn't end up using any of the green foam paper, but he used most of the other supplies. We did this craft during a play date with a friend, and you can see how each toddler created in their own amazing way! This St. Patrick's Day craft was so much fun!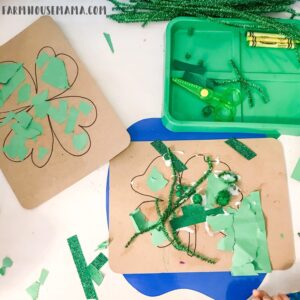 ---
---


This St. Patrick's Day craft for toddlers and preschoolers allows them to work on their fine motor skills and lets them use their creativity.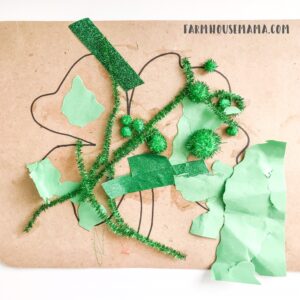 There's something so fun about watching your toddler create a craft on their own! This open-ended craft definitely kept my little guy happy and engaged! Will you be doing a St. Patrick's Day craft? Let me know below in the comments!
Pin this activity for later!