Open-Ended Toys That Grow With Your Child
Shopping for baby and toddler toys can be so overwhelming especially if you're looking for toys that last past the toddler years. If you're on the hunt for open-ended and natural toys that grow with your child, you may already know how hard that search can be. When I was a pregnant with my son, I knew I wanted to choose natural and nontoxic toys as much as possible. I sure wish I would have known about The Natural Baby Company back then! Fast forward a few years and now my 4 year old son loves to play with open-ended toys. As a mom, I love to see his creativity and imagination go wild with these toys.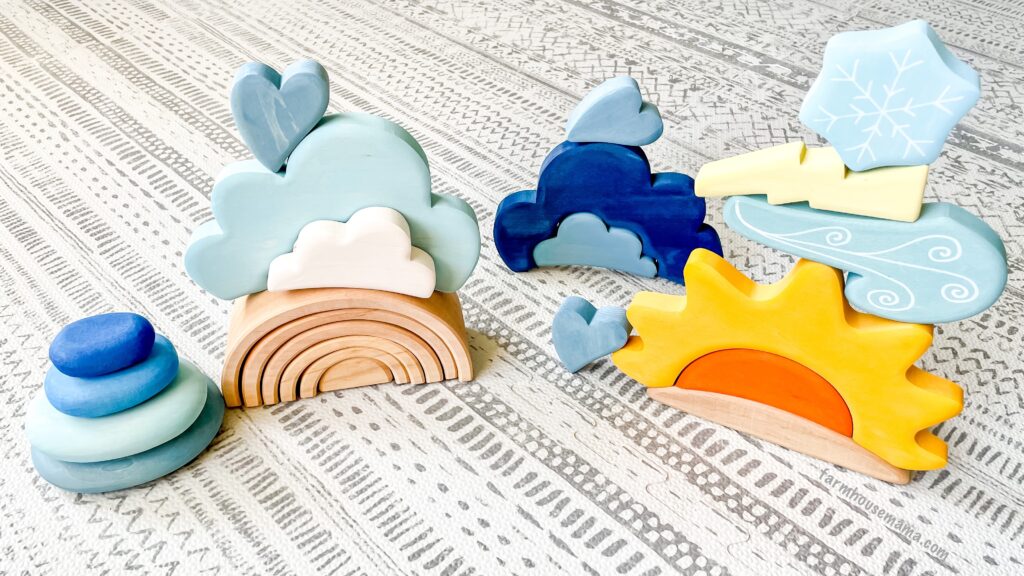 This post is sponsored by The Natural Baby Company. I received free products in exchange for my honest opinions. All opinions are 100% my own and not influenced in any way. This post contains affiliate links. See full disclosure here.

The Natural Baby Company offers everything from diapers (premium cloth diapers including GroVia) to gear (including car seats, bedding, strollers, pacifiers, teethers, and diaper bags) and baby wellness to play time, feeding time, and bath time. They carry small, family-owned businesses and also well-known brands that you most likely know! I was so excited to find they offer a full line of eco-friendly and sustainable toys that I can feel good about, including brands I have recommended on my blog before (Jelly Cats or Haba, anyone?). They also carry the very popular Grimm's brand who makes beautiful open-ended wooden toys, which I go into great detail about below.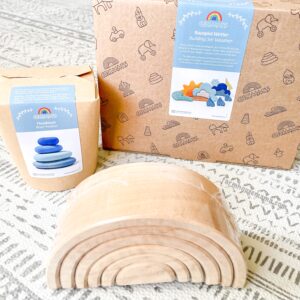 The Benefits of Open-Ended Toys
The possibilities are quite endless with these natural and open-ended toys. Open-ended toys have so many benefits in helping your child grow and develop. Some of these benefits include allowing your child to be creative, use their imagination, test theories, do role play, solve problems, and so much more! Open-ended toys help develop motor skills (both fine motor skills and gross motor skills) and cognitive skills. There is a freedom with open-ended toys as the possibilities of what they can do with the toys are pretty much endless. Keep reading to see some examples of our playtime with these beautiful open-ended toys.
Grimm's Open-Ended Toys
Grimm's toys grow with your child, and they are enjoyed by children of many ages. Their toys are built to last and to be enjoyed for many years. Take the 6 Piece Natural Rainbow, for example. The age suggestion is 0+ (safe for babies!) and my 4 year old LOVES it! The rainbow is not only a wonderful baby toy but it is also a creative toy that sparks the imagination of young children. This open-ended toy creates so many play opportunities. It's not just a pretty rainbow (although it is nice to look at when it's on a shelf!).
---
---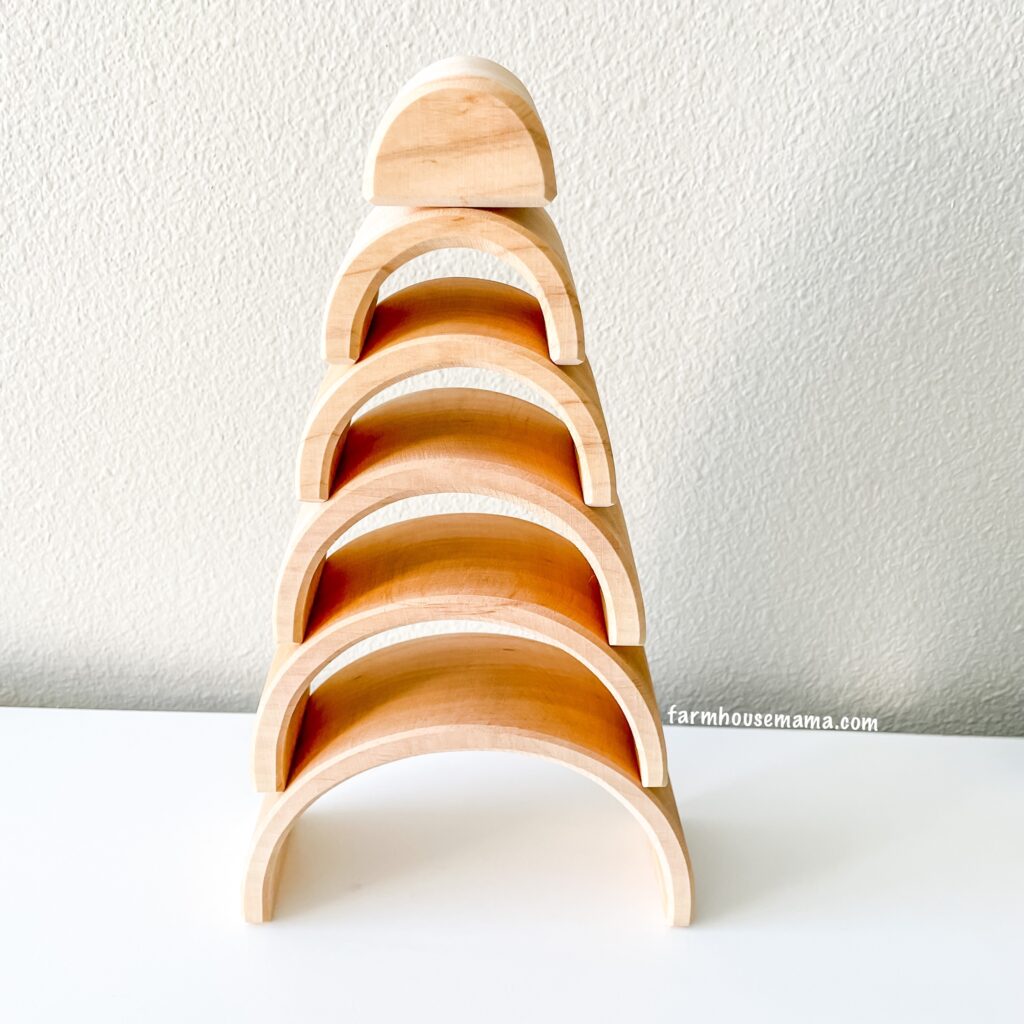 My son has loved stacking the pieces into a sculpture (he added the word "sculpture" into his vocabulary because of this!). This one required a lot of mama's help but we built this sculpture together: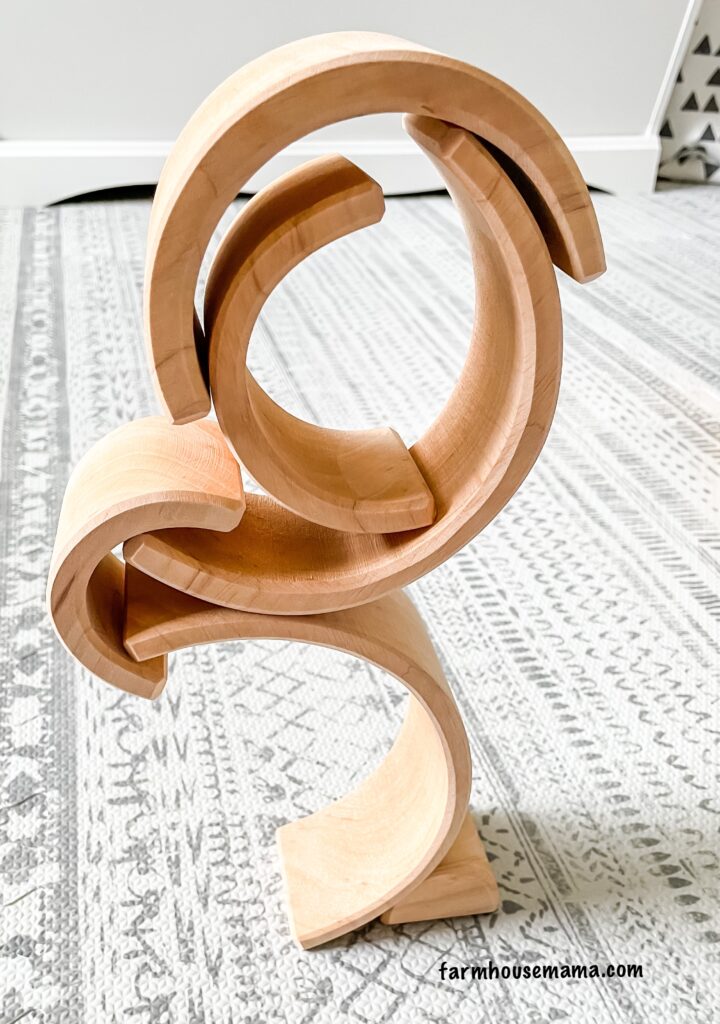 He has also used the rainbow arches as tunnels, hills, roads for his cars, ramps, and walls in a house he built. I absolutely loved what he did with the sun in this next picture! There is always light at the end of the tunnel!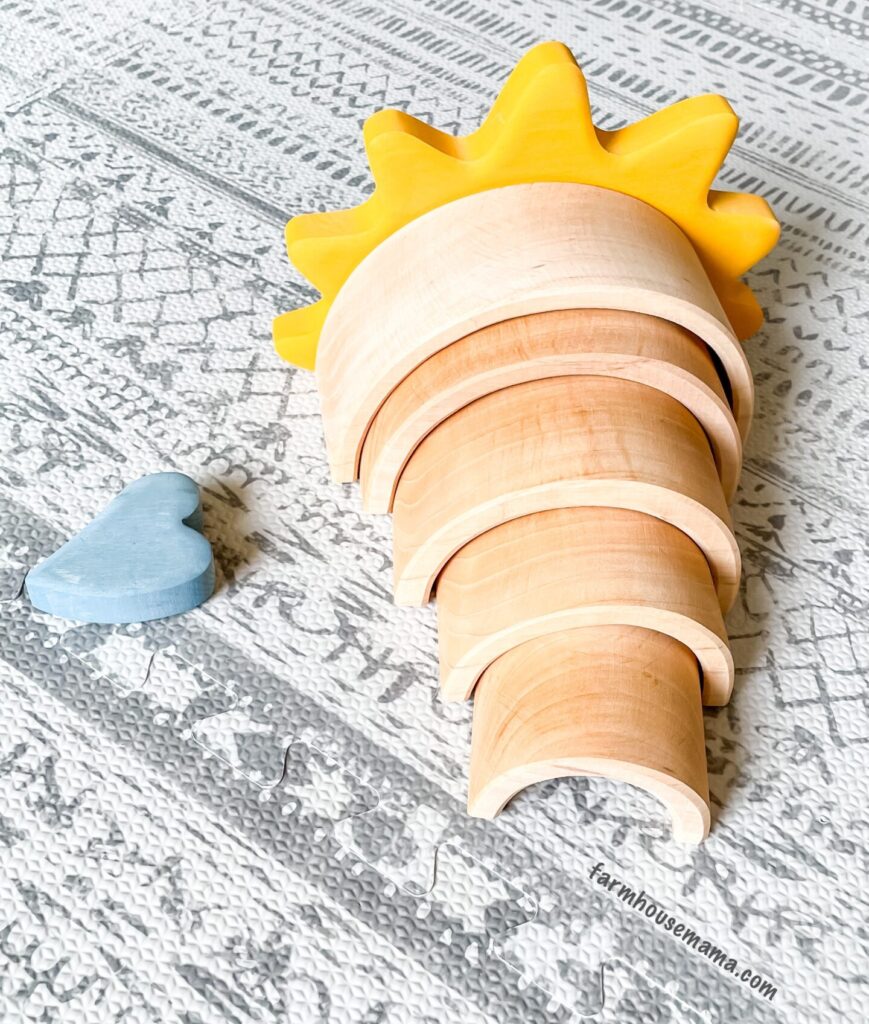 ---
---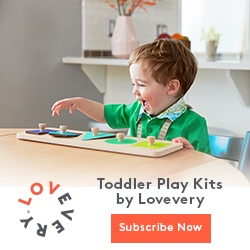 Grimm's Building Weather Set has given us a physical toy to hold while we learn about weather. My son has an interest in the daily weather changes, and this toy gives him a hands-on way to learn about snow, lightning, wind, rain, the sun, and the clouds.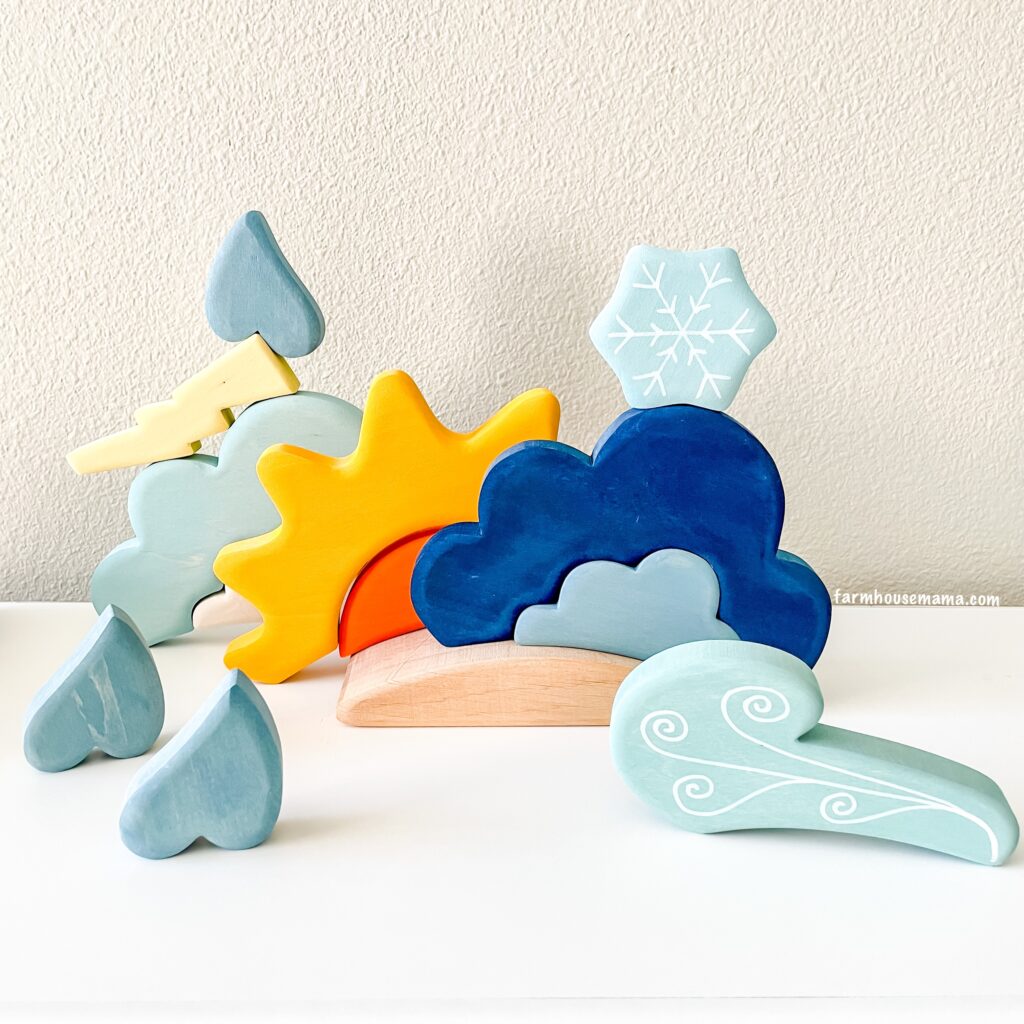 The pieces are also really fun to balance on each other!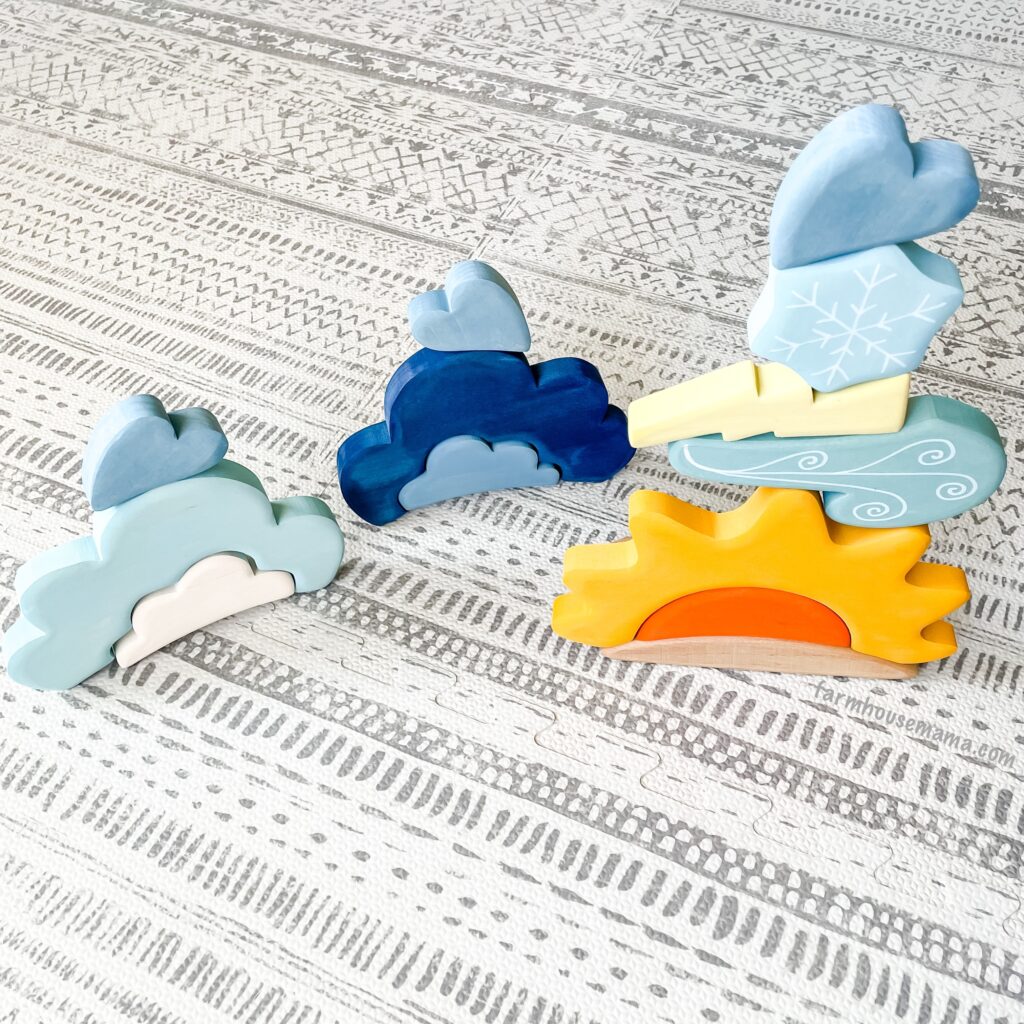 These river pebbles make a great open-ended toy for any child 3 and up. The set comes with four pebbles that are actually made of smooth wood (you would never know until you held one!). The wooden pebbles are so fun and light to build with and to balance on top of each other. Not only are they fun to build with and balance, my son loves to dump them out of his dump truck and pile them in his trash truck. Little hands can easily grasp these pebbles as they're so lightweight. I'm excited to use these in my small world setups. They also make a great addition to any playroom shelf, and they're pleasant to look at whether they're on a shelf or left on the floor after playtime.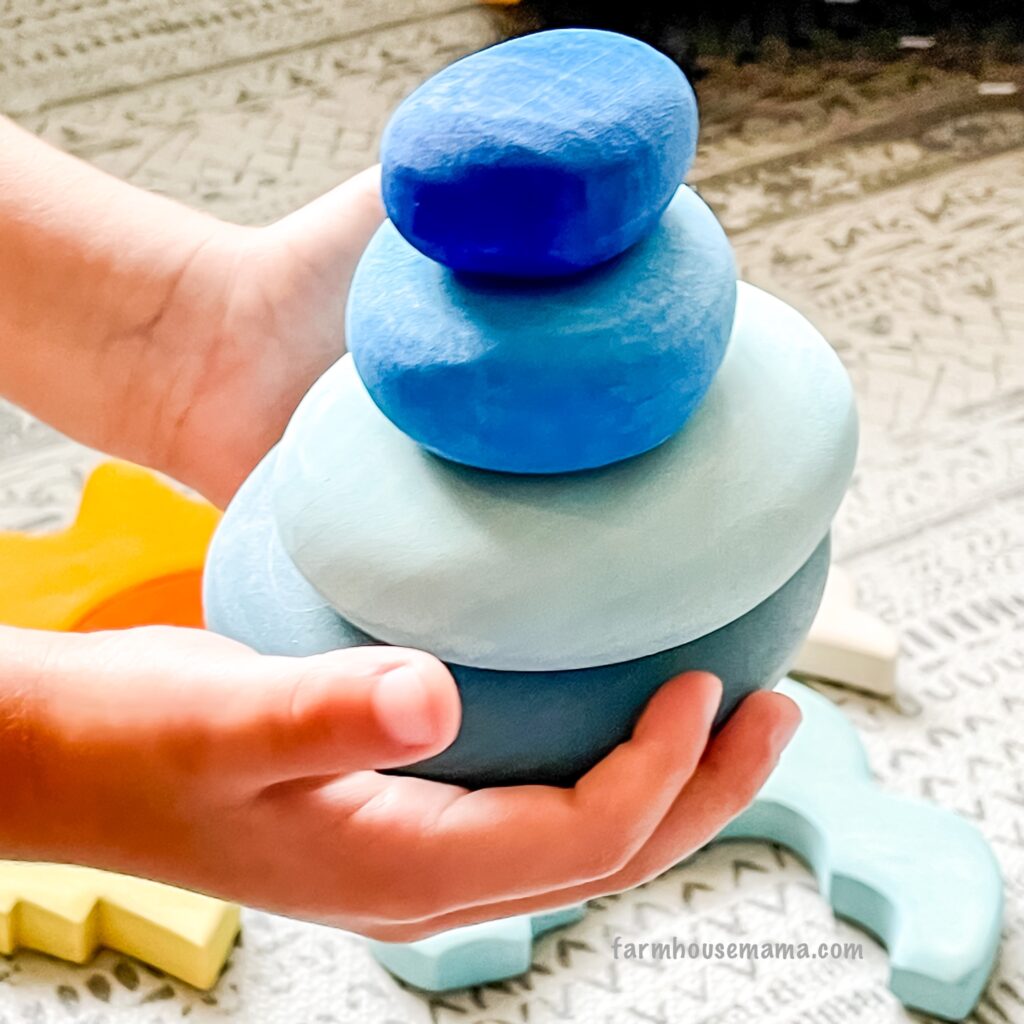 ---
---

If you'd like to know a few more highlights about these toys from Grimm's, they are made in Europe. These beautiful toys are made from natural wood and all colors are nontoxic. They're all so beautiful in person, and they have such a fun texture!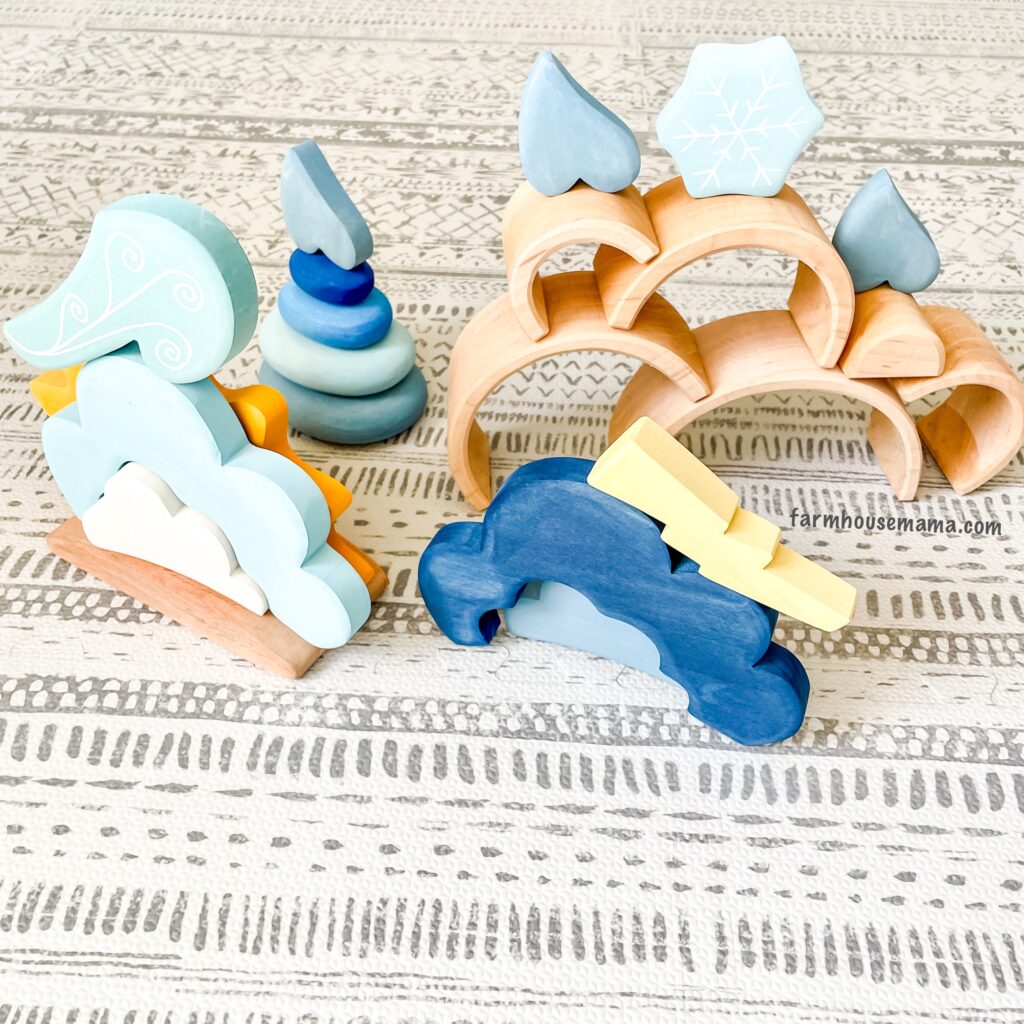 Not only does my son love to build with them, but he also loves to knock over his creations (anyone else have a kid who likes to demo as much as build?!). The pieces are made well and have held up to all of his demolition play! You can find an extensive inventory of Grimm's toys here on The Natural Baby Company's site.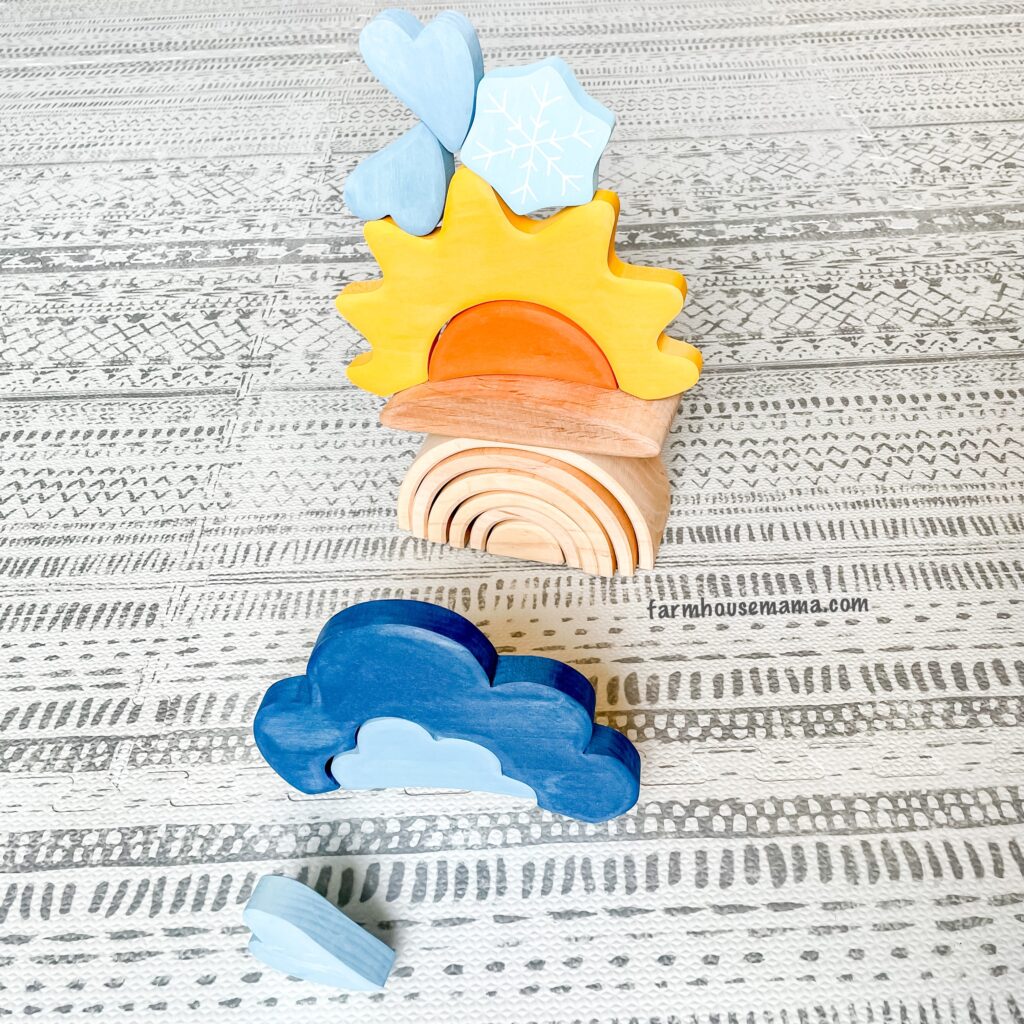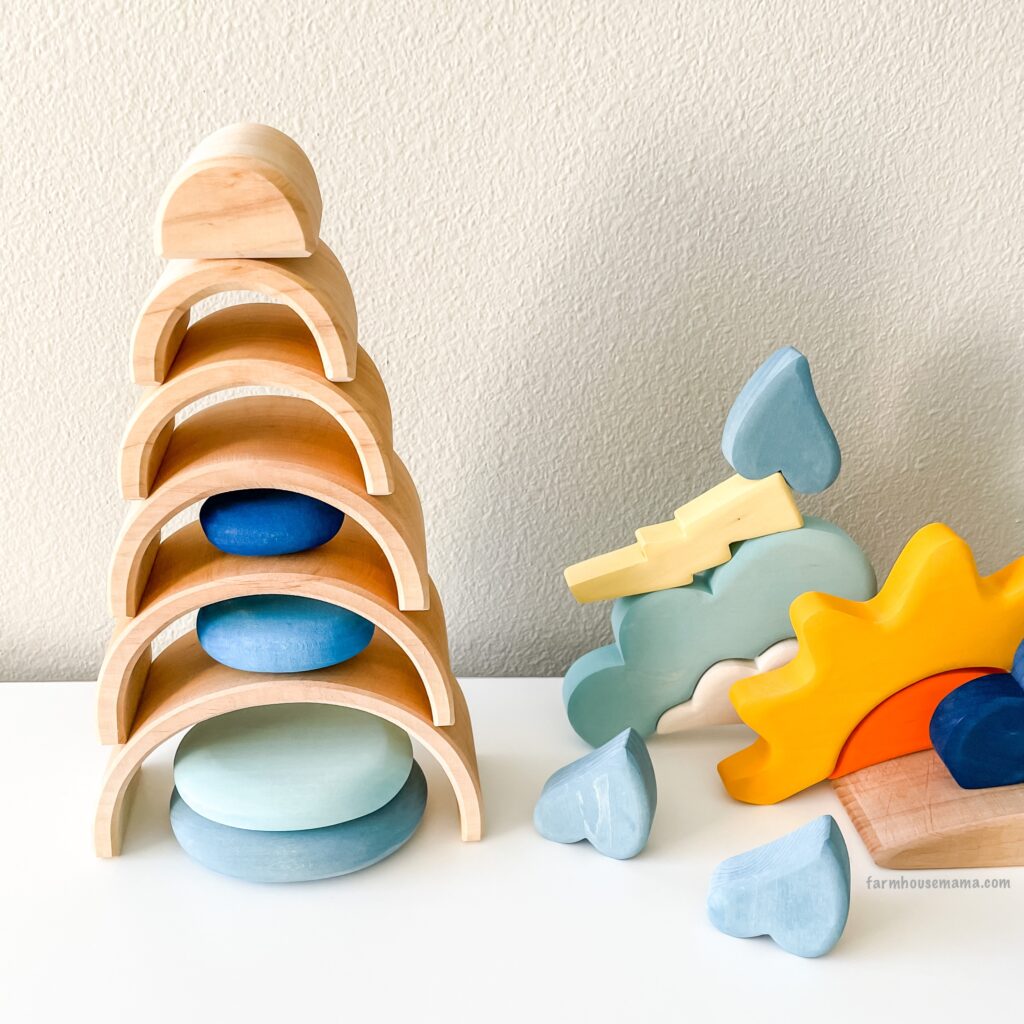 A Beautiful Addition to Our Playroom and Playtime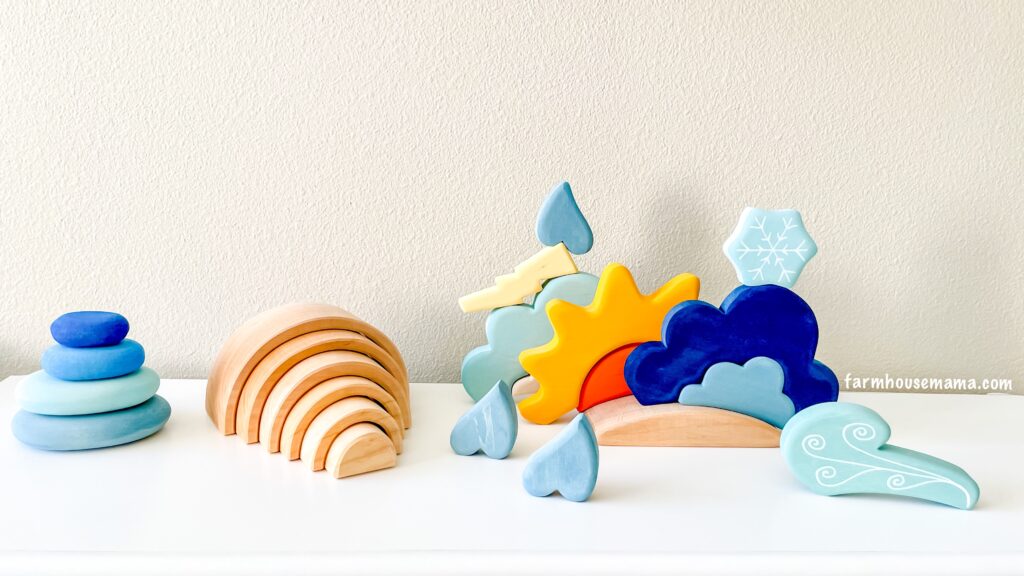 Our Grimm's toys from The Natural Baby Company have been a welcome and loved addition to our daily playtime. I love how these open-ended and natural toys allow so much room for creativity and imaginative play. I look forward to adding more open-ended toys from The Natural Baby Company to our growing collection! There's nothing better than when my son gets so involved in building, stacking, and creating his own worlds that I even get to enjoy the occasional cup of hot coffee!
Pin this image to save this blog post!