Our farmhouse entryway is my favorite decorated area of our house. Even before we unpacked all the rooms when we moved into our house, I had this area decorated and it made me happy. It probably gave visitors a false first impression that we were all moved into our house when we definitely were not! At least this area was done and it turned out exactly how I envisioned it.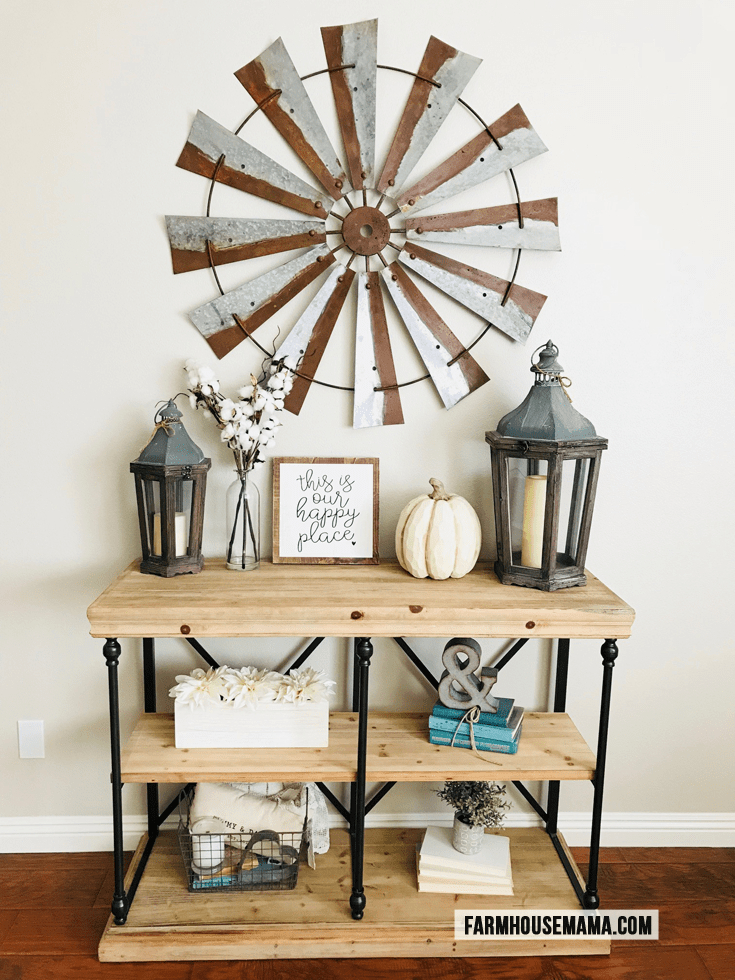 This post contains affiliate links. See full disclosure here.
I tend to shop at a handful of favorite stores for farmhouse decorations. The table is actually a console table but we put it in our entryway. I found it at Kirkland's. For the decorations, hit the thrift stores and look for hardcover books in creamy whites or colors that match your taste. Take off the paper covers and stack the books on a table or shelf to add dimension. You can easily add a galvanized metal sign
, fake plant
, or a candle
on top of the books. I found the fake plant, box of flowers
, pumpkin
, and the windmill wall decor
from Home Goods and Marshalls. The lanterns were a wedding present from my husband's family, and we absolutely love them. The lanterns and the flameless wax candles are from Pottery Barn. I just love how timeless they are. The cotton
and vase came as a set from Hobby Lobby.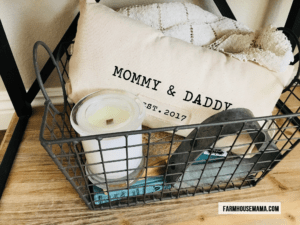 My husband and I found the wine barrel metal heart at a winery during our first anniversary trip. I love that it's a heart to represent our anniversary and love for each other, and the fact that it's made out of a wine barrel commemorates where we went for our anniversary. I found the metal basket
from Michael's (on sale!). The Parents Throw Pillow
, antique lace, Magnolia Market candle, and "this is our happy place
" sign were gifts. In case anyone was wondering about the paint color, it is a color match of Magnolia's "Gatherings." I love the soft gray color! If you're wanting to make your house more farmhouse, you can't go wrong with gray walls.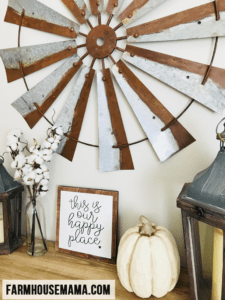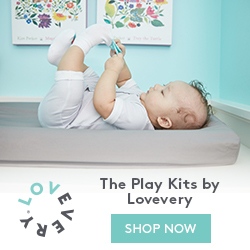 ---
---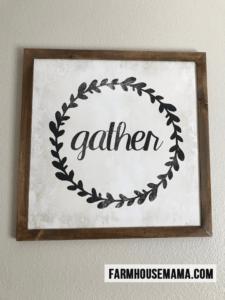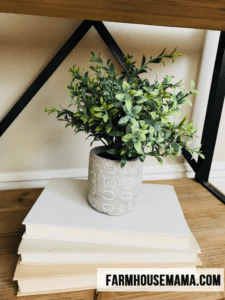 Another nice thing about this entryway decor is how easy it is to change a few key pieces to decorate for different seasons. I love Fall and pumpkins. I love pumpkin decorations and pumpkin-flavored everything! Being from Southern California, I sometimes wish we had more Fall weather. Did I mention we were breaking records this week? It's currently over 100 degrees and extremely windy. I don't want to be negative but I'm really ready for all things fall like tall boots, oversized scarves, chunky sweaters
, fires in the fireplace, pumpkin spiced lattes, and cozy blankets. I'm honestly not even going outside today with Baby. We have plenty to do around the house and I'd rather avoid the excessive heat, high winds, and allergies! Getting back to all things Fall, I just placed a ceramic pumpkin onto the entryway table. I plan to switch out a few key elements every season to keep things festive. I can't wait to decorate for Christmas!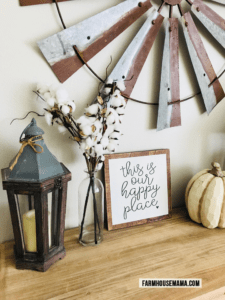 I like how the entryway feels so inviting. What do you guys think?