Christmas is just around the corner! Christmas has always been my favorite holiday. The first Christmas you get to spend with your baby is extra special. Every year, I look forward to most importantly celebrating the birth of Jesus along with our other traditions of decorating the Christmas tree, seeing the lights, having extra family time, and watching my son open presents. I put together a huge list of gifts for baby's first Christmas, and I hope you find it helpful! When shopping for my son's first Christmas, it was important to me that I picked out gifts that would grow with him so he could use them for awhile.
This gift guide includes some of our favorites along with other ideas for that special baby boy or girl in your life! You can see the prices and further details by clicking on the links or pictures. Be sure to scroll all the way through to the end to see keepsake ideas for baby's first Christmas!

This gift guide has been recently updated for Christmas 2022. This post remains the most viewed and most popular every year on my blog! A lot of these toys stuck around in our house until my son was well into his second year (and some even longer, like his stuffed animals that are listed below)! All of these gifts are appropriate for any baby's first Christmas, and some of them will even entertain them into their toddler years! The guide includes fun and developmental toys, practical stocking stuffers, and Christmas-themed presents and outfits. I have included a variation of age-appropriate gifts, depending on the age of your baby during their first Christmas. If there's one thing I've learned, it's that it's better to have toys they can grow into and enjoy for at least several months (or even a year or more!)! May you have a blessed and joyful Christmas!
Be sure to check out my other Gift Guides, too!
This post contains affiliate links. The Lovevery Play Gym was kindly gifted through an unrelated collaboration. All opinions are my own and 100% honest. See full disclosure here.
Click on any product image or pink links to shop!
Jungly Tails Soft Book: My son loves this book! There are so many fun textures to feel and squish. The loop makes it easy to take along in the stroller or carseat. Recommended for 0+.


Nontoxic Wooden Vehicles
: These cute cars and planes are made from nontoxic wood and paint. Baby E has the cute little plane
. He loves how the wings can move (they are attached with bungee). These feel really sturdy, and the paint has never chipped at all.

Hape Wooden Instruments: Xylophone, Rainmaker and Rattle, Rolling Drum, and Rattles:
I don't even know how many Hape instruments we have! My son absolutely loves all of his fun instruments, and this mama loves the nontoxic finishes and durability! My son still loves his rainmaker after having it a couple of years!


The Most Adorable Stuffed Animals: My son has the owl, elephant, pineapple, and a few others, and he loves them so much! These are my favorite stuffed animals for him. He's had most of them since he was a baby. They're so cuddly and cute (and sooo soft..really!)! They now make all different sizes of Jellycats from small to huge, and they even have books. Amazon has a HUGE selection of Jellycats….Like pages and pages of options (they even have non-animal ones like a cute cactus and pinecone).

---
---
Skip Hop Explore & More Follow-Me Bee Crawl Toy
: This developmental toy is so adorable and it encourages your baby to crawl! It is perfect for pre-crawling babies, beginner crawlers, and even advanced crawlers as it moves in different patterns.



Little Climber: If you're looking for that big Christmas morning gift, this is it! Recommended for ages 6 months to 5 years old, this climber and rock wall bundle comes with a reversible rock wall and slide accessory and will be used for YEARS. This fun indoor climber enhances your little's creativity, self-confidence, motor skill development, balance control, and muscle growth. The USA-made Little Climber folds flat for storage (every parent's dream!), and it features natural and nontoxic materials.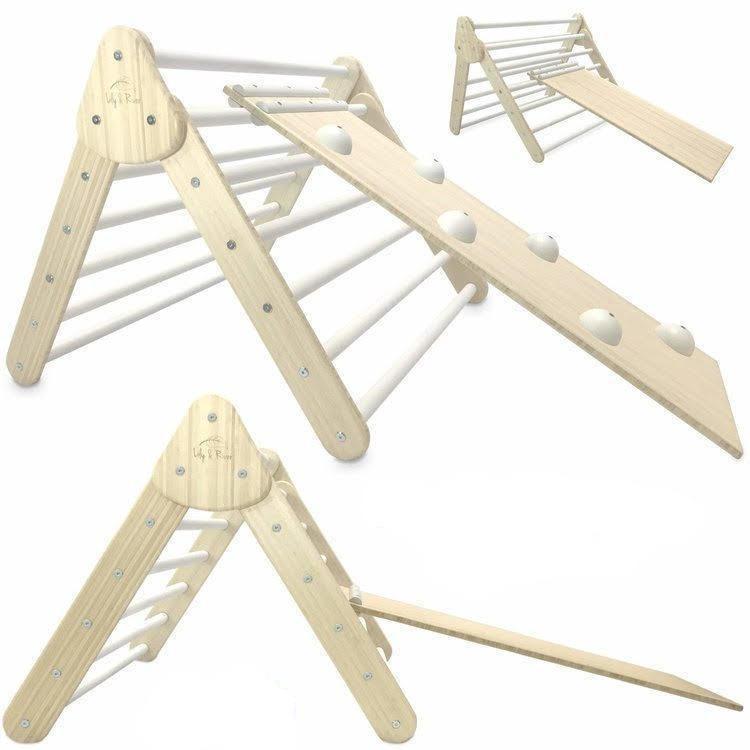 ---
---
Shape Sorter
, Baby Toy Starter Set
, My First Tugboat
, My First Stacker
, Elephant-on-Wheels
: Remember how I said I was picky with the toys Baby E plays with? I LOVE Green Toys and how they are free from BPA, phthalates, PVC, and external coatings. Plus they're made from recycled plastic and you can throw them in the dishwasher to sanitize them! I love how I don't have to worry about chemicals in Green Toys, and they're made in the USA! And no, they don't pay me to say all of this! I just love them that much! 🙂


---
---
Baby Touch and Feel: Christmas
: This is a cute book for the stocking. The touch and feel book features a padded cover, fun pictures with words, and different textures.

Fun Toys for Babies: These toys are so fun and cute! These toys help build visual and fine motor skills. The bear is a great teether option. These are sustainably crafted from chemical free rubberwood trees, formaldehyde-free glues, organic pigments, water based dyes, and safety tested.
Christmas-themed Gifts: More cute Christmas-themed gifts including the most beautiful nativity and some of our favorite Christmas books! Be sure to scroll to the end of the gift guide to see more Christmas-themed presents. You can also find more of our favorite Christmas books and toys (especially for toddlers and 5 year olds) on this blog post that is updated weekly!

Wrist Rattle & Foot Finder Socks
: These wrist rattles and socks help babies discover their hands and feet. It's a fun way for babies to learn about their movement. When Baby E was 1-3  months old, he would move his feet and hands and notice the rattle! These are the perfect stocking stuffers!

VTech Sit-to-Stand Learning Walker
: Save yourself the trouble, and get this now! Even if your baby can't play with it right away, they will definitely grow into using it before they turn one. Once Baby turned 10-11 months old, he LOVED this toy. He went from sitting and crawling to standing and walking around while pushing this toy! It has a removable front play panel that develops fine motor skills, and it features over 70 fun sing-along songs, music, sound effects, and fun phrases. Baby E loves all the buttons, the phone, and the songs! When your baby is getting close to 9 months, this toy is a MUST!! The walker is meant for babies and toddlers 9 months to 3 years old. Only buy this toy if you want your baby to walk soon!!

Swing: This beautiful swing is for babies and is for indoor and temporary outdoor use (store away when not in use). I love the neutral colors of this swing! This swing is made of natural beech wood and marine-grade rope.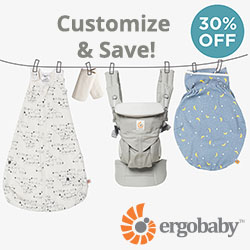 First 100 Words
: The First 100 Words is a great book for teaching babies to speak. My little one has learned so many words because of these books. We also love the First 100 Animals
and Numbers Colors Shapes
! He points to the pictures and says or signs several of the words now! The First 100 Christmas Words
 is adorable and PERFECT for the stocking! They even make a box set of 3 books!
Lovevery Play Kits: I cannot recommend the play kits enough!! We LOVE them! They are stage-based play essentials that are made for your child's development and are tailored to your child's exact stage. All of Lovevery's toys are toys are built to last and made with sustainably harvested wood, organic cotton, nontoxic paint, and baby-safe plastics. We have some of these play kits and I personally cannot recommend them enough. They have play kits that can be delivered every 2-3 months between 0-36 months (or you can get just one kit!) so definitely check the kits out! Here's an example of a play kit for age 7-8 months old (click the image to view all the details and to browse the other kits):

I seriously cannot recommend them enough! They are sooo worth it when you see how much your child learns from them!
Boppy Tummy Time Pillow
: This adorable mini boppy pillow will keep any baby entertained as they work out those important muscles during tummy time. It comes with a cute crinkle book and teether ring. I personally called Boppy and asked them if the teether is BPA free, and I was told ALL of their products are BPA free! The pillow is also small enough to take with you for playtime. The recommended age is 2-6 months.


---
---
Skip Hop Bandana Buddies Toys and Teethers: How adorable are these? We love Skip Hop toys and teethers! The bright colors and cute animals make them so fun.


OBall Cars (AMAZON'S CHOICE!)
,  Oball Shaker
, Oball Classic Ball
: I had never heard of Oball toys before we received a few for Baby for his first Christmas. I quickly became obsessed so he now has at least 7 different Oball toys! He can easily grasp and hold all their toys because of those fun little holes that are perfect for babies' fingers. He loves the ball, the rattle shaker, the bath toys, and his cars! They're BPA-free and the surfaces are flexible and teetheable. Many of their toys also have fun rattle beads that he loves to watch (and they make a fun noise).
Sassy Developmental Bumpy Ball
: This ball has different textures, colors, and a gentle rattle sound. It's for 6 months and older and helps develop baby's motor skills. It's on Amazon's "Best Seller" list.

Fisher-Price Laugh & Learn Kick & Play Piano
: My baby learned to dance to this piano!! And it was the cutest dance ever! He received this as a Christmas gift, and he absolutely loves it! It has 3 different settings, including 10 minutes of straight music and flashing lights, a push and learn setting that teaches numbers, shapes, and colors, and a piano playing setting. We like to use it when he is sitting up or doing tummy time. He loves the music, pushing the buttons, and the flashing lights! It can also be tied to the crib so babies can push the buttons with their feet. The age says it can be used beginning at newborn stage, and it will definitely grow with the baby as it can be used laying down, during tummy time, and while sitting up. Like I said earlier, we have more non-battery toys than battery-operated toys (this one actually comes with batteries!), and I'm so happy he has this one! He loves it! (I also linked what I believe to be the updated version-just click one of the pianos below to view them).


Try Zen Swaddle with 60-Day Return Option
Rattle and Teether: This award winning Color Burst Skwish is a one of a kind wood rattle and teether toy. It "Skwishes" and returns to its original shape, with beads that slide and rattle. The Skwish Color Burst is made from renewable rubberwood and is recommended for 0+.

Super Play Mat: This is a cute and huge tummy time play mat! It's highly rated and is the "Amazon's Choice" for baby playmat. It has different textures to explore, a soft padded mirror, and a cute carrot teether that tucks away. It's hard to see in the photo below, but click on it to see a larger photo to see how adorable the animals are on it!


Here Fashion 3 Packs Non-toxic Soft Fabric Baby Cloth Books
: These are some cute cloth books! Plus they're nontoxic which is so important because babies like to put everything in their mouths.

Sophie the Giraffe Teether
: This teether is made from natural rubber and is soft on the gums. Baby E loves this teether! He loves how it squeaks, and it's easy for him to hold and chew. He has loved this teether since before his first tooth came in, and he continues to love Sophie even at 16 months old. It has proven to be very durable!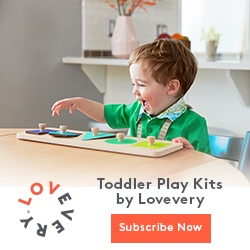 Gund Baby Flora The Bunny Animated Plush Stuffed Animal Toy
: Flora, the sweet bunny, plays peek-a-boo and sings "Do Your Ears Hang Low." The ears flap during the interactive game and song. This cutie is appropriate for all ages.

Baby Balance Bike: We had this exact bike and it was the best! There are a lot of variations in brands, and this is the exact brand we received for a gift for Baby E. It's for 10 months to 24 months, and it's really sturdy for babies to learn coordination and balance. Plus it helps them get their energy out!:)

Christmas in the Manger
: I know I mentioned this book earlier but I wanted to highlight it here also. This sturdy board book has beautiful artwork and vivid colors. The book shares the meaning of Christmas in a lyrical and cute way. My little guy received this book as a gift for his first Christmas and he still loves it now during his sixth Christmas season! It's a great first Christmas book!

---
---
Evenflo Exersaucer Moovin & Groovin Activity Center
: My little guy started using this when he was just shy of 4 months. He absolutely loves all the animals and activities! The seat spins so he can face the toys he wants to reach. This activity center features so many activities that help infants and toddlers from 4 months to walking age in key early child development areas. The fact that it's a farm makes it even more fun!

HABA Snug-up First Baby Dolls: These cuddly dolls are so cute! I love that they're free from toxins including BPA, phthalates, PVC, flame retardants, and water repellent chemicals! Click the images to see these dolls, along with seveeral other adorable doll designs.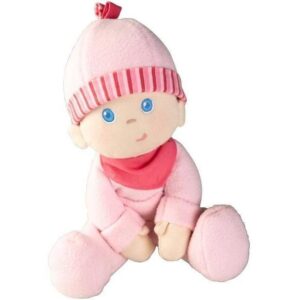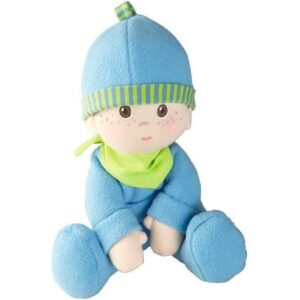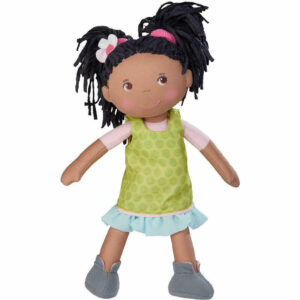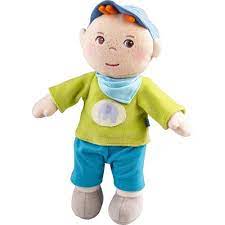 Bath Letters and Numbers, Splish Splash Bath Cups:  There are so many bath toys out there and my son definitely has plenty, but these are 2 of my favorites. These nontoxic foam letters and numbers are cool because they stick to the bath walls after getting them wet. E loves to play with them even if he can't spell or count yet (you can't start teaching them too young!). These BPA-free cups are fun because they're different colors and shapes and they make "rain" when you let water fall through the holes. The scoops are easy to clean for parents and easy to grasp for little hands. They also nest nicely for storage.

VTech Drop and Go Dump Truck
: My son loves this truck! This fun dump truck has "rocks" that your baby puts in the hole which then drops the "rocks" into the dump truck. The back of the truck can tilt to dump the "rocks" out, and the truck has a pull string. E loves to pull the truck around the house! It has cute sayings and melodies, and it helps teach numbers, colors, and tools. It also helps develop motor skills! The age recommendation is 6 months through 3 years old. Update: My son definitely loved this truck and played with it until he was 4 years old!

Baby Einstein Neptune's Ocean Discovery Jumper
: Because sometimes it's nice to have 2 jumpers in the house? Yes, yes it is!! Once Baby E liked to sit up more than leaning back in one of these kinds of bouncers
, this jumper became another favorite. It's not fun dragging one of these from room to room, and they're a nice break if you have to put away the laundry or do a small chore. We obviously do a limited amount of time in the jumpers, but he loves his special jumper time! Baby E loves this jumper just as much as the Farm jumper (see above). He can bounce more in this one since it's suspended. This is one of his toys that has noise and lights because the turtle has buttons to push. Three settings include numbers and colors in 3 different languages, music, and piano playing. The turtle also easily detaches so babies can play with it elsewhere!

Sensory and Clutch Ball and Soft Activity Blocks: These toys are cushy and soft and perfect for little hands to grasp. Ball play provides key benefits that are an important part of the developmental progression such as improvement of motor skills, hand-eye coordination, and timing. The soft blocks feature organic fabricsand illustrated animals and patterns for visual stimulation, textured fabrics and embroidery for tactile engagement, tags and crinkle paper for gripping and exploring.


The Play Gym: For ages 0+, this play gym will give you a whole year of play! This play gym is not your normal play gym. The Parents' Choice award-winning play gym includes everything your child needs in an activity gym and play mat-from batting to teething to learning to focus-for playtime and tummy time with purpose. Designed by child development experts and crafted with safe, healthy, and durable materials for babies. The materials of Lovevery products always impress me! The Play Gym is manufactured without flame retardants or PVC, and mouthable accessories are made from 100% organic cotton and silicone.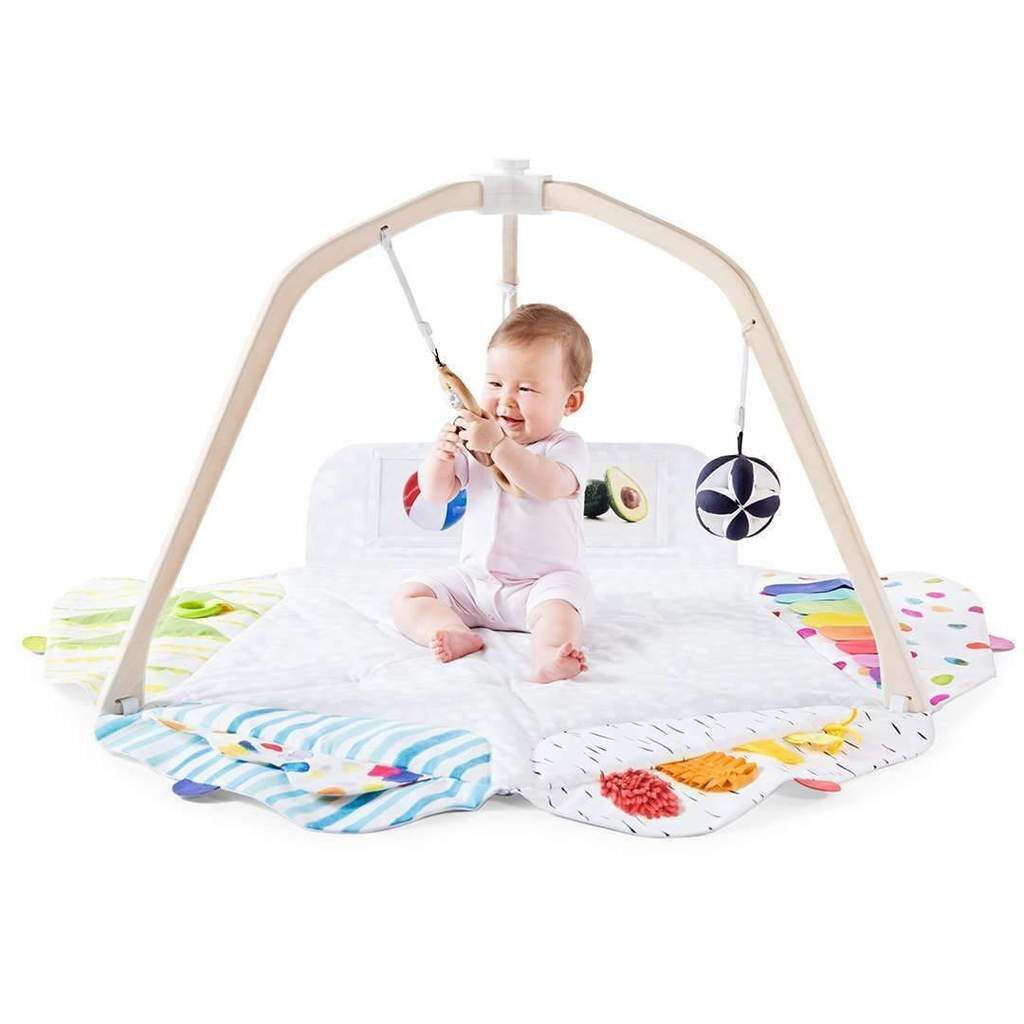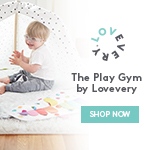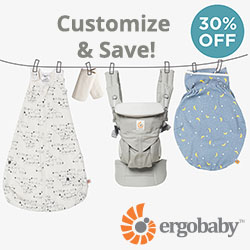 Infantino Balls, Blocks, & Buddies Activity Toy Set
: This toy set includes blocks, animals, and textured balls. They are all BPA free according to the seller. E has these exact sensory balls, and he loves them!

Discover & Play Piano Musical Toy
: E has had this toy for close to a year! He loves this piano especially for on-the-go in the car! The piano has soft cloth keys and has different settings (musical instruments, animal noises, piano keys), and it also counts in English, Spanish, and French. I don't see E's love for this toy ending anytime soon!

Black and White Soft Flash Cards for Baby: We received similar baby flashcards as a gift, and I'm so glad we did because I never knew the importance of black and white toys for babies. For their first 6 months, babies respond best to bold, contrasting colors and graphics. These flash cards will encourage visual development and physical activity (think wiggling and waving their arms and kicking their feet).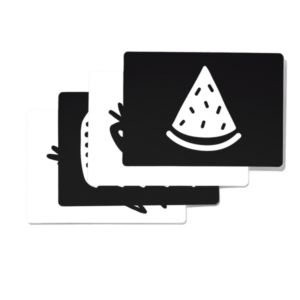 ---
---

Silly Spinwheel High Chair Toy
: This cute interactive toy suctions to the high chair
tray and keeps Baby E entertained while prepping food and in between bites (and it also keeps him engaged after mealtime when I need a few minutes to clean up). It has interactive spinning parts that is sure to keep your little one busy. It is BPA free and can also be used on a stroller tray.

Melissa & Doug Animals Jumbo Knob Wooden Puzzles Set – Fish and Pets
: These cute puzzles have large knobs that are easy for babies to grasp. They are a great first puzzle! Baby E loved the Melissa & Doug knob puzzles! These are also an "Amazon Choice!"

Baby's First Christmas Santa's Playset & Photo Album Gift Bundle
: This adorable soft playset comes with a "Baby's First Christmas" photo album. The snowman, elf, Santa, and reindeer feature fun sounds including crinkle, jingle, rattle, and squeak sounds! The recommended age is 6 months through 36 months old so you should get a lot of use out of this fun Christmas toy!
Tree Top Activity Center : This Tree Top Adventure wooden toy is packed full of motor skill activities!

HABA Farm Animals Puzzle: How adorable is this simple puzzle? The knobs make grasping for littles easy! Recommended for 12 months and up.


Hape Wobbling Melody Penguin
: This adorable wobbly penguin adds some music to playtime! I can't tell you how much I love this brand of nontoxic wooden toys! E has several instruments and toys by Hape, and E loves them all!
VTech Turn and Learn Driver
, VTech Rhyme and Discover Book, VTech Sort and Discover Activity Cube
: VTech makes great learning toys for all ages, including babies! I especially have loved the Turn and Learn Driver and their Rhyme and Discover books. E loves to play with knobs, levers, and buttons so these toys are right down his alley. The VTech books have fun songs and movable pieces on each page. Its recommended age is 6 months to 3 years old. The cute pink activity cube introduces colors, numbers, animals, nursery rhymes, and so much more, and it's also intended for ages 9 months to 3 years old.



2″ Hair Bows Fully Lined Hair Clips
, Our Favorite Teething Bibs
, Baby Hat with Earflap
, Cozy Fleece Booties, our favorite weighted swaddle and sleep sack: These all make excellent and practical stocking stuffers! These bibs are perfect for teething babies (we loved these bibs best for our drooling guy). We couldn't live without our swaddle and sleep sacks!! We had our struggles with sleeping through the night and the Nested Bean improved our little guy's sleep (especially as he got older, he loved his sleep sack!). When he was a baby, we used the weighted swaddle. Once he was old enough for the sleep sack, he used that until he was 2!
Infant Training Toothbrush and Teether
, Sippy Cup Set
, Munchkin 6 Piece Fork and Spoon Set
: A few more practical stocking stuffers! E loved this toothbrush when he started teething (it's BPA, latex, and phthalate-free!). When he was using sippy cups, the sippy cups below were great. We never had any leaks and the handles made them easy to hold. You can always use extra spoons and forks!

My First Christmas Tree
: This absolutely cute Christmas tree will keep your little one busy with their own tree and away from the real Christmas tree that has fragile ornaments. It is 33 inches tall! The age on this says 18 months and over but I can't resist putting this on the list. I can see some babies closer to one year old being interested in this tree! We did not have this for my son's first Christmas (he was too young), however, we had this exact tree for him for his second and third Christmas! He has loved it! It is the most adorable little tree! (Please make your own judgement on whether this is age-appropriate for your child). Click the photos to see more photos of the trees in use. They are so fun how they are kid-size! 2022 Update: We literally used this tree even when my son was 4 hah! He wouldn't let us get rid of it! He loved it so much!!

Organic Cotton Play Tunnel: This play tunnel is made of organic cotton, and it stores easily into the included storage case. There are so many fun options for play with this tunnel! Recommended for 12 months and up.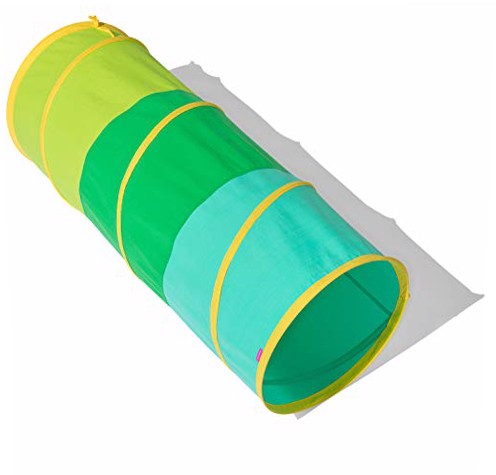 ---
---

WINMI® Baby Girls' Newborn 1st Christmas Onesie
, Baby Snowflake Coat+Romper Playsuit
, Lil' Reindeer Christmas Plush Rattle
, My First Visit from Santa Outfit
, Carter's My First Christmas Santa Hat
: Christmas-themed gifts are always fun especially for baby's first Christmas! Use this opportunity to take a lot of pictures in Christmas outfits, too!

Baby Girl First Christmas Outfit
, First Christmas Outfit
, Christmas Headbands for Baby Girls
: I'm going to say it again! Don't miss the opportunity to take a TON of first Christmas pictures of your baby. You will love looking back on the pictures from their first Christmas! They grow up so fast! These are adorable outfit options for your little one. 🙂

Keepsake Ornaments: Start a special tradition of adding to your ornament collection every year with the first ornament being a handprint or footprint keepsake ornament. I'm so glad I took the time to make handprint and footprint keepsakes of my son. They grow so fast and I love looking back on how tiny his prints were! These would make wonderful keepsake gifts for grandparents and family members! Don't forget to make some for your tree, too. 🙂

I hope this gift guide gives you fun ideas for your baby's first Christmas!! Make sure you bookmark and pin this so you can refer back for future gift-buying! May your Christmas be filled with cheer and joy!