Elephant Balloon Craft
A Cute Handmade Card from Toddlers
 This elephant balloon craft is fun for toddlers and preschoolers. It's easy to set up and so fun to create! You most likely have the materials needed to make this cute elephant. The elephant balloon craft makes the perfect handmade card from toddlers, too! This cheerful and silly elephant card is fun for Father's Day or a special birthday. It's sure to make the recipient smile!
This post contains affiliate links. Adult supervision is required for this activity. Please use your own discretion in whether this is an age-appropriate activity for your child. See full disclosure here.
Materials Needed:
Please note some of these materials are choking hazards, so please be careful with the items you choose for your child, and please always supervise them during activities.
---
---
Keep reading below to see how I set up this craft for my toddler!
I put all of the craft supplies in a craft tray to keep the items (and sticky glue) contained. The tray seems to keep my toddler more focused on the task at hand because he can easily see everything we're working with.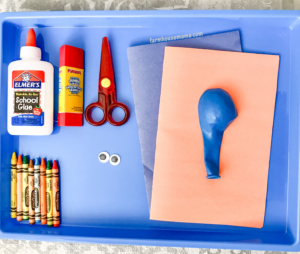 ---
---
My son is 2.5 years old, so he needed a little assistance with cutting the shape of the elephant ears. I just helped him guide the safety scissors
as he made cuts. He also loves doing the glue. We used the glue stick to first glue down the cutout elephant ears, then we used the liquid glue to glue down the balloon and eyes. We let it dry overnight, and it has held up well being on display for over two months now!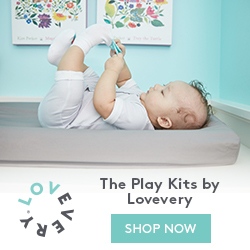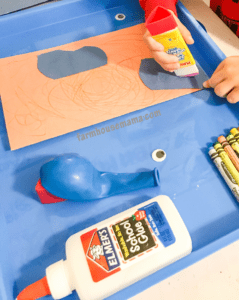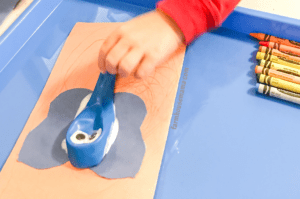 ---
---


This elephant balloon craft is sure to bring some smiles!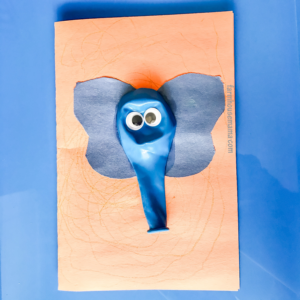 Are you going to try this craft? Are you making this elephant craft as a card? Let me know below in the comments!