Valentine's Day Sensory Bin
This Valentine's Day Sensory Bin is so fun and bright! It is perfect for both toddlers and preschoolers, and it's a fun way to help them develop their fine motor skills (among other skills!). My 2.5 year old loves sensory bins, especially because he gets to use his tongs and scoopers. This Valentine's Day Sensory Bin has a surprising twist because of how some of the items reacted with the foam beads.
This post contains affiliate links. Adult supervision is required for this activity. Please use your own discretion in whether this is an age-appropriate activity for your child. See full disclosure here.

The Valentine's Day Sensory Bin was simple and inexpensive to put together. You can find most of the materials from the Dollar Tree (or similar dollar store/craft store). I took a clear storage bin and filled it up with my filler (foam beads and shredded paper from the Dollar Tree), then I put the other items on top of the filler.
---
---
Materials Needed:
These are the materials I used, but you can use whatever items you have handy! You can use any filler you have. I used paper shreds and tiny foam beads. I also lined my bin with some cute textured Valentine's paper I had (just to make it even more gushy!). Since I already had pom poms, I dug around for a few pink, red, and white pom poms to add to the bin. Here is what our bin had in it:
Heart-shaped foam stickers (Dollar Tree)
Heart table scatter (Dollar Tree)
Heart gems (Dollar Tree)
Valentine pom poms
Red paper shreds (Dollar Tree)
Foam beads/balls (Dollar Tree)
Storage bin (mine is from Target but I love the shape and size of this one!)
Fine motor tools
Please note some of these materials may be choking hazards. Please use your own discretion in whether this is an age-appropriate activity for your child. 


---
---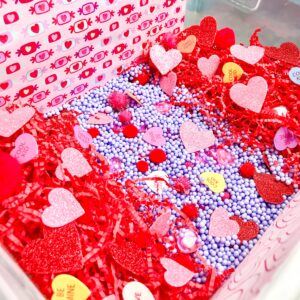 There is a lot to discover in the bin! My 2.5 year old has played with the Valentine's Day Sensory Bin a few times now. The first time, he just explored all the items, the textures, sounds, and the movement. The next time, I added scoops, tongs, a cup, and other tools. You can add tools and other fun scoops right away..I was just so excited for him to discover everything in the bin the first time, I forgot to add tools (he still had fun!).
---
---

Add Tools!
Once you have everything in the bin, you can add some fine motor tools, scoops, or cups, (or even silicone cupcake liners). We have these fine motor tools
(you can see some of them in the photo below) and my son loves them! He loves to use the tweezers and scoopers to pick up the items. I also added a scoop from a protein powder container (save those scoops!). We normally keep these tools and scoops in his pom pom bin.
He loved feeling the different textures of the hearts and items in the bin, and we talked about the scratchy noise the heart table scatter made when we touched them. He made "cupcakes" in the little pink bucket, but he especially loved the foam beads.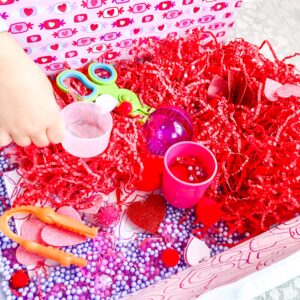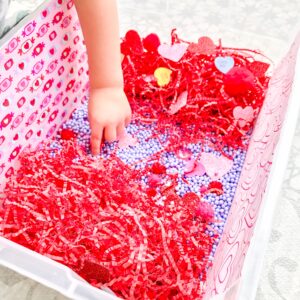 ---
---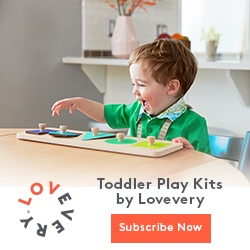 Something unexpected happened with the foam beads and the heart gems! The heart gems appeared to "float" across the beads! My toddler watched in amazement as the gems glided around the bin for a few seconds after just one little nudge. The foam beads did get a little static-y, but (to my surprise) this activity didn't make much of a mess. Be warned, though, if you decide to go the foam bead route..it CAN get messy if the beads get outside of the bin! My son was pretty good at keeping everything inside the bin. We took one foam bead out onto the floor to see how static electricity worked (he's too young to understand but he thought it was pretty fun the bead moved around without touching it!).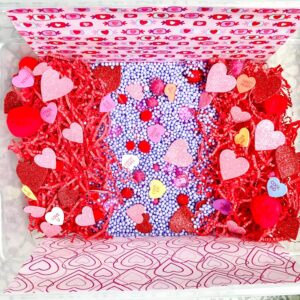 ---
---
The Valentine's Day sensory bin is a fun learning activity! Sensory bins allow kids to work on their fine motor skills, use their imagination, tap into their different senses, and let their creativity flow. They even help develop their math and pre-writing skills! It has all of these benefits (and even more!), AND it kept my little guy happy and engaged!
The Valentine's Day Sensory Bin was a blast! I'm excited my bin has a lid so I can store it away and bring it out a few more times before Valentine's Day!:) Have you tried a sensory bin yet? Let me know below in the comments!
Connect with me on my Facebook page and Instagram! I share a lot of fun toddler and kids' activities for kids on Instagram!