Rainbow Craft for Toddlers:
There's something so special about spotting a rainbow after a storm. Not only are they beautiful displays of art, rainbows remind us of God's promise. Whether you're looking for a rainbow craft for toddlers, preschoolers, St. Patrick's Day, a spring day, or a Sunday school class, this rainbow craft is sure to bring some smiles and joy.
This rainbow craft for toddlers (and kids of all ages, really!) is inspired by the "rainbow trails" families are displaying in their home windows during this global Coronavirus pandemic. They are meant to spread hope and happiness. The rainbow artwork displayed in windows and drawn in chalk on sidewalks remind us that every storm has a rainbow! Kids all around the world are putting their rainbow artwork in windows to cheer up others. Will you join me in making a rainbow for your window?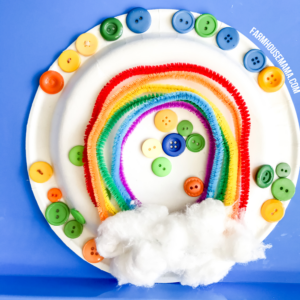 This post contains affiliate links. Adult supervision is required for this activity. Please use your own discretion in whether this is an age-appropriate activity for your child. See full disclosure here.

Materials Needed:
These are the materials I used, but you can use whatever items you have handy to make a rainbow!
Please note some of these materials are choking hazards, so please be careful with the items you choose for your child, and please always supervise them during activities.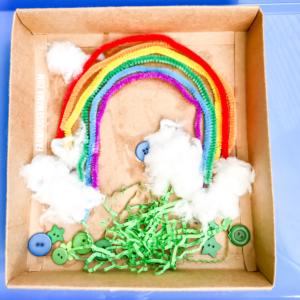 ---
---
Keep reading below to see how I set this up for my toddler!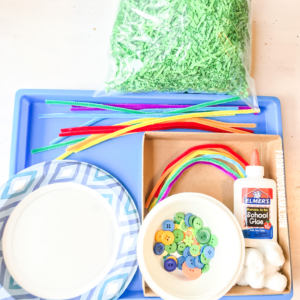 My toddler made three different rainbows. I had a thick piece of cardboard that I was going to recycle, so I kept it for a project like this. For the other rainbows, I used paper plates upside down for the base. You can cut a piece of cardboard from a cereal box or other box you have, or you can use a piece of construction paper for your base. Just remember your toddler will be gluing items onto the base so try to use cardboard or a heavy duty paper, if possible.


---
---
I setup the craft supplies in a tray so my son could see everything he had to work with. My son is 2.5 years old, so he needed a little assistance with lining up and bending the pipe cleaners into a rainbow. He loved squeezing the glue and I wasn't sure how it was going to hold everything so I let him go glue crazy. The more glue the better! Everything stayed put on the cardboard/plates after drying overnight!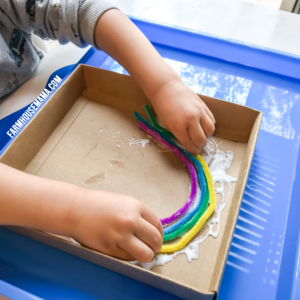 Once we had the rainbow in place, he added clouds (pulled apart cotton balls
), grass (we used green shredded paper), and colorful buttons
.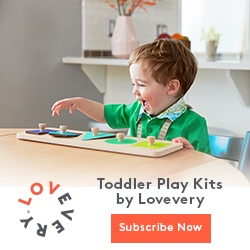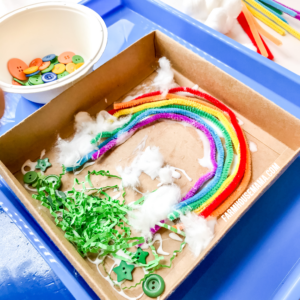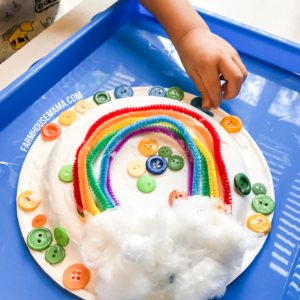 ---
---
This rainbow craft for toddlers and preschoolers allows them to work on their fine motor skills and lets them use their creativity to spread hope and cheer!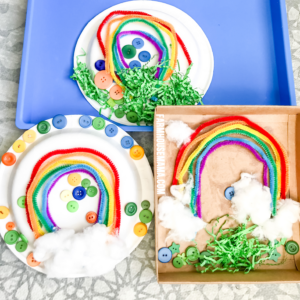 There's something so fun about watching your toddler create a craft! Will you be making a rainbow? Let me know below in the comments!
Pin this activity for later!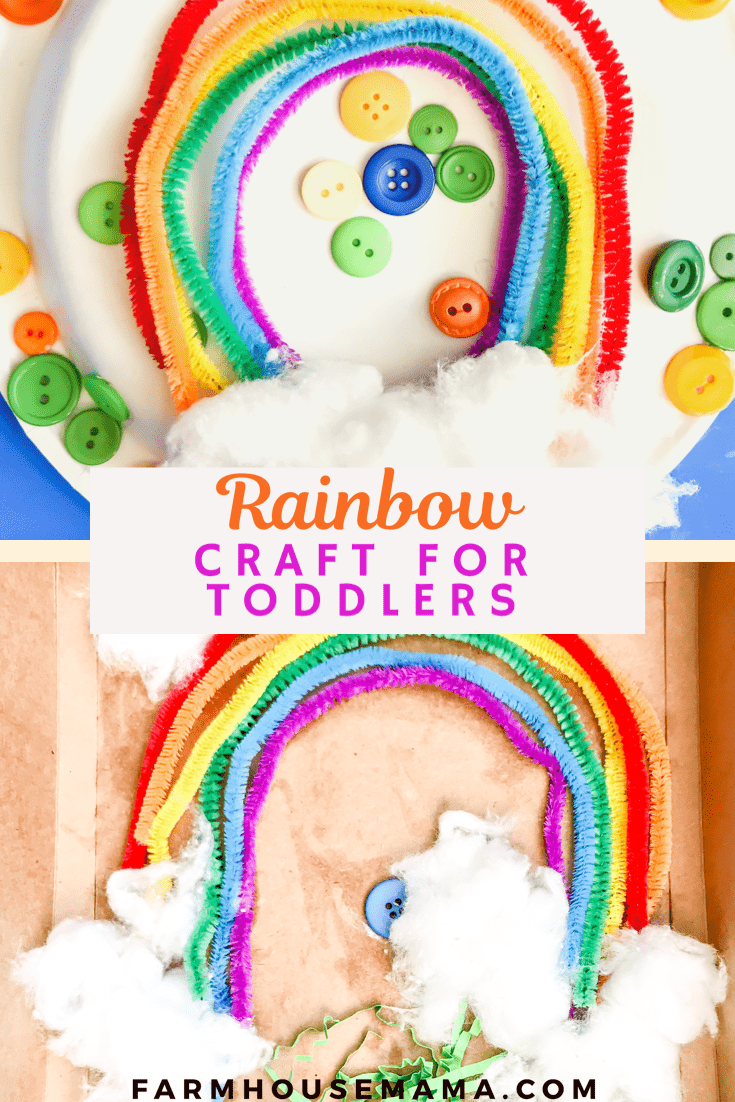 "I have set my rainbow in the clouds, and it will be the sign of the covenant between me and the earth."
Genesis 9:13