Pom Pom Sorting: A Fun Learning Activity
I love looking for quick learning activities with items I already have around the house. It has been so fun now that my little guy is 18 months old! I feel like we can do a lot more activities that he could not do a few months ago. I bought some pom poms on sale after Christmas, not knowing what I would use them for. They were a great price and figured I could use them for a craft once E was bigger.  The other day we needed an interesting activity to pass a few minutes, so I remembered the pom poms and my toddler began his fun "job" of pom pom sorting. Pom pom sorting is a great fine motor skills activity, and it's easy to set up and clean up!
This post contains affiliate links. Adult supervision is required for this activity. Please use your own discretion in whether this is an age-appropriate activity for your child. See full disclosure here.
Materials Needed:
Pom Poms
buckets, cups, or different sized containers (We also have these stacking cups and love them. They are not the ones used in the photos but they would be great for pom pom sorting).
---
---
This is such a simple activity to put together! I grabbed a set of fun buckets E has, and put the large and medium sized pom poms in them. My son loved it! He put the pom poms in all the different sized buckets. One of his favorite things to do was to pour the pom poms from one bucket to another.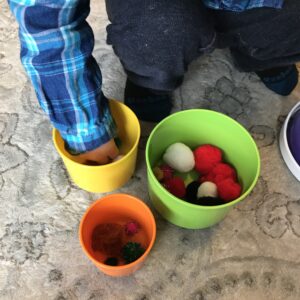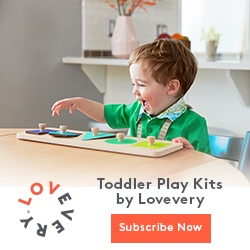 We hid the pom poms under the buckets, we talked about the different sizes ("small" and "big"), and we sorted the different colors. My son was so involved in this activity, and I really loved to watch his concentration! Because he is just starting to count, we also counted the pom poms. If your child is a bit older, you can practice simple math with the pom poms.
---
---
Update: I grabbed some new 1.5″ pom poms and have since done this pom pom sorting activity again with my little guy. To start out, I sorted the colors for him in the buckets then I let him go to town sorting on his own.:) Once again, this activity kept him occupied and happy for quite awhile!
---
---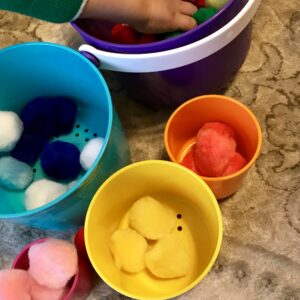 The possibilities are endless! I'm excited to bring this pom pom sorting activity out again!