As a new mom, I was so worried to go out of the house the first few times because I was afraid of people wanting to touch my baby. Yes, I've been called a germophobe and I know he can't live in a bubble forever, but who would actually want random people touching their new little baby?! Not me! We were already creating a "cocoon of protection" at home, so when I finally ventured into a public place, of course I was worried about strangers wanting to touch my newborn. No thank you! It's just something I still don't want. If you're okay with people you don't know holding hands with your baby, then maybe skip over to how to pack the perfect diaper bag or something. 😉 Continue reading if you want to know how to keep strangers from touching your baby!
Get a free printable below to help keep strangers at bay!
This post contains affiliate links. See full disclosure here.
I want to make a quick side note to all the pregnant mamas out there (I don't blame you for doing your research!). You can't miss out on this! Be sure to create your Amazon Baby Registry!
You get a free Welcome Box when you sign up, plus you can add baby items from any site! It's so easy and fun, plus you get up to a 15% completion discount! Click the link above or the photo below to get started. 🙂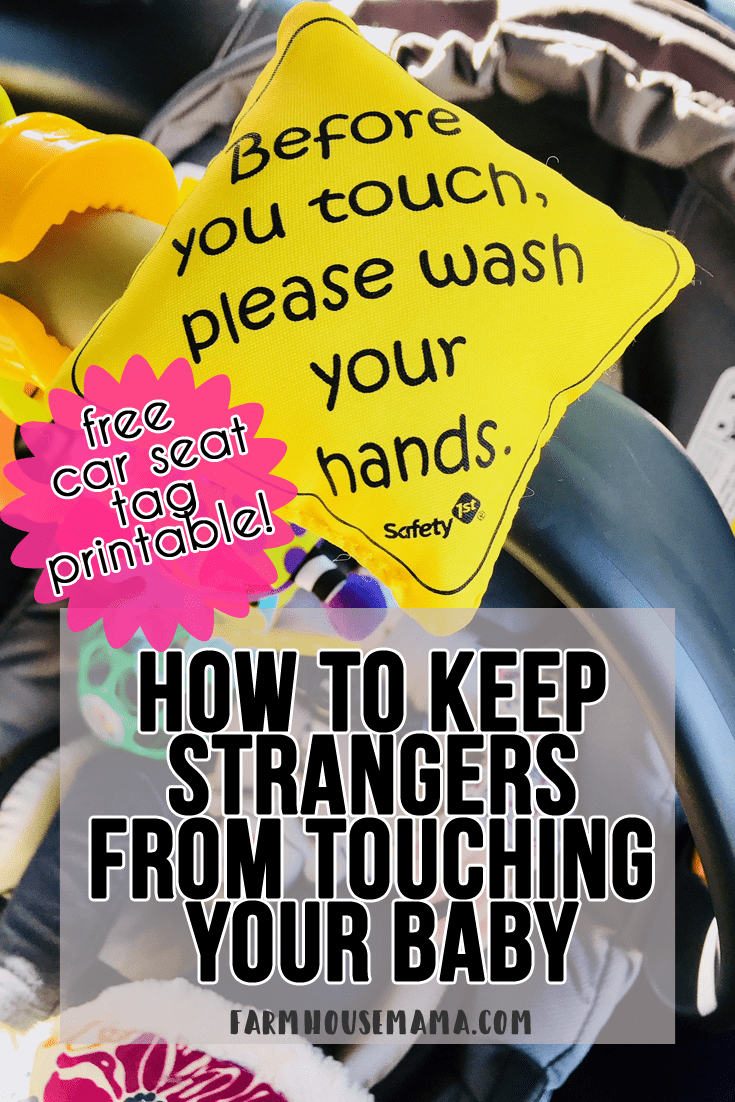 Now that I have mastered getting out of the house with a baby, I can also rest easy during my errands knowing these precautions help keep unnecessary (and probably dirty) hands away. My baby is now almost 5 months old and I luckily have not had strangers reaching out for his cute little hands! Good thing because he loves to suck on his hands, and we don't need those germs going straight to his mouth. I truly think we haven't had any unwanted cheek squeezes or hand holding because of these helpful tips. Maybe you don't want people you don't know touching your baby because of germs or because it just makes you uncomfortable. Whatever your reasoning, these will help you keep lookie-loos just looking!
Here are some tips to keep strangers from touching your baby..plus get your free printable!
Click on any image to shop!
1. Get a cute little sign to hang on the car seat/stroller.
I have an adorable handmade hanging sign that is always attached to the carseat handle. It says, "Please wash your hands before touching me!"  Our carseat also clicks into the stroller
so the sign is always hanging there as a nice little request. A similar sign
can deter strangers from reaching out to touch those adorable little cheeks.
There are so many sign options on Amazon like this cute "your germs are too big for me" sign
, and I just love this floral sign
! If you have a preemie, they make signs especially for you
!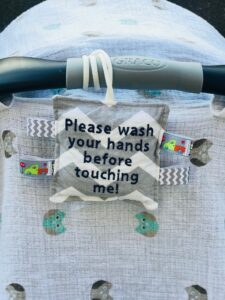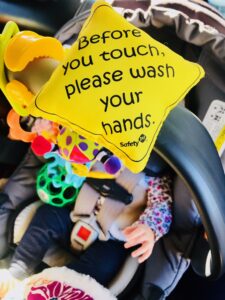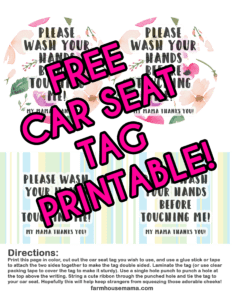 Try Zen Swaddle with 60-Day Return Option
---
---
2. Get a carseat/stroller cover.
We always put a car seat cover
on when we were just starting to venture out with Baby E. I figured if people couldn't see how cute Baby E was, then they hopefully wouldn't be inclined to touch. Sneaky, I know! I have both of these brands (click the pictures below to see the product details). I love both for different reasons! The car seat canopy
is nice because it completely covers the car seat but it's easy to flip over the top when you want to uncover the baby. I like the stretchy wrap cover
(ours is no longer available but this one is similar) because it protects from wind better, and I can easily peek in through the hole on the top to check on Baby E. It can also be used as a nursing cover, shopping cart cover, scarf, high chair cover, and blanket. After Baby E spit up on his blanket at the doctor's office this week, I used this cover as a blanket. I seriously love this kind of cover!

3. Wear your baby in a carrier.
I love love love my organic baby carrier!!!
 Not only does it allow me to do things around the house and go grocery shopping, but it also keeps the lookie-loos away! Just this week, I had a lady in a store come up and tell me how cute my baby was "sleeping standing up." Haha! That's one way of looking at it, but he loves taking naps in his Ergo. It's a win-win because he usually falls asleep after looking around a bit AND it keeps strangers from touching him. She didn't even try to grab his feet or hands. Strangers don't feel as comfortable reaching into your personal space when you're wearing your baby. It's perfect!
Update as of June 2018: Baby E is now 10 months old, and I still LOVE my first carrier
, but I also love my new mesh 360 baby carrier!
! The mesh is perfect for the warmer months, and the 360 feature allows the baby to face outward once your baby is old enough (see Tip #5 below!).
---
---
4. Bundle your baby up.
I feel a little less anxious about people touching Baby E's hands if he is all covered up. People don't feel as inclined to touch a blanket or mittens. There are even footed pajamas with built-in mittens
that can cover your baby's oh-so-touchable hands. Occasionally, they will still touch, so be sure to speak up if you don't want them touching at all..which brings me to my last point!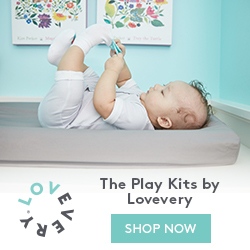 ---
---
5. Be ready to speak up.
Because you will have to. A lot. I have felt guilty before for NOT speaking up when I know I should have. That must be my parenting instincts kicking in! Now I make sure I say what I want (or don't want!). I don't like to be confrontational, but I have learned that it's best to have a polite statement ready. During Baby E's first outings, I politely told people we were okay with just looking but no touching yet. You can also blame it on the doctor's orders or say the baby is sensitive to touch. I personally always just said to please not touch, and everyone was very understanding. They were just happy to look at him!
As a new parent, you have the right to speak up if you don't want your baby touched by a stranger. Don't feel guilty for making your wishes clear! Hopefully one or all of these options can help strangers keep their distance from your precious cargo. People will most likely be happy to only get a glimpse of your cute baby! 🙂
Did you remember to get your free car seat tag printable to help keep strangers from touching your baby? Get it by clicking here!!