How We Use Lovevery in Our Homeschool
Learning through play has always been a staple in our days since my son was a young toddler. As we enter another year of homeschooling, I look forward to continue using Lovevery in our homeschool. Lovevery games and learning toys are the perfect match for hands-on learning.
My son loves playing various kinds of games and puzzles, especially math and STEM games. He also loves building and designing so the games and toys that come in The Planner Play Kit are right up his alley! The Play Kit focuses on learning to experiment, predict, and plan ahead as he learns to connect his actions to outcomes. The best part is he doesn't even realize he's doing math, physics, and coding while learning to plan ahead! I'm going to share in detail about each toy that comes in The Planner Play Kit, and I'll explain how we use Lovevery in our homeschool.
This post contains affiliate links. The Play Kit from Lovevery was kindly gifted for this collaboration. I only share and recommend products and toys that we absolutely love. All opinions are 100% my own and not influenced in any way. See full disclosure here.
Click on any pink links or any images to shop.

What The Planner Play Kit Includes:
Plan & Prepare Clock with Mini Clock
This Plan and Prepare Clock has given our "getting ready" time so much peace and purpose! The clock lets my son manage his own time by seeing how much time he has to get ready. Before we added this clock to our routine, we were struggling a bit with both getting ready for the day and for bedtime in a reasonable amount of time. This real-working clock comes with increment bars in 5, 10, and 15 minute time periods that you can add to the clock to track the time. This helps the child learn time management, which is one of the most important skills relating to their executive function.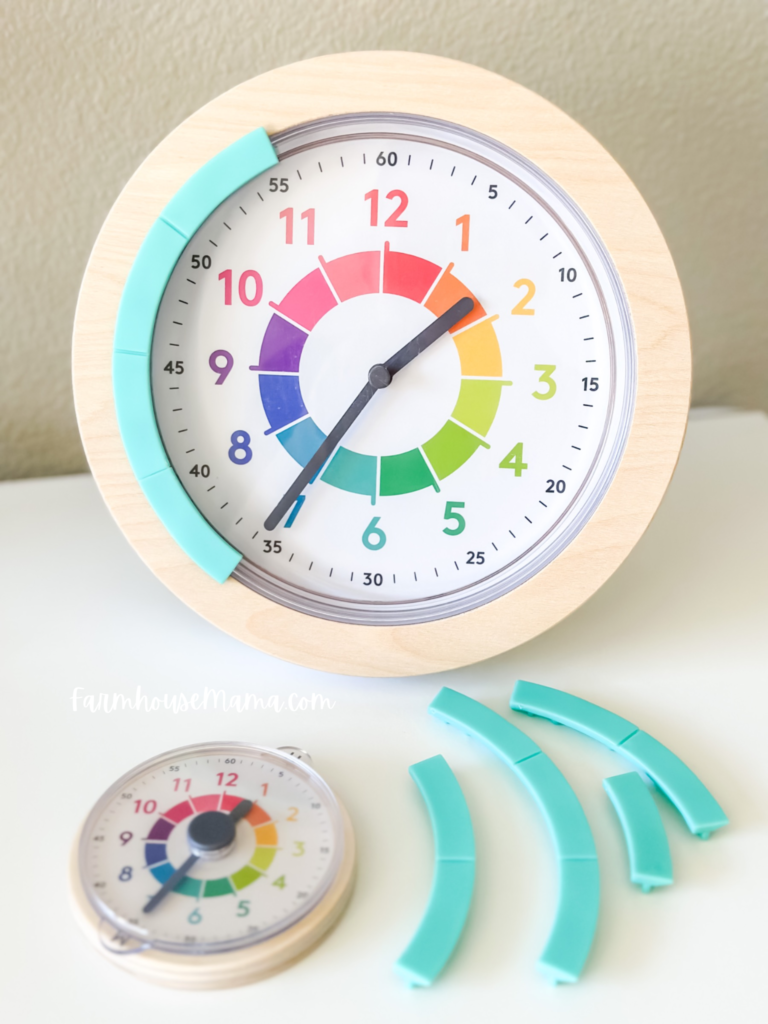 We love our slow homeschooling mornings, but we also need to get ready for the day in a reasonable amount of time (especially if we're headed to a field trip or class!), and this clock has helped my son do just that! I can add a 15 minute increment bar onto the clock, starting at the current time. My son can keep an eye on the minute hand as he gets dressed, brushes his hair, and brushes his teeth. It allows him to manage his time and feel confident he can get ready on his own and by the time we have to leave the house. The kit also comes with a mini clock that he can manually match up to the working clock. We have been working on telling time, and I absolutely love both of these wooden clocks!
Rover Route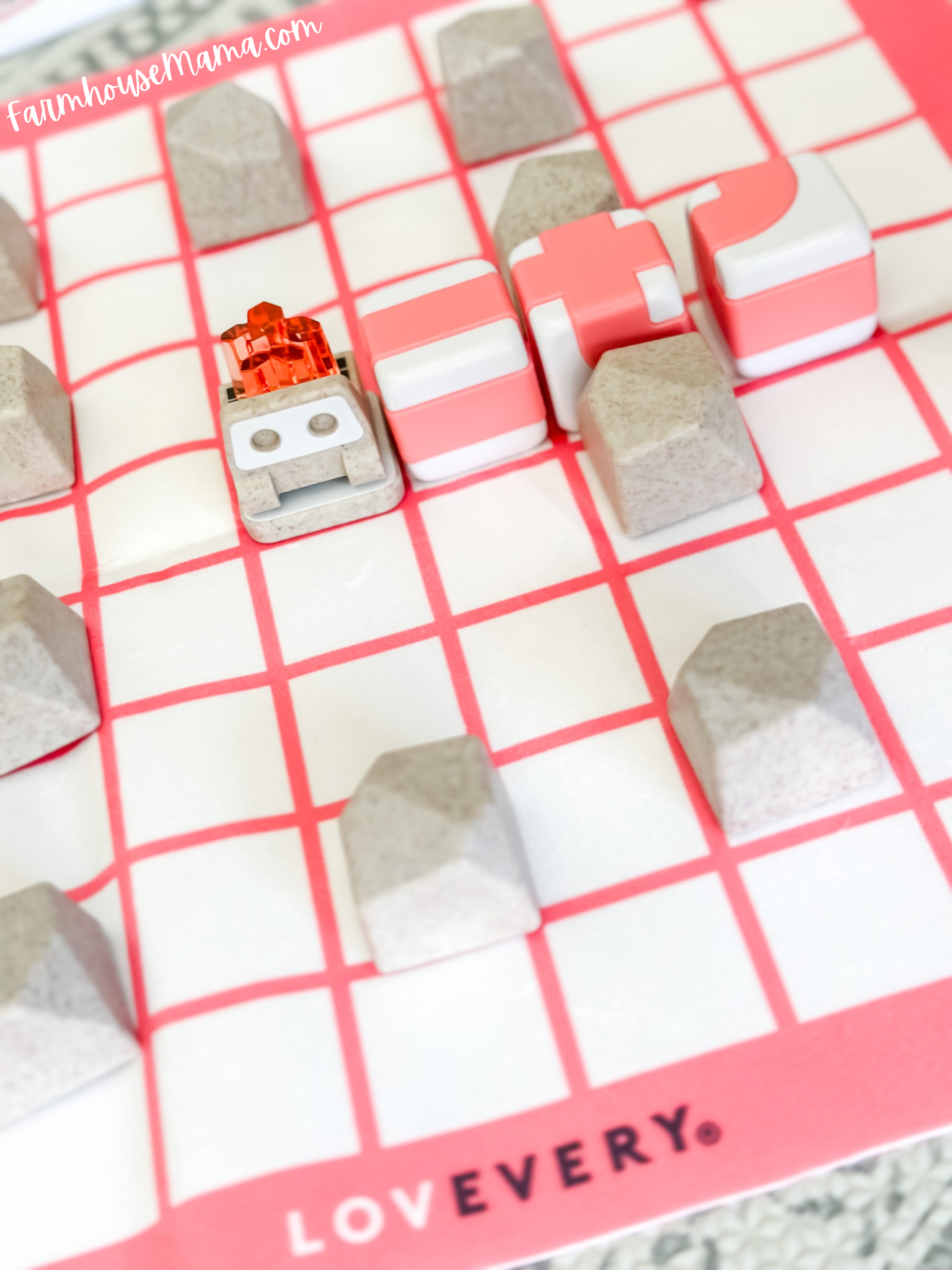 Rover Route is a hands-on approach to learn beginning coding. This model of coding in the form of a board game helps teach planning ahead. Roll the three track dice to show your robot where to move when it's your turn. The object of the game is for your robot to get the gemstone while avoiding the rocks. This game is a great introduction to coding.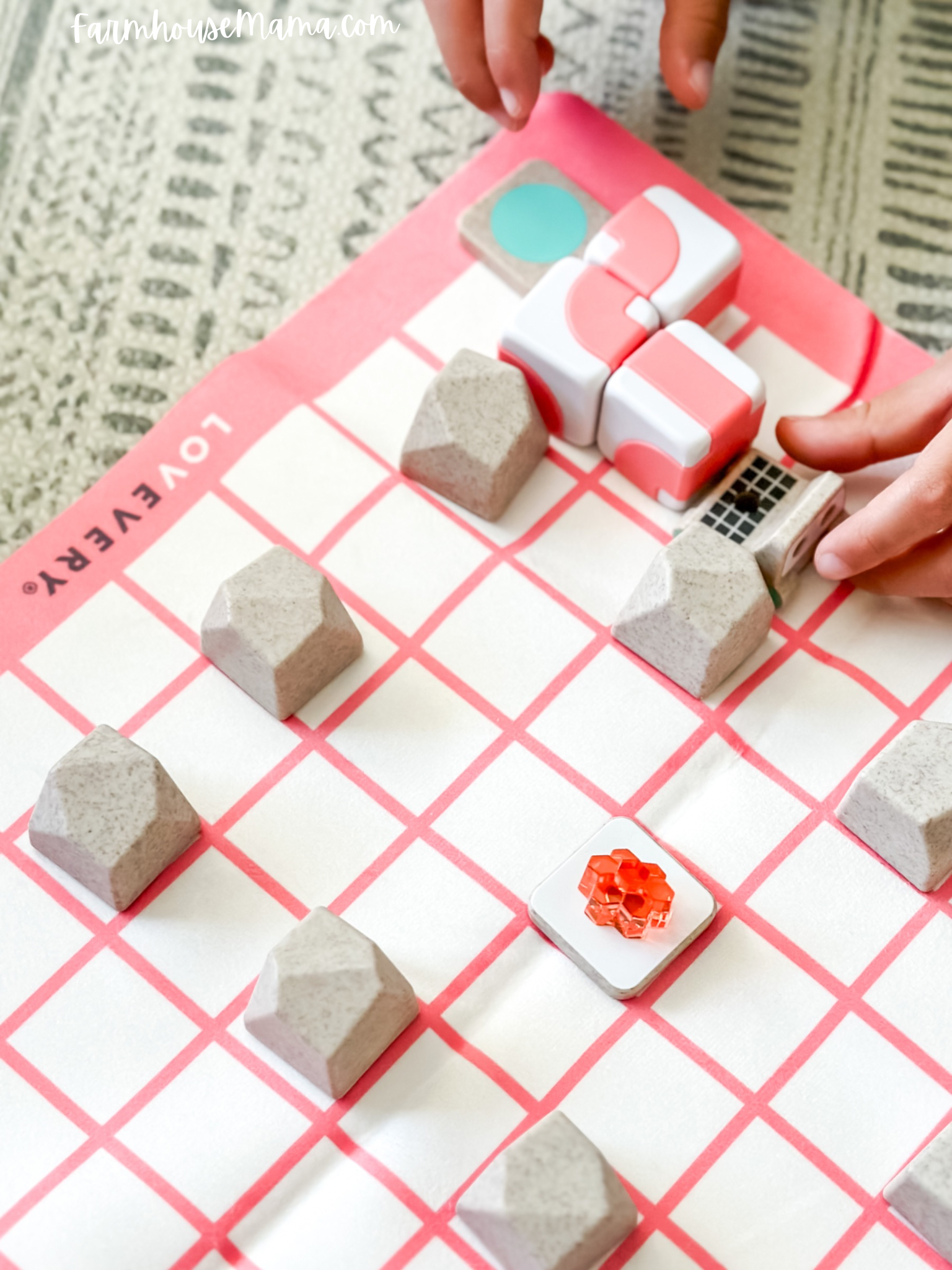 We have so much fun with this game because you can steal the gemstone from each other. It has helped my son work on his visual-spatial skills and memory as he has to think ahead about what moves to make in order to avoid the obstacles all while getting closer to the gemstone. The game board is a cloth that easily folds away for storage. I like to keep the game pieces and game board cloth in a basket so we can play anytime!
Energy-In-Motion Wooden Ball Ramps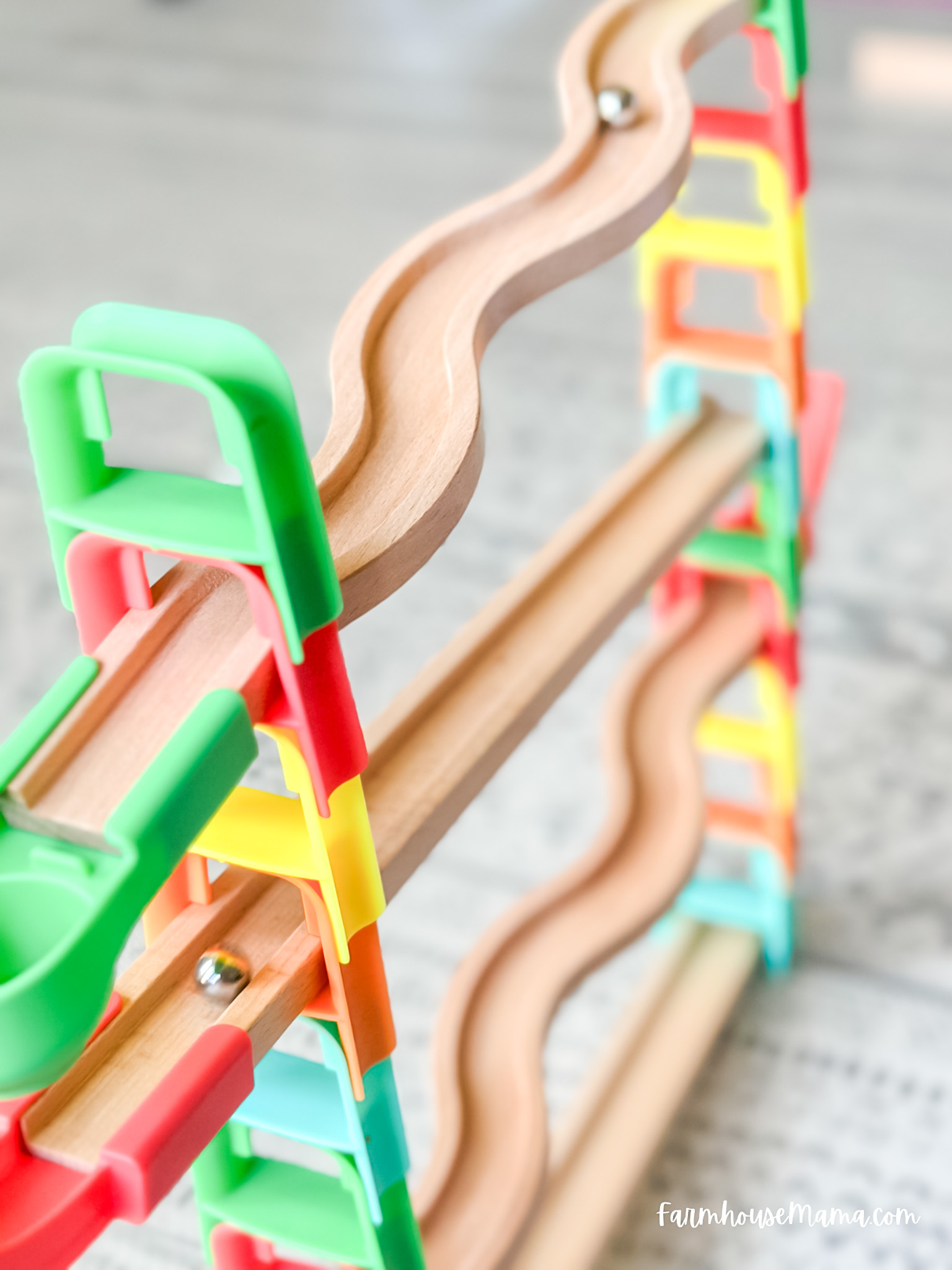 What kid doesn't love a ball ramp?! The wooden ball ramp includes all the pieces you need to build different marble runs and ramps, all while learning about physics and gravity. The best way to learn about physics and energy-in-motion at this age is hands-on and through play.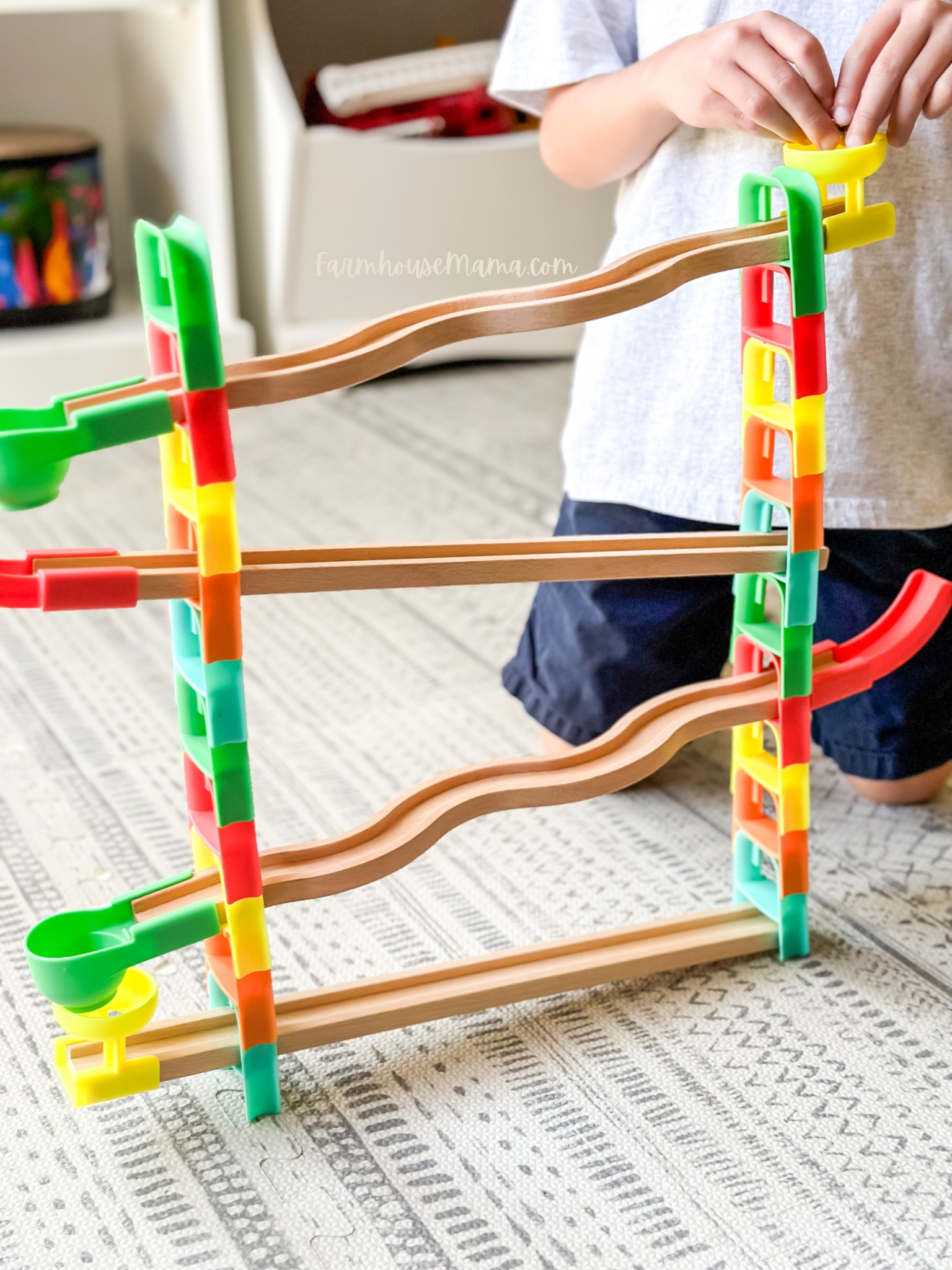 My son and I have spent hours building, hypothesizing, and playing with the ball run. When the ball falls off the ramp or doesn't land perfectly on the next ramp, it forces my son think about adjustments he can make so the ball lands correctly to continue down the track. He has learned the ball goes faster when he makes the ramp steeper. He has really enjoyed trying the different ramp designs that come in the booklet, especially the marble race.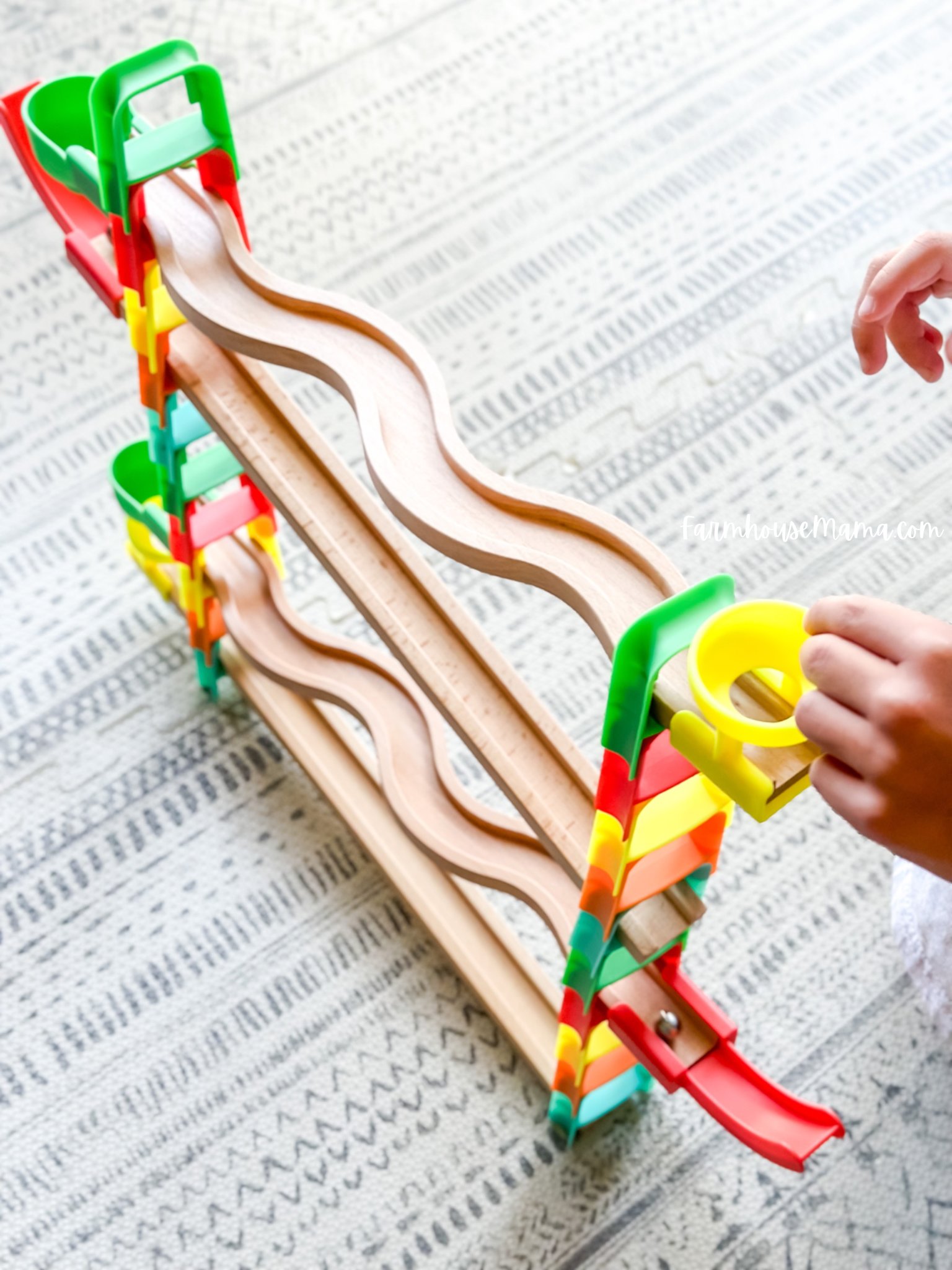 Flex-Four Pattern Match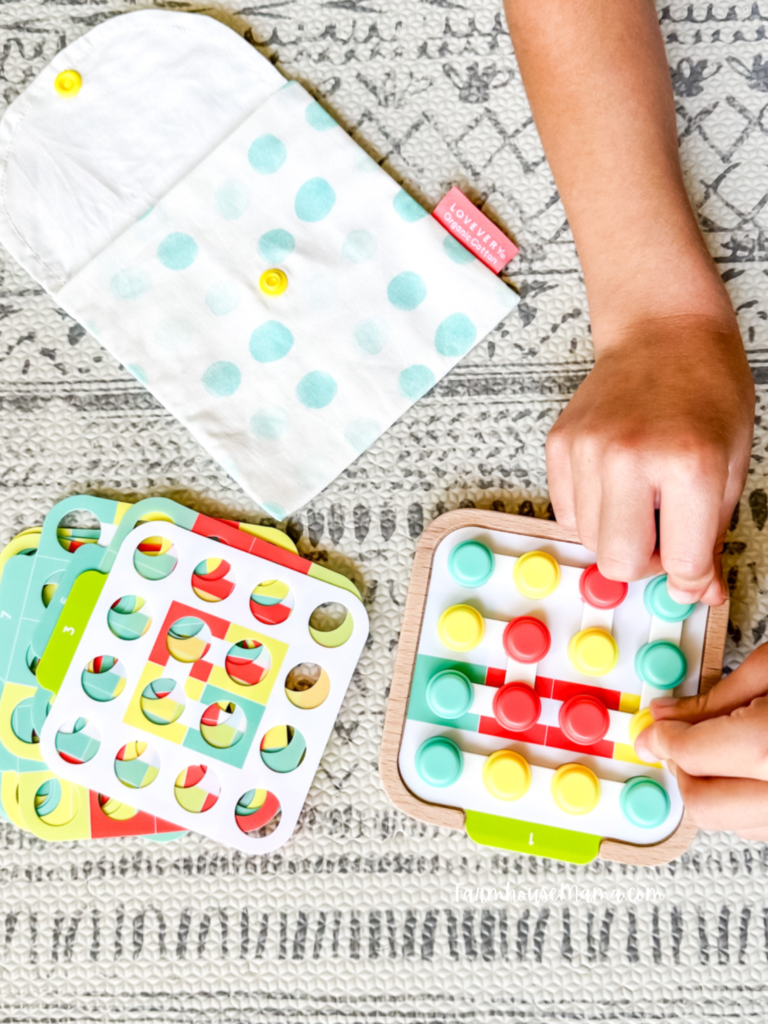 The pattern match puzzle has four flexible colored links that you match to the different cards. The color coded cards go up to number 24, getting harder as the number rises. My son loves to play this game quietly by himself, and we also love to work together to find the solution of each card. I love that the game comes with an organic cotton carrying bag so it's easy to store and take on-the-go.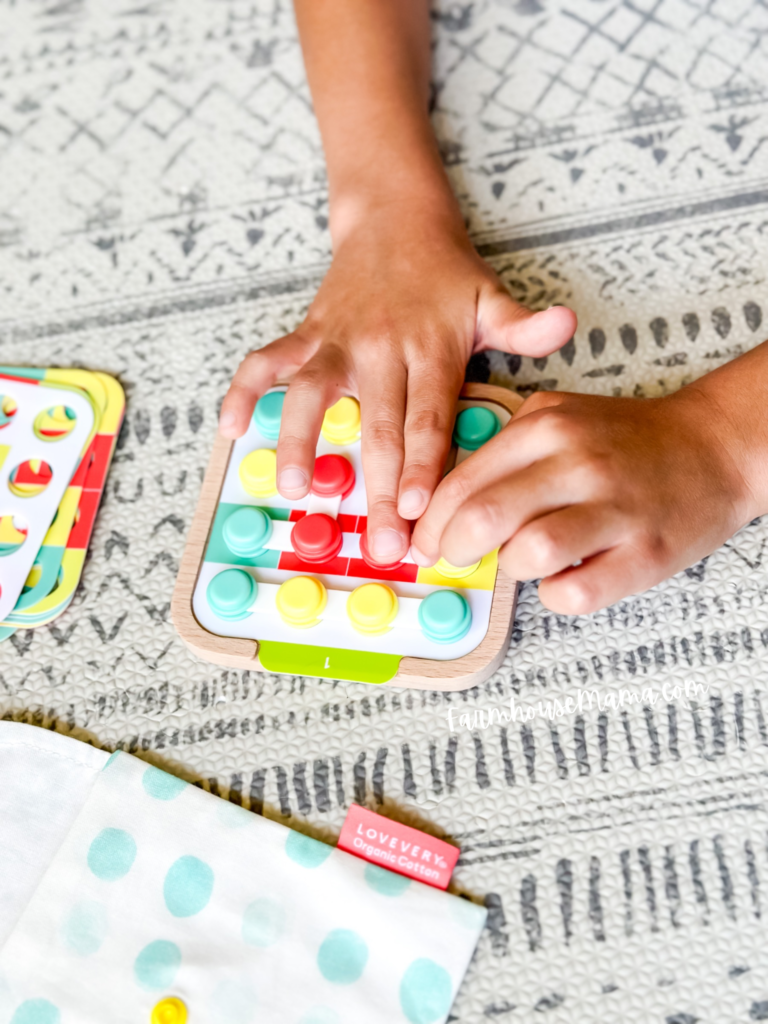 The four game pieces can be arranged in multiple formations to complete the puzzle in different ways, but each card has its own fun challenges. This game helps my son envision the links' placement as he arranges them to match the colored squares. It's amazing to see his brain at work!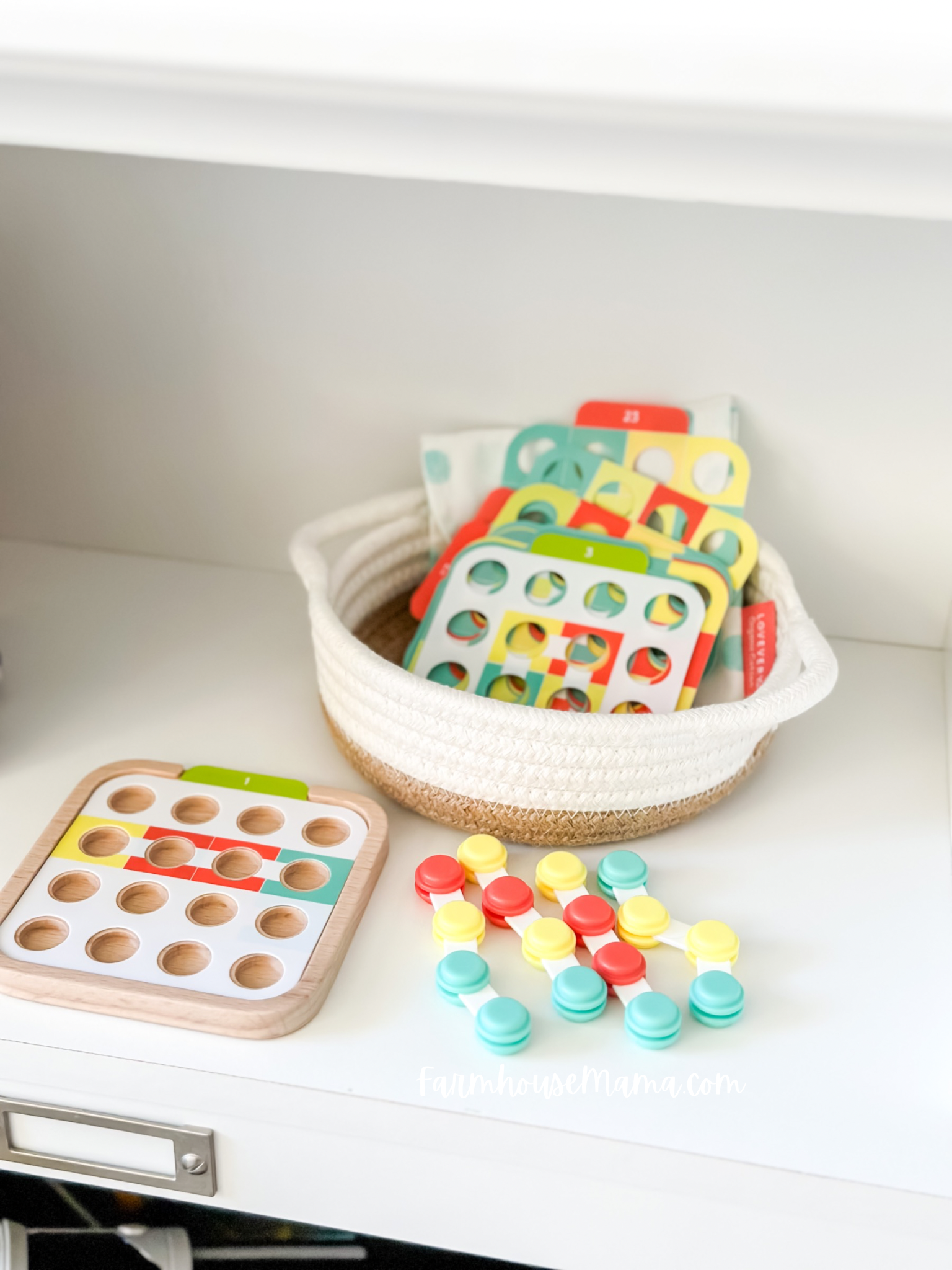 Subitizing Dominoes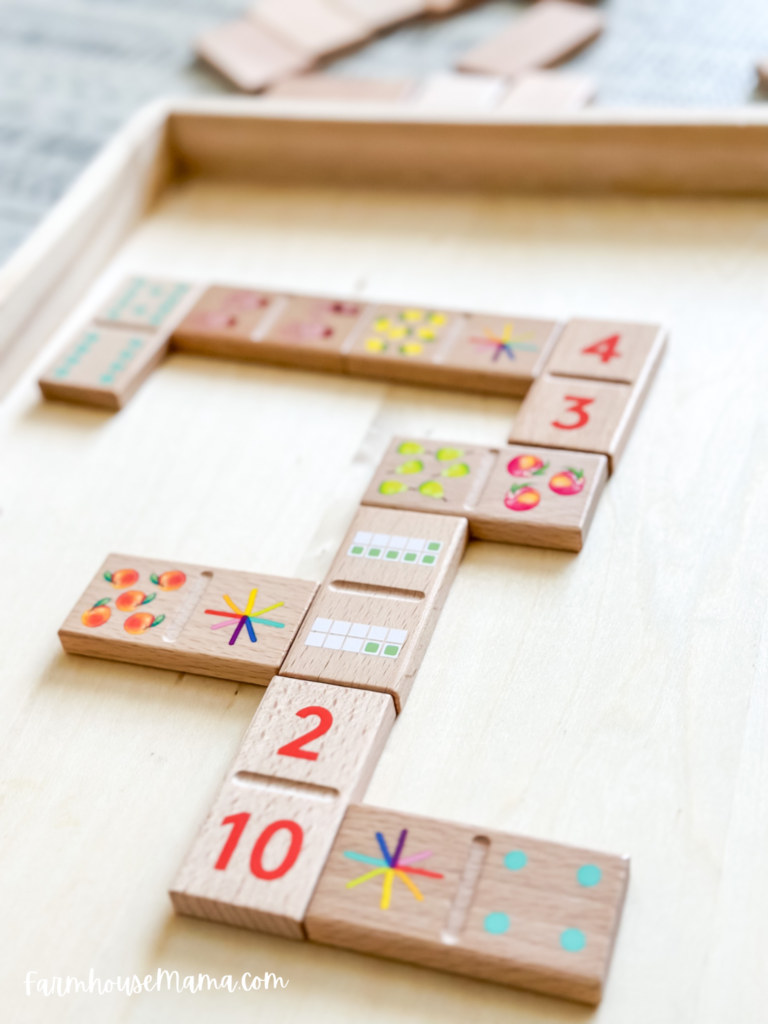 This fun domino game helps my son practice subitizing, which is the ability to identify the number of objects by quickly looking rather than counting. I love how the dominoes include several different ways of representing different quantities, including numerals, traditional 9-pip dominoes, images of different fruit, hands holding up fingers, and ten frames.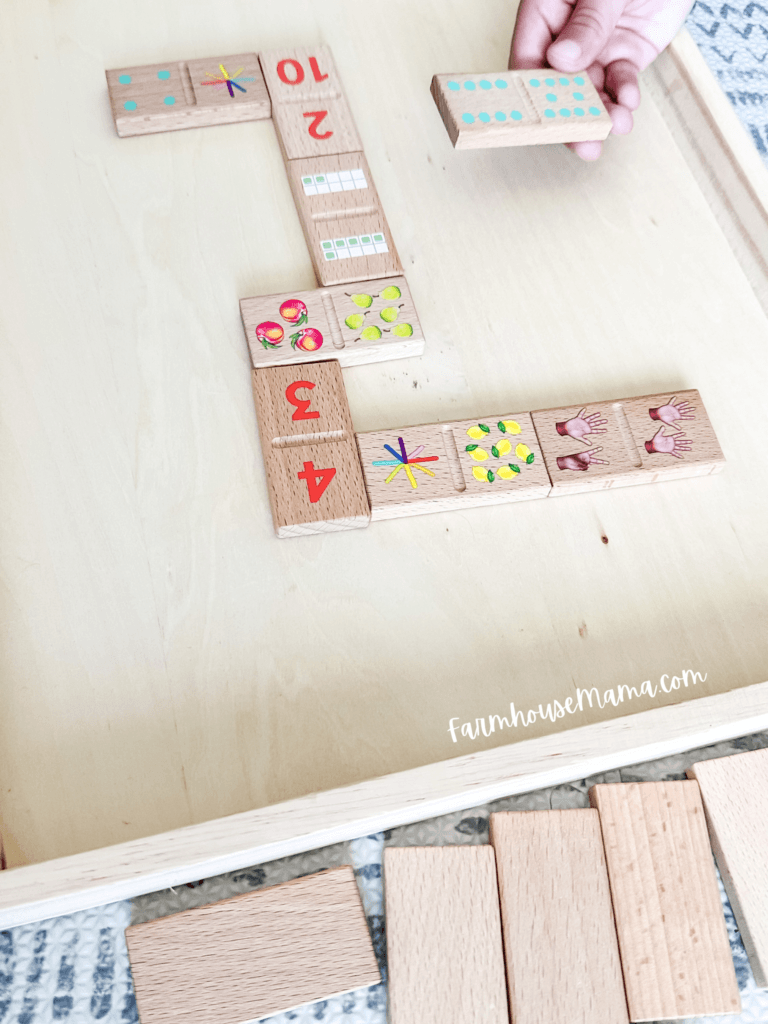 This domino matching  game also includes some wild card dominoes which my son loves! This game has helped my son with thinking ahead about what dominoes he can play during his turn. He's learning to save his wild card until he doesn't have any other options to play. We have really enjoyed this game, and my son doesn't even realize he's practicing his math skills!
'Savy's Scavenger Hunt' Book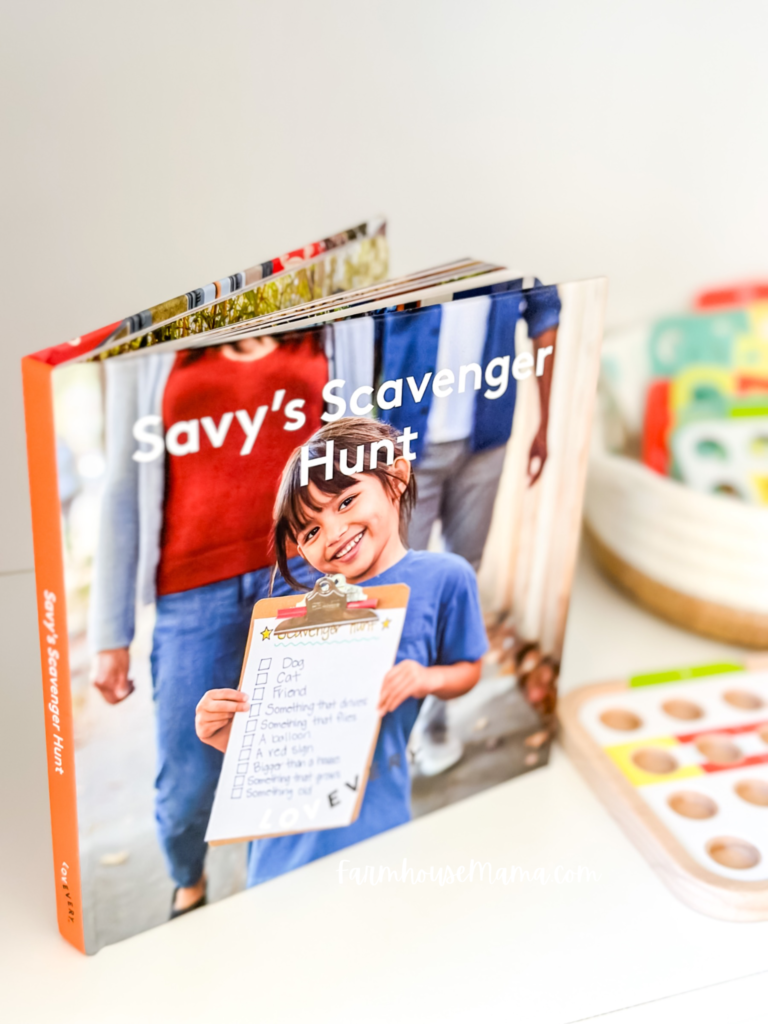 Lovevery always has the best books that focus on developmental skills at the child's age. I also love how their books have real photographs in them, and they're so relatable. This book shares a story about a child who notices the bookstore owner has two different color eyes and it shares how the child reacts to that difference. My son has read this book several times already, and I love that it's teaching him how our reactions can affect other people and how we can show empathy toward others.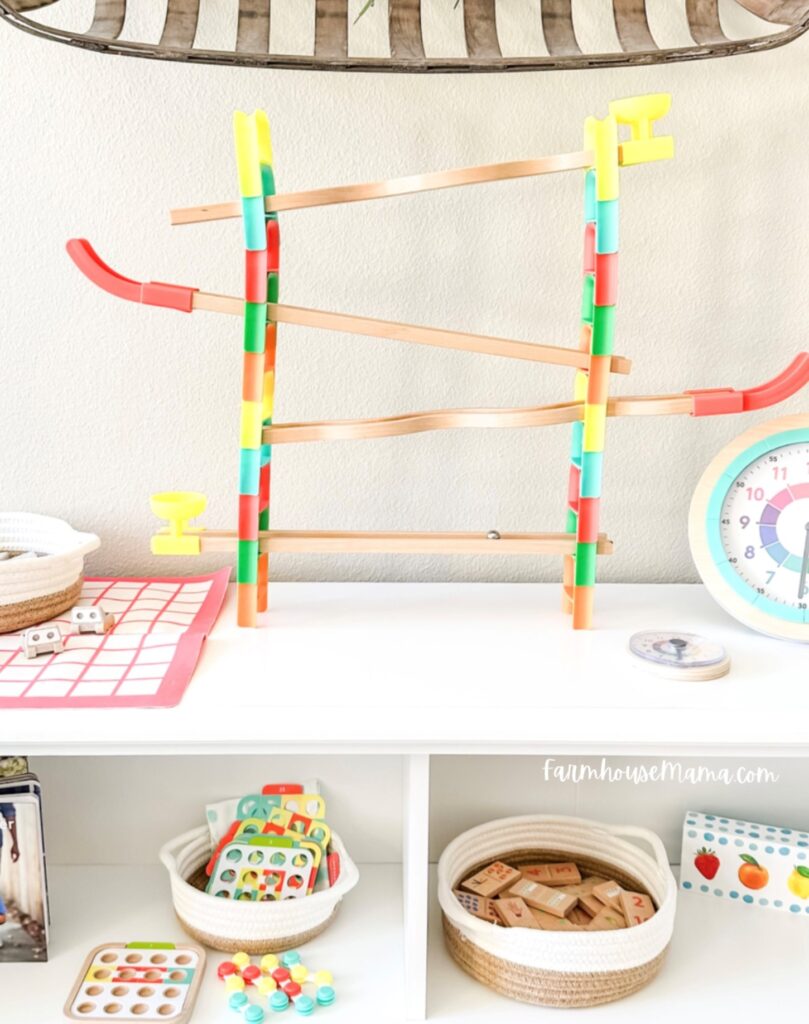 Even for someone who has played many different games and puzzles, my son was thrilled with everything The Planner Play Kit comes with! All of the toys have kept his interest, and he keeps asking to play each game "just one more time." As a homeschool mom, I love how this Play Kit is about practicing and growing their ability to plan ahead. It's such an important developmental skill to learn! When my son is playing with a Lovevery toy, I'm confident he's learning so much. Using these games in our homeschool days is a fun hands-on approach to learning math, science, physics, coding, and so much more!
A little more about why we love Lovevery..
Lovevery has Play Kits for ages 0-60 months that are developed by child development experts to be exactly what children want and need at every stage! Each Play Kit comes with a play guide, which I always find so helpful. It goes into detail about each toy and the skills the toy works on, plus the guide gives additonal activities you can set up.
Another reason I love Lovevery is because of how they craft their toys! Lovevery's playthings are thoughtfully crafted to be 100% child safe using sustainable materials like 100% FSC-certified sustainably harvested wood, organic cotton fabrics, and other child-safe materials.
We have found our Lovevery toys get played with for years so each kit gets a lot of use and learning out of them. The kits can be delivered every 2-3 months, depending on the age of your child. We have quite a few of the kits, and the toys  have remained some of my son's all-time favorites! The quality and research behind each toy makes them my absolute favorite toys we own for my son! I only wish I had started the Play Kits when my son was a baby!