Having the house all decorated for Christmas sure makes the home feel so magical and cozy. I just love it all..the soft glow of the Christmas tree lights,  glittery ornaments, snowy pinecones, mercury trees reflecting the fireplace glow, and cheerful snowmen. Farmhouse Christmas decor is so inviting, cozy, and timeless! I thought I would share a peek into my favorite time of year. I will also share a few decorating tips (and even links to make shopping a breeze)! Even if you enjoy farmhouse decorating, every single item here may not be your exact taste and that is perfectly okay! It is best to find unique decorations that give you Christmas joy! Here are the Christmas decorations that make me happy!
This post contains affiliate links. See full disclosure here.
Let me give you a tour! This is the entryway, and you will notice there are several farmhouse decorations that actually aren't Christmas at all! I think this has the perfect touch of Christmas decor mixed within my regular everyday decorations.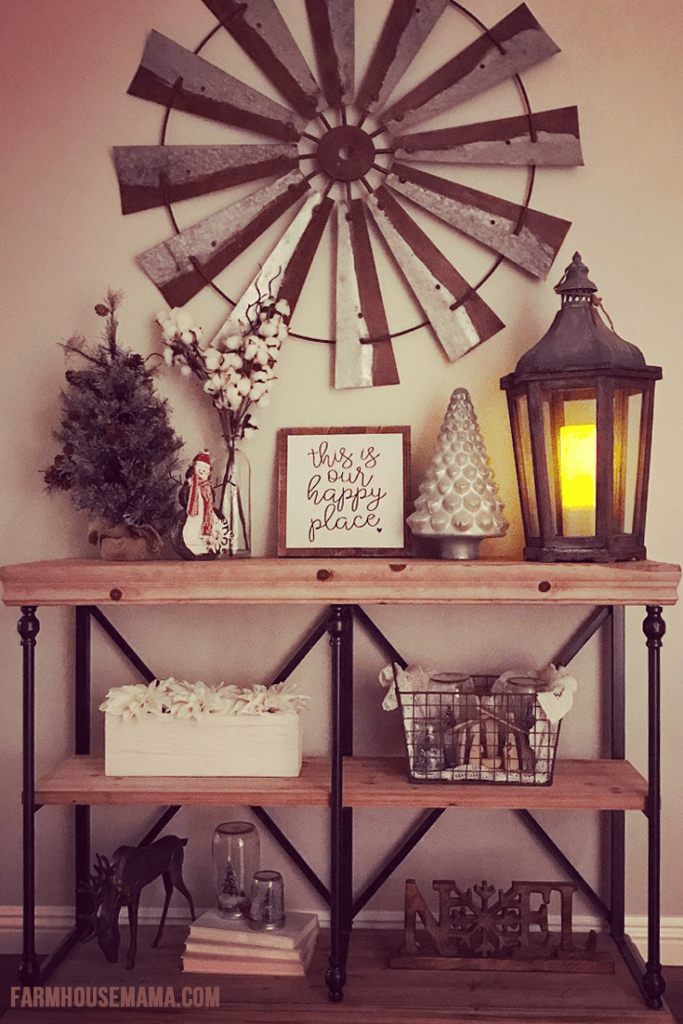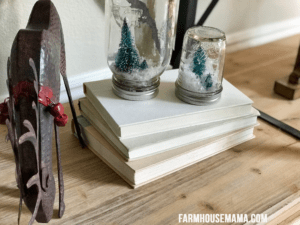 The mercury tree, snowman, and Noel sign were all found from Home Goods (my fav!). An equally cute rustic and farmhouse Noel sign is the Noel burlap blocks. Mercury trees are fun and classic decorations to have around for Christmas. There are so many different variations of mercury trees out there but I think these are so fun because they light up! I made the mason jar snowglobes a few years ago. They were a really fun project! The books are from a local thrift shop, and the metal reindeer was a gift. I think this glitter reindeer would look amazing on a shelf!
---
---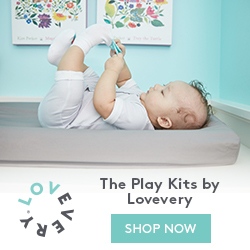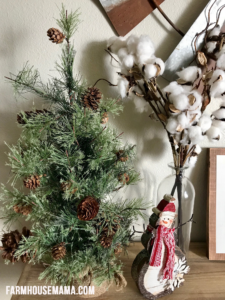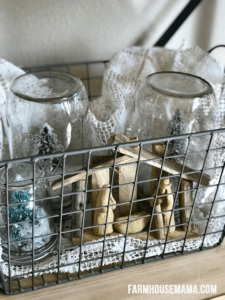 I love my wooden manger scene! It is really an ornament but I put it in the basket to make it stand out. I also have some antique lace and more handmade mason jar snowglobes. 🙂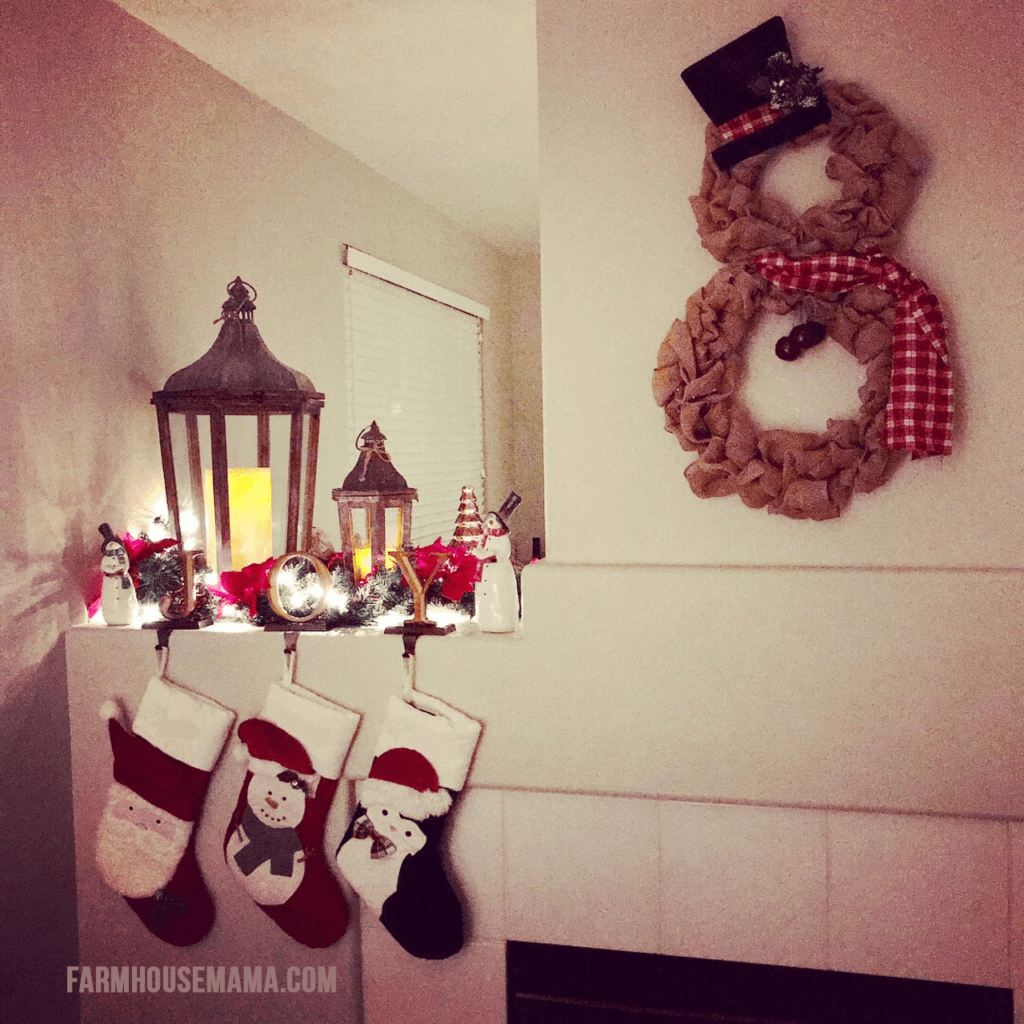 Now on to the Santa entrance! Even though there isn't a mantel, I was able to find a place for our Pottery Barn stockings and garland. Every year we would talk about getting embroidered stockings and this year, we finally did it! I ordered them back in October to make sure they didn't sell out like they seem to do. I love the warmth the lights from the poinsettia garland and Pottery Barn lanterns give!
My snowmen are from Home Goods but I also love this rustic adorable snowman
. I made the snowman wreath last year at a craft night with friends. It was so fun, and I just love how it turned out! If I didn't already have my handmade wreath, I would definitely get this winter wreath
! Note: You may notice you can't actually see the embroidered names on the stockings because I whited them out (my attempt at sneaky Photoshop skills hah!). The embroidery does look great, though, if you decide to get similar stockings!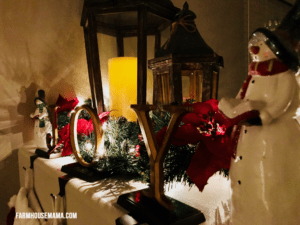 A closeup of the "mantel." The JOY stocking holders are also from Pottery Barn. I love how joyful Christmas is so I just love that these spell out "JOY!"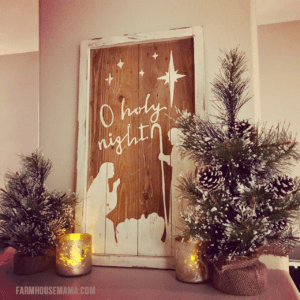 My O Holy Night sign was a treasure found at Home Goods. You would think I live at Home Goods or something! I know so many things found there are so unique so it's hard to find the exact same sign for you online. I love these similar options: wooden O Holy Night sign
, O Holy Night lyrics chalkboard style sign
, and this one
may be very large, but I love it! Adding mercury glass ribbed votives
throughout your house during Christmas gives such a beautiful warmth to the other decorations!
O Christmas tree..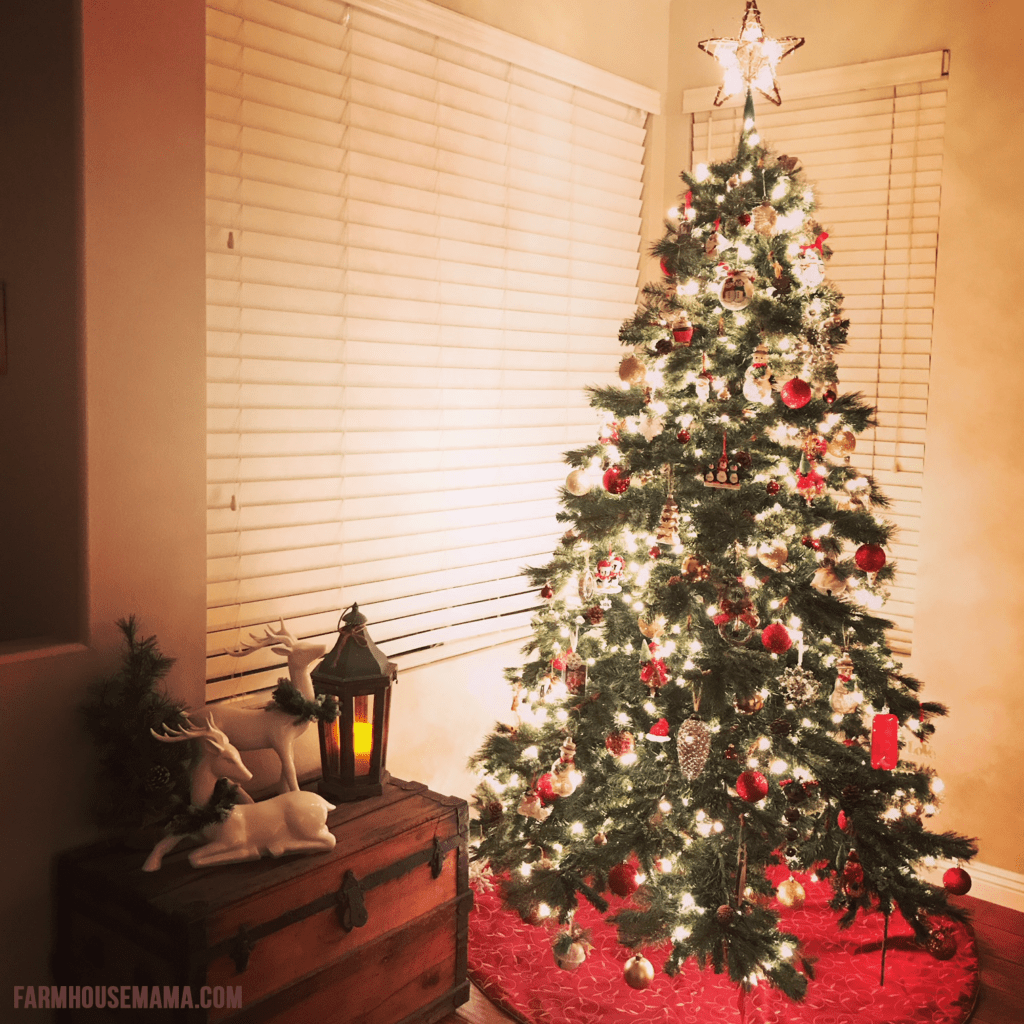 To be honest, I often dread decorating the Christmas tree. I figured out why I dread it. I don't like the work of "fluffing" the artificial branches! Once that part is complete, then I enjoy placing the ornaments. I take my time (and now even much longer since I have a baby haha!). I am constantly taking an ornament off and replacing it with another one, which leads to rearranging a few more so there aren't too many reds or golds next to each other. I do this until they each have their perfect branch. It's definitely a "Type A" process but I enjoy this time and the end result! 🙂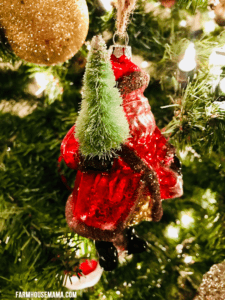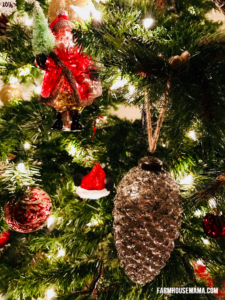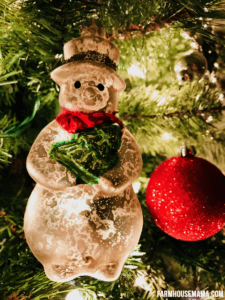 The tree shines with mercury snowmen, santas, pinecones, glass balls, and other unique ornaments. We love collecting special ornaments from places we visit. We also have some cute personalized ornaments to remember our wedding, pregnancy, and now Baby E's first Christmas. I love them all!
I hope this post gives you some inspiration for farmhouse Christmas decor! You can find more details about my everyday farmhouse finds here! Have you started decorating for Christmas yet?