I never thought I would be one of those backpack-wearing moms..you know..the ones that wear a backpack diaper bag (it just wasn't for me..or so I always thought). For the first 3 months of my new diaper-bag-carrying-life, I used a diaper bag that looked more like a purse. I bought it when I was pregnant after looking high and low for a diaper bag that was both functional and chic. After using it awhile, I realized it wasn't as functional as I had thought it would be (as a new mom, I just didn't know the benefits of a backpack diaper bag). Don't get me wrong-I still think that bag has great features and it's cute, but I made the switch to a backpack diaper bag. That's right! I am now a full-time backpack-wearing mama!
This post contains affiliate links. See full disclosure here.
Click on any product image or link to shop!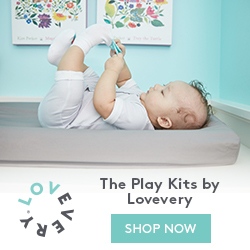 I want to make a quick side note to all the pregnant mamas out there. You can't miss out on this! Be sure to create your Amazon Baby Registry!
You get a free Welcome Box when you sign up, plus you can add baby items from any site! It's so easy and fun, plus you get up to a 15% completion discount! Click the link above or the photo below to get started. 🙂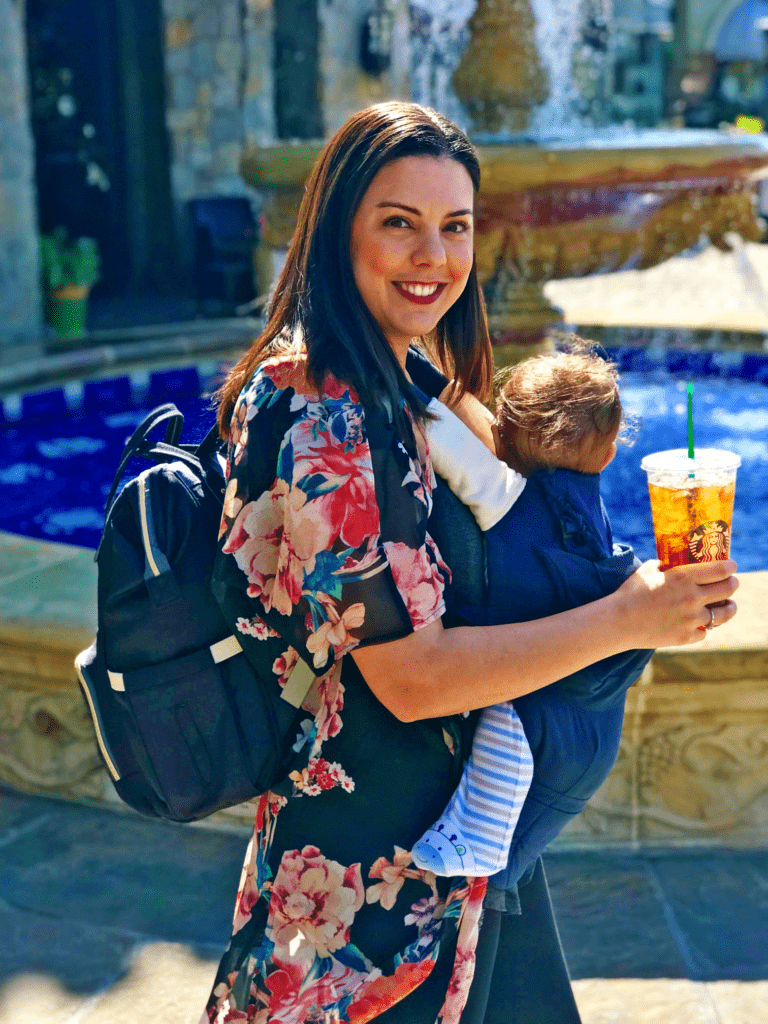 Now that I'm on the go more, I have found it very necessary to have my diaper bag on my back so I can be handsfree. With my purse diaper bag, sometimes I would have to adjust the strap or hold the strap on my shoulder. Most of the time, I don't have that free hand to easily do this. With the backpack, I am more mobile and can easily maneuver handsfree.
It's super comfy because it has padded shoulder pads.
The backpack is stylish and chic. It also has handles on the top so you can carry it like a handbag. I personally use the handles if I need to pick up the bag or quickly move it from one place to another, otherwise I wear it like a backpack (the whole point of this post!).
It easily fits all the essentials and even leaves some extra room. You can see what I like to pack here. I like to have the perfectly packed diaper bag, ready for any situation (or mess)! This bag is so spacious!!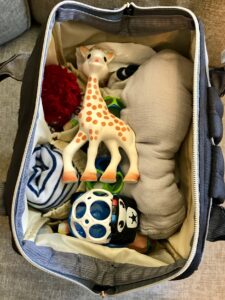 Try Zen Swaddle with 60-Day Return Option
---
---

It's easy to find what I'm looking for because I can keep everything super organized. I know where the burp cloths and binkies and wipes are, and I don't have to search around for them.
The main compartment unzips from either side on top, and it stays open by itself so I can easily find and retrieve what I need. In the main compartment, I keep diapers, wipes, burp cloths, extra baby clothes, hats, nursing covers, etc in the 4 interior pouches. The main compartment also has 2 small zipper compartments that are perfect for personal or small items.
It has a secret door!! There is a zipper on the backside of the backpack under the straps so I can access the bottom part of the main compartment without having to dig from the top. I like to keep my wallet in the bottom of the backpack so I know it's safe when I wear it. I can still get to it quickly without having to sort through all the baby stuff. One of the two small inside zipper compartments I mentioned above is on this lower zipper door.
---
---
The part that faces my back also has a small zipper hidden compartment that is perfect for a cell phone. When I'm wearing the bag, I know my phone is safe!
The outer front pocket fully unzips for easy access to 3 insulated bottle pockets (I put other baby items in there most of the time). The 2 side pockets can also fit bottles.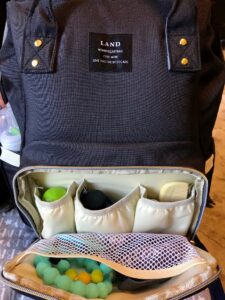 The material is durable, waterproof, and easy to wipe clean.
And finally..One of the main reasons I love the idea of carrying a backpack instead of a regular bag is because I can wear my baby and my backpack at the same time. I wouldn't be able to comfortably carry a regular diaper bag while wearing my baby. I have worn both my baby and the backpack while shopping and on other outings, and I have remained comfortable the entire time! It feels freeing to not have the stroller with me ALL the time! 🙂  You can see a similar organic carrier here (same brand as mine) and my newest carrier allows me to even carry my baby forward facing. Both work great with my backpack diaper bag!
---
---
Here is my exact backpack but in gray (they have several color options available). Click the photo to see how surprisingly affordable this bag is on Amazon!
I would definitely recommend a diaper backpack! It's functional, really comfy, it fits more than what I need while leaving extra space, and it lets me be handsfree and mobile! It has been a game changer as a new mama!