Packing your diaper bag for the first time can be intimidating! I know I was overwhelmed the first time I packed my diaper bag. Baby E is now three months old, and there were definitely times when I realized I didn't have enough outfits or I forgot an important item. I find it helpful to restock the bag after each outing so it is always ready to go. When you get home from an outing, pull the dirty clothes, burp cloths, binkies, etc. out and replace them with clean ones. This list of diaper bag essentials will help you pack your diaper bag so you won't forget anything important. This will help you get out of the house with your baby in no time!
This post has been updated in 2022.
This post contains affiliate links. See full disclosure here.
Click on any product image to shop!
I want to make a quick side note to all the pregnant mamas out there. You don't want to miss out on this! Be sure to create your Amazon Baby Registry!
You get a free Welcome Box when you sign up, plus you can add baby items from any site! It's so easy and fun, plus you get up to a 15% completion discount! Click the link above or the photo below to get started. 🙂

Diaper Bag: First, we need the perfect diaper bag! I specifically chose a diaper bag that looked like a purse. It was just something I wanted for myself. My cute diaper bag
came with stroller straps and a shoulder strap. I have been using this bag for 3 months now, and I love it! I have gotten so many compliments on it. My husband also has a diaper backpack
for when he goes out alone with Baby E.

Update: I never thought I would be one of those backpack-wearing moms (it just wasn't me..or so I thought), but I am now a backpack-wearing mama! I lovelovelove my backpack diaper bag and you can read all about why I made the switch here!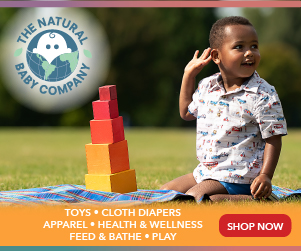 Changing Pad: My diaper bag
 (the purse one) came with a changing pad which I have found very useful. If we're out and about and need to change Baby E at someone's house or anywhere really, I will use the changing pad. At least I know it's clean, and if he makes a mess, hopefully it goes on the pad (probably wishful thinking).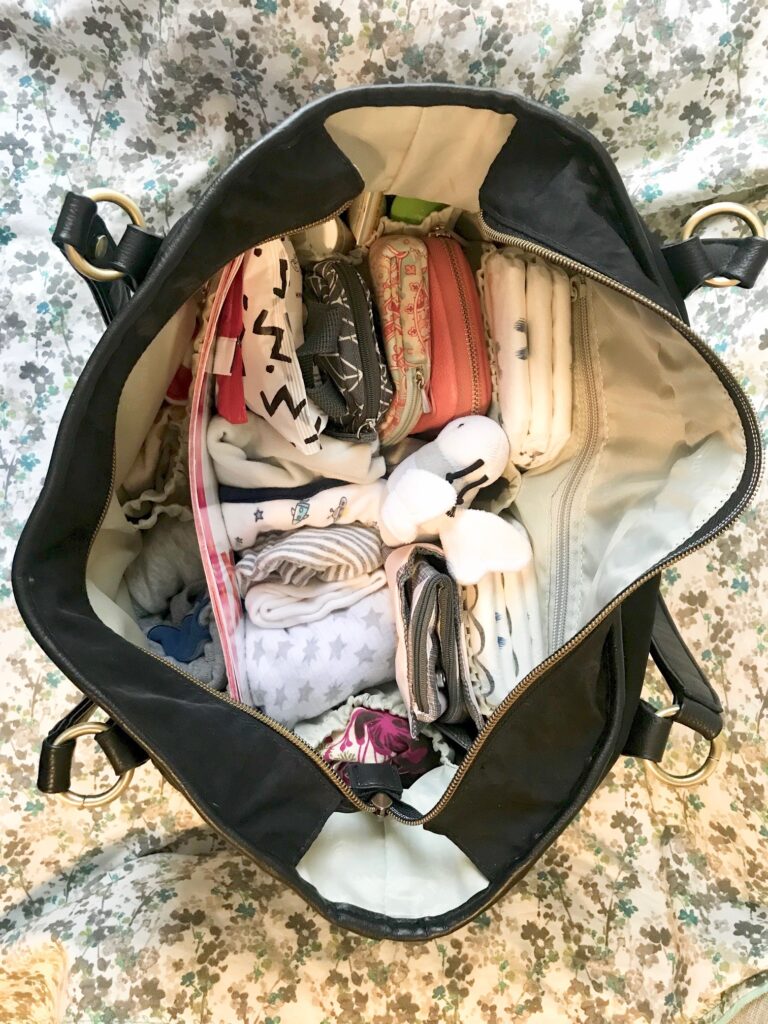 Diapers: This goes without saying. I like to be extra prepared so I usually keep 6-10 diapers in my bag. You can adjust the amount depending on how long your outing will be. Make sure you factor in back to back poopy diapers, etc. :] Update as of July 2018: Baby is now 11 months old. and after trying over 7 diaper brands (pretty much all of the natural/organic/chlorine-free/eco-friendly ones!), these are my absolute favorite
for SO many reasons. After dealing with so many leaks when we used other brands, we stuck with this brand
 because they don't leak!! They have up to 12 hours of protection (just in case your baby sleeps through the night..but mine doesn't!), and they have a wetness indicator. They're hypoallergenic and free of chlorine bleaching, fragrance, lotion, parabens, and EU 26 allergens. These disposable diapers are super soft because they're made with premium cotton and soft plant-based fibers. I truly believe using these diapers is the reason Baby E rarely gets diaper rash!
If you are thinking about cloth diapers, be sure to check out GroVia! GroVia makes organic cloth diapers that come in so many fun prints and beautiful colors!
Save up to 10% with GroVia Cloth Diaper Bundles!

Wipes: I keep an opened pack and a backup pack in my bag. I'm not sure what I would do if I ran out of wipes in the middle of a messy diaper! I have tried sooo many different brands of wipes and these baby wipes
are my go-to wipes. They aren't thin, and they don't rip. Plus the wipes are hypoallergenic, paraben-free, dye-free, and fragrance-free. That's so important to me! (This section has been updated to my favorite wipes after using so many different brands throughout the diapering years)

---
---
Extra Outfits: I know some people say bring one extra outfit. Learn from my messy son, bring at least 2 outfits in your diaper bag. Maybe even 3-4 depending on how long your trip will be. You just never know how many messes a baby may make in one outing! You may also want to pack a warm outfit(sleep 'n play
), socks, and hat if it'll be chilly. If you are packing for a newborn, you may want to bring a pair of no scratch mittens.

Try Zen Swaddle with 60-Day Return Option
Burp Cloths
: Unless you don't mind using a messy burp cloth over and over again, I would always have 3-4 burp cloths packed. There have been outings where I went through 4 or more burp cloths. Again, learn from me but you can always adjust once you know your baby's tendencies. I love the Burt's Bees cloths and the Koala Baby muslin cloths, but my absolute favorites are these
because they are thick, soft, and a generous size.

Hand Sanitizer: Use it when you can't wash your hands! I always like to wash my hands if I have the chance, but hand sanitizer is the next best thing. I like this sanitizer
because it's free of parabens, phthalates, sulfates, and all those yucky things. Plus it's foaming!
Wet Dry Bag: I use this wet dry bag
for soiled outfits. You can also use it for dirty diapers if you don't have a nearby trashcan.
---
---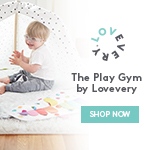 Extra Swaddle Blanket: I always have a swaddle blanket in the car but I keep an extra one in the diaper bag, also. In the beginning, I did not bring an extra one and quickly learned that spit up and poop and pee can get on the blanket. Yes, we've had all of that happen! These are my favorites.
Teething Bibs
: I have a couple bibs in my diaper bag. Baby E doesn't eat real food yet, but he drools A LOT. I sometimes use bibs for the car ride to save his outfit.



Pacifiers: A cute little pacifier case is so useful (and how cute is that one!)
. I tried to live without one for awhile then quickly realized I needed to bring extra binkies
(what we call pacifiers!) because Baby E is always dropping them. Binkies are so small that they would easily get lost in a diaper bag, so I love this little bag! I always know where to find one when I need one! Sometimes I attach the binky to a pacifier clip
to avoid so many getting dropped on the floor. I try to avoid using the clip if he is sleeping, though.

Toys: I always keep a few fun things in the diaper bag, especially since Baby E took an interest in toys after month one. I keep a light book, our favorite teethers, an organic lovey
, and a rattle in the diaper bag.

Diaper Cream: I don't really use diaper cream much, so I just bring a travel size bottle just in case we need it on the go.
---
---
Bottles and Milk/Formula: If you use bottles and milk/formula, you can pack them in your diaper bag side pockets or a bottle bag
.
For the Older Babies: Snacks and a sippy cup
Items for mama: I bring along my cell, a nursing cover
, nursing pads
, hand cream
, wallet, makeup, a snack, a water bottle, and wet wipes. You may also want to keep an extra top in your bag..just in case!



Extras: I feel like these items are optional. What you add in your bag may vary depending on your baby's needs, where you're going, and how long you'll be gone. You may include sunscreen, the best snot sucker
, nail care kit
, medications, gripe water
(Baby E gets hiccups pretty often and gripe water makes them go away immediately!), a baby comb, and a thermometer.
This is a great foundation for what to pack in your diaper bag. Every baby and mama is unique, so you can always remove any items you find unnecessary. Once you have your perfect diaper bag packed, be sure you've brushed up on how to get out of the house with a baby.