I love that I can breastfeed. I really do. Don't get me wrong, though. The first few weeks were rough but once I got past those early stages of breastfeeding, it was so much better! With where I'm at right now in my breastfeeding journey with my son, I really can't complain. He is 10 weeks old, and I love how it gives me one-on-one time with him. I love how I can give him exactly what he needs and how my body just knows what to produce. I love how his eyes roll back when he's eating and how when he's finished, he stretches and the milk coma suddenly hits him. It's so darn cute!
This post contains affiliate links. See full disclosure here.
Click on any product image to shop! This has been updated in 2023.
I want to make a quick side note to all the pregnant mamas out there. You don't want to miss out on this! Be sure to create your Amazon Baby Registry!
You get a free Welcome Box when you sign up, plus you can add baby items from any site! It's so easy and fun, plus you get up to a 15% completion discount! Click the link above or the photo below to get started. 🙂

Back to breastfeeding!
As much as I love breastfeeding, I don't think I realized how time-consuming it would be! Sometimes I feel like I barely have enough time in between sessions to fit in diaper changes, outfit changes (yup, sometimes there are several in a row), bathroom trips, or a meal for myself. I'm breastfeeding right now! I am just trying to enjoy how often he needs me right now. I think about the fact that one day soon, he won't need to breastfeed nearly as often, and I know I will miss that special bonding time.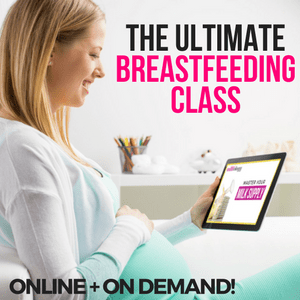 I want to make a side note and tell you how much I recommend this online class!! I was given the opportunity to take the class and watch the helpful videos..let me tell you..I wish I had this before I started breastfeeding!! It's an online and on-demand breastfeeding class that is available to you 24/7 so you can go at your own pace. You can even go back and re-watch videos if you need refreshers along your breastfeeding journey. Even though my breastfeeding journey is still going strong, this would have saved me from mistakes I made in the first few months. I especially loved the section "Master Your Milk Supply." The class has SO much helpful information, and it's really affordable (like skip-4-Starbucks-drinks affordable!). AND it has a 30-day money back guarantee! I can't recommend this class enough to all my mama friends!! Click the photo above or this link to learn more about this class! "Breastfeed Like a BOSS in 90 Minutes… Guaranteed!"
Because breastfeeding takes up so much of my time, I've learned having the right supplies handy while you breastfeed makes all the difference. Better yet, set up a nursing station! So much of your time is spent breastfeeding, especially when you have a newborn. It's so nice to have all the supplies together in a basket so you can take them from room to room. These are my favorite breastfeeding supplies:
Storage Basket
: I keep all my supplies in a basket I bought at Home Goods. Here is a cute similar one:

Boppy Pillow
(don't forget your boppy cover too): Use this pillow to help prop your baby during breastfeeding. As a bonus, the boppy can be used to assist in propping your baby at 3 months, tummy time at 6 months, and sitting at 9 months. They have so many cute covers, too. I have the Fox Forest
cover. Ergobaby has a similar nursing pillow, as well.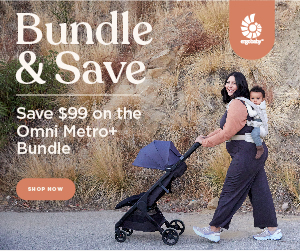 Burp Cloths: You can never have too many burp cloths! Put one under your baby's head to soak up any dribble or drool (it happens), and use one for burping your baby. I love these
and the Koala Baby muslin cloths, but my absolute favorites are these
because they are thick, soft, and a generous size.



Nursing Pads
: When you breastfeed, you will unfortunately leak. Don't let your shirt get wet, especially if you're out in public. These disposable nursing pads really do "stay dry" just like the name of them. I'm sure everyone needs a different amount, but I would stock up on these.

Organic Swaddle Blanket
: I don't know if it's just me, but I always have a light swaddle blanket wrapped around Baby E when he breastfeeds (let's be honest, he has one with him all day long!). He likes to be bundled up and it just makes it cozier (for me too). My favorites
are so soft and big, but they're also lightweight. As a bonus, you can use a swaddle blanket as a nursing cover if you have a surprise visitor. How cute are these ones?


Nursing Cover: If you know you'll be out and about, you may feel more comfortable using a nursing cover
. It's a matter of preference, but I find covers convenient and easy to use!

---
---
Nipple Balm
: I like how natural this one is, and it really helps with chapped and sore nipples (especially when you're adjusting to breastfeeding).

Water Bottle: I get SO thirsty during let-down. Make sure you always have a water bottle handy! You can also use water purifier pitchers to improve the quality and taste of tap water. Water purifier pitchers can be one of the easiest helpers for water intake! As far as cups go, I like to use a cup with a straw
(it's easier for me to take sips) but my Healthy Human Water Bottle
is nice too because of its size and how long it keeps water cold. I also take both with me when I run errands so I always have plenty of water on the go.

Snacks: You will get hungry more often! I like to snack on Larabars
. They're so tasty and I can feel a little better about myself that I'm eating something healthy. Other snacks ideas are nuts or trailmix.
Organic Mother's Milk Tea
: I have never been a huge tea drinker (other than iced tea!), so I was a little worried when I read reviews about the taste of this tea. I was willing to give it a try to see if it increased my milk production, though. It seems to help with my production and the taste is honestly not bad at all. I'm so glad I decided to give this tea a try! I now have 3 boxes stocked up so I never run out.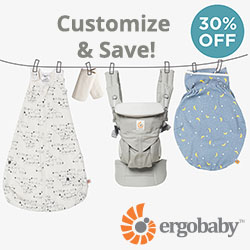 Glider Chair and Ottoman
for the nursery: If I'm not on the couch in front of the TV when I breastfeed, then I am on our glider. It's so comfy to use for story time and rocking Baby E to sleep, too. I recommend going into baby stores to try out gliders. There are so many different styles and you want to get one that you find comfortable.

Night Light
: This is nice for nighttime feedings and it's also a sound machine for the baby. I loved this one and used it in my son's room for the first 3 years!! You can keep this on your nightstand or by your glider chair when you're nursing.

Ice Packs/Heating Pad: These help with pain, plugged ducts, and engorgement. The heat also helps with faster let-downs during breastfeeding and pumping. These
are the best!

Chewbeads Jane Teething Necklace
: It's not just a teething necklace! Wear it while you breastfeed. It'll help your baby focus on breastfeeding, and it'll keep their little hands occupied. It's nontoxic and free of BPA, phthalates, cadmium, lead, and metals. Avoiding harmful chemicals in baby products I use is something that is so important to me, and I love when products are clearly labeled nontoxic!



MammaBaby App: I use this app every time I breastfeed. It times each session, including each side individually. I can't even remember what I ate for lunch yesterday so I don't even try to remember what side to start on. This app does it for you! You can log feedings, diapers, sleeping times, growth, and milestones. The app lets you know how long it's been since your last feeding, diaper change, sleeping time, etc and even gives you a daily summary. Everyone I tell about this app loves it!
---
---
Vitamins: These aren't necessarily used during the act of breastfeeding, but I take these every day to keep Baby E healthy and my milk supply flowing. I take these prenatals
, these DHA vitamins
, and Honest Lactation Plus.
Nursing Bras and Tops: These make breastfeeding so much easier. This nursing bra
is a must (and don't forget your nursing bra for sleeping
). Nursing or flowy tops
make it easier to feed your baby.



Entertainment: Lastly, you will be spending a lot of hours breastfeeding, so you will need entertainment. Of course, looking at how cute your baby is counts, but eventually you will want tv shows, movies, reading material, or music. I definitely make sure the remote control is handy when I sit down to breastfeed. I also use our Echo
to play music. As long as it's in range to hear you, you can talk to it to tell it to play your playlist or favorite station. It can even read you the news or tell you a knock knock joke.


If you're a reader, you can check out all these books
for your Kindle
. Of course, don't forget to check out my Instagram feed, Facebook, and Pinterest. If you check them during the night when you're breastfeeding, you'll probably be the first to see new updates because I'm most likely awake, too. :]
Wow! If you made it through the entire list, then congrats!! I know it is a long one, but it is very thorough and hopefully helpful! Is there anything I left out that you find really helpful during breastfeeding?
Make sure you read Pumping Must-Haves + Tips & Tricks You Need to Know Now if you also decide to pump!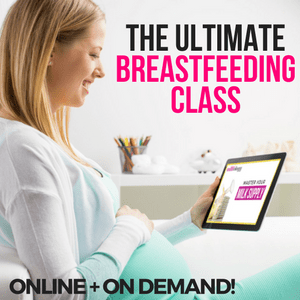 You may also like to read How to Keep Strangers from Touching Your Baby! Get a FREE car seat tag printable to help keep germy hands away from your precious newborn!
---