I have some exciting news! I was recently selected to become a Nuby Parent Blogger!! As you already know, I am a big fan of Nuby products! We couldn't live without our Nuby teethers, toys, and cups! Nuby is a well-known baby brand that makes innovative products that are inspired by nature. They offer the safest, best, and most simple product choices for both you and your baby. I am excited to have this opportunity to work with Nuby in reviewing their products!!

I received these products in exchange for my honest review. I only review and recommend products I have personally used. This post may also contain affiliate links. See full disclosure here.
Teething can be painful and unpleasant so it's extremely helpful to have teething products that are effective, safe, and fun for your baby. When Baby E started drooling and chewing on everything in sight when he was three months old, I knew we needed to stock up on some fun teething toys to keep him happy. Now that we've gone through seven full months of teething (and he finally has 2 teeth to show for it), I can easily point out his favorite toys to chew on.
These 3 Nuby teethers are not only some of his new favorite teething products, but they each have something unique that makes life a little easier on mama, too! 
Pacifinder with Bonus Teether
The Pacifinder with Bonus Teether is so unique because you don't have to worry about it dropping on the germy floor! It has a super nifty clip so you can attach it to your baby's bib, outfit, or stroller seat belt. You can attach a pacifier or the included teether to the loop at the end  to keep them sanitary. Baby E loves to chew on this teether, and I love to clip this to his bib whenever we leave the house so he always has something nearby to chew. The Pacifinder and teether are made of extra soft FDA-approved silicone that is BPA-free and PVC-free (which is so important to me!). It's for all ages, and it also comes in so many cute colors and designs. It's easy to clean because it's dishwasher safe (on the top rack)! The Pacifinder is available at Walmart.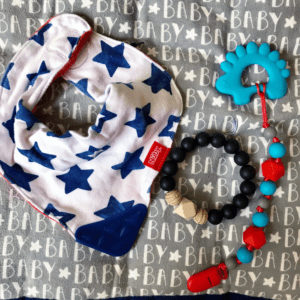 ---
---
Teething Trends Beaded Bracelet
This bracelet is cute for mama but it also has another purpose! The Teething Trends Beaded Bracelet is a wearable teether which means it's always with me! I love how I can have a teether on me at all times, and the bracelet just looks like a cute accessory. Baby E loves chewing on the bracelet. It has kept him busy on so many different occasions when we're out and about! The soft, textured surfaces are soothing on his gums. Like the Pacifinder, the Teething Trends Beaded Bracelet is also free of BPA and PVC, and it's made from FDA-approved silicone. To clean the bracelet, I simply wash it in warm soapy water, but it is also dishwasher safe on the top rack.
Reversible Teething Bib
If you're dealing with a teething baby, you know how much drool is involved! The Reversible Teething Bib is the perfect combination to battle both teething and drool! I absolutely love this bib because the corner of the bib is a BPA-free teether. The absorbent bib catches all the dribble that comes along with teething. I love how this bib gives Baby E a teether that is always accessible while keeping his shirt dry at the same time. The bib is recommended for 3 months and older. It attaches with an easy, non-itchy velcro tab on the back. We have the adorable navy blue stars pattern, and I can't wait to buy all the other cute patterns! Of all the Nuby teethers we have, this one is my favorite because it keeps his clothes dry while he chews! You just can't have enough of these! The Reversible Teething Bib is available at Amazon (hello, free shipping!),
 Walmart, Target, Big Lots, and Kmart.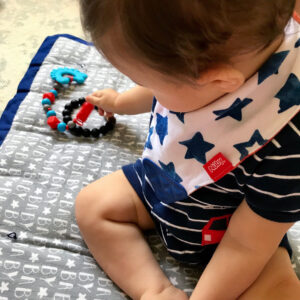 You can find Nuby on social media at Facebook / Twitter / Instagram / Pinterest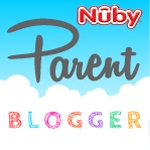 I received these products in exchange for my honest review. I only review and recommend products I have personally used. This post may also contain affiliate links. See full disclosure here.