Whether you're a first time mom looking into swim diapers for your baby's first summer or a well-seasoned mom looking for something better than weighed-down, soggy disposables, I'm going to tell you why you need reusable swim diapers this summer! When it comes to taking your baby or toddler swimming, you might be wondering if it's worth it to invest in a couple of reusable swim diapers. The answer is "hands-down yes" and let me tell you why!!
This post is sponsored by Beau & Belle Littles. I received free products in exchange for my honest opinion. All opinions are 100% my own and not influenced in any way. This post may also contain affiliate links. See full disclosure here.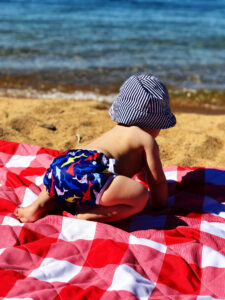 There are so many reasons to go with reusable swim diapers, and this means there are also sooo many reasons to ditch the disposables! I am a mama that uses disposable diapers
(for everyday non-swimming use) and I am so glad I tried these reusable swim diapers on my son. We just returned from a fun family vacation to a few beautiful lakes, and these diapers worked out perfectly for my little guy (and I have to say that he looked like a little baby model in them!). I am going to compare reusable and disposable swim diapers within these points, and you will also see what sets the Beau & Belle Littles reusable swim diapers apart from other swim diapers
!
---
---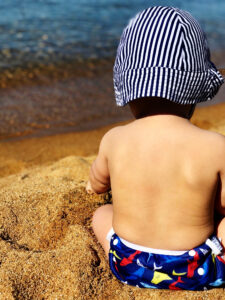 7 Reasons to Use Reusable Swim Diapers
You will save so much money!  Ditch the disposable swim diapers and get a couple reusable diapers. Can you imagine not having to spend all that money on packs and packs of disposable swim diapers over the years? You want to make sure you get two (one for your little one to wear and one for backup so you can do a quick change if needed). Beau & Belle Littles has so many adorable prints, so it's easy to choose two! If your little one has an accident at the beach, you'll have a cute and clean replacement ready to go in your beach bag. Speaking of accidents..
Beau & Belle Littles swim diapers are mess-free for two reasons. Swim diapers are supposed to do one job, keep the poop in. Both disposable and reusable swim diapers are not meant for holding in pee. The reusable diaper we used at the lake fit Baby E perfectly so we didn't have to worry about any unwanted escapees. You don't want to be the family that evacuates the pool because of a "code brown!" These diapers are also mess-free because they go on and off easily just like a regular diaper. Pull-up style swim diapers (not these) make it hard to keep the poop off your little one's legs when you go to take the soiled diaper off. The Beau & Belle Littles diapers have snaps that allow the diaper to be removed just like a regular diaper. You'll learn more about the snaps in the next point!
They're adjustable! One Beau & Belle Littles swim diaper will fit your baby from about 3 months old to about 3 years old (8-36 pounds)! They have snaps that make the diaper adjustable from size N to size 5 in diapers! The snaps allow you to adjust the size around the waist and legs, and you can also adjust the rise of the diaper in the front (this makes the diaper not bulky). The company has simple directions on their website on how to size the diaper for your baby or toddler so you can have the best possible fit.
Your little one will be more comfortable in reusables! Beau & Belle Littles swim diapers are made from a premium soft breathable waterproof 100% PUL polyester cloth fabric (say that 5 times fast!) and the inside has a super soft mesh lining so your little one stays comfy. Have you ever seen a baby or toddler with a heavy, sagging diaper after going in the pool? Or maybe you currently use disposable swim diapers for your kiddo and you know about the heaviness after a swim! Disposables soak up the pool water and make them an uncomfortable and soggy mess. After using the reusable swim diapers, I can tell you the diaper came out of the water pretty much as light as it went into the water. Baby E never tugged or pulled at the diaper! He stayed comfy in and out of the water, and the reusable diaper never weighed him down at all.
Reusables are eco-friendly. When you ditch the disposables, you will no longer be filling up the landfills with all the used swim diapers.
Your baby will be the cutest around! Your baby or toddler will look SO stylish and adorable in the amazing prints that Beau & Belle Littles offer.
The adorable swim diapers are easy to clean!! If they sound intimating to clean, don't you worry. This worried me before using them because I never had experience with using cloth diapers. With the Beau & Belle Littles diapers, you just empty any poop into the toilet, machine wash the diapers in cold water, and tumble dry low. Simple and easy and not intimidating at all!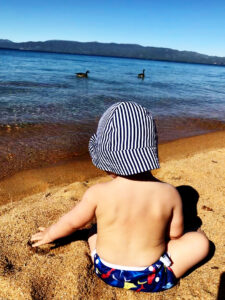 Now that you are convinced to go with reusable swim diapers, be sure to check out Beau & Belle Littles. You can check out Beau & Belle Littles reusable swim diapers on their website and Amazon
! I can now see why they have such amazing reviews (seriously..go read the Amazon reviews if you aren't convinced already)! I'm so happy we had the swim diapers for our vacation, and I look forward to using them many more times this summer!